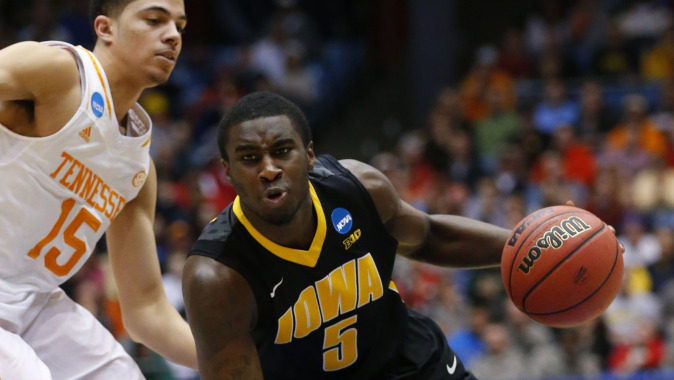 Oct. 28, 2014
Iowa Game Notes: vs. Northwood (Fla.)

EXHIBITION QUICK HITS
? Tickets can be purchased at the UI Ticket Office. Tickets are $5 for adults and FREE for youths and UI students.
? Rollie Massimino is the head coach of Northwood. Massimino, who's grandson Tommy, Jr. is Iowa's administrative assistant and assistant video coordinator, guided Villanova to the 1985 NCAA championship.
? Iowa returns 10 letterwinners, including three starters, in 2014-15.
? Iowa enters this season riding a 24-game nonconference home win streak, dating back to November 2011 (Clemson). The active streak ties Oregon for 10th in the country.
? Senior Aaron White, who earned third team all-conference accolades in 2013 and 2014, has led the team in rebounding each of the last three seasons and is seeking to become the first player ever to lead the Hawkeyes in rebounding four-straight years.
? Aaron White is one of only four Hawkeyes to amass 1,300+ points his first three seasons (Jess Settles, Ronnie Lester, and Roy Marble).
? Gabriel Olaseni was one of only four players in the country a year ago to collect more offensive rebounds than defensive.
? Mike Gesell is one of only three Hawkeyes to accumulate 550+ points, 200+ assists, 150+ rebounds, and 75+ steals prior to his junior season (Jeff Horner and Dean Oliver).
? Iowa has competed in postseason play the last three years: NIT second round in 2012; NIT runner-up in 2013; NCAA first round in 2014. The Hawkeyes placed sixth in the Big Ten in 2013 and 2014.
? Iowa averaged 81.5 points per game a year ago — its highest scoring average since 1995.
? Iowa sold out 11 home games (15,400) in 2014, the most in a single-season since the 2000-01 campaign. Iowa's home average attendance average of 14,976 fans last season ranked 17th in the country. Iowa's attendance has risen 57 percent since Fran McCaffery's arrival in 2010.
? All 31 games this season will be televised nationally or will be available digitally online.
Exhibition | Northwood University (0-0) vs. Iowa (0-0)
Date
Sunday, Nov. 2 | 2:07 p.m. (CT)
Location
Iowa City, Iowa | Carver-Hawkeye Arena
TV
MC22 (BTN Plus)
Radio
Hawkeye Radio Network
Live Coverage
Twitter Game Updates
All-Time Series
First Meeting
2014 IOWA BASKETBALL TEAM HIGHLIGHTS
? Iowa won 20 games or more in consecutive seasons for the first time since 2004-05/2005-06.
? Iowa returned to the NCAA Tournament for the first time since 2006. The Hawkeyes, who played in their 23rd tournament, fell 78-65 in overtime to Tennessee in the first round.
? Fran McCaffery is one of 12 coaches to guide four different teams to the NCAA Tournament.
? Iowa finished sixth in the Big Ten standings for the second consecutive season. McCaffery has posted upper division finishes in each of the past two seasons at Iowa and 14-of-18 seasons as a head coach. He has posted 20 wins or more six of the last eight seasons, including the last two at Iowa (2013 and 2014).
? Iowa scored 2,689 points, which are the fifth most in program history.
? Iowa attempted 660 free throws — the third most in program history.
ROSTER CHANGES FOR 2014-15
Roy Devyn Marble, Melsahn Basabe, and Zach McCabe exhausted their elgibility after last season, while forwards Kyle Meyer and Darius Stokes transferred. Iowa welcomes five newcomers: Brady Ellingson, Trey Dickerson, Dom Uhl, and walk-ons Nicholas Baer and Charlie Rose. After spending the last three seasons as a walk-on, guard Kyle Denning has been rewarded with a scholarship for his senior season by head coach Fran McCaffery.
2014 INDIVIDUAL HIGHLIGHTS
? Devyn Marble (first) and Aaron White (third) were all-conference honorees. Marble is Iowa's first all-conference first team honoree since Adam Haluska in 2007.
? Devyn Marble is believed to be only the second Big Ten player (Gary Grant of Michigan) since 1985-86 with 1,650+ points, 375+ assists, 450+ rebounds, and 175+ steals.
? Roy Devyn Marble finished his Hawkeye career in the top 10 in nine different categories.
? Aaron White was the only player in the country to shoot better than 55 percent from the field and 80 percent from the free throw line in 2013-14. White, who amassed 1,301 points, became just the fourth Hawkeye to accumulate 1,300+ points as a junior, joining Roy Marble (1,441), Ronnie Lester (1,423) and Jess Settles (1,303).
? Junior Gabriel Olaseni is one of only four players in the country (minimum 160 rebounds) with more offensive rebounds (82) than defensive (81).
? Peter Jok shot at a 34.8 percent clip from 3-point range, which is eighth best for an Iowa freshman.
GESELL JOINS ELITE GROUP
Through two seasons, guard Mike Gesell became just the third Hawkeye to ever amass 550+ points, 200+ assists, 150+ rebounds and 75+ steals. Gesell has 553 points, 217 assists, 155 rebounds and 83 steals. Gesell joins Jeff Horner (632 points, 204 assists, 292 rebounds and 78 steals) and Dean Oliver (631 points, 267 assists, 184 rebounds and 93 steals).
IN THE RANKINGS
The Hawkeyes are ranked 25th in the USA Today/Coaches Preseason Poll. Iowa was ranked for 16 consecutive weeks in 2013-14, climbing as high as 10th in both the Associated Press and Coaches polls on Jan. 20, 2014.
SCOUTING NORTHWOOD
Northwood finished last season with a 26-7 record and captured the Sun Conference Tournament title. The Seahawks return their top two players from a year ago, seniors Chris Solomon and Fred Mattison. Solomon was named the 2014 Sun Conference Player of the Year and was tabbed a NAIA first-team All-American after averaging 20.6 points while connecting on a school single-season record 94 3-pointers. Mattison earned first-team all-conference laurels and earned NAIA All-America honorable mention recognition after ranking first in the Sun Conference in double-doubles (11), second in field goal percentage (54.1), third in rebounding (8.96), and seventh in scoring (14.7).
ON POINT
Point guard Mike Gesell scored in double figures in seven of the last 11 games in 2014, which included a stretch of five straight games — the longest stretch of his career. In 33 games, Gesell ranked first in the Big Ten and 12th nationally in assist-to-turnover ratio (3.0). The sophomore has 553 career points, just past halfway to the 1,000-point club. Gesell posted 10 points, eight assists, and three steals in Iowa's win over nationally-ranked Michigan. It marked just the fifth time since 1996-97 that a Hawkeye amassed 10+ points, 8+ assists and 3+ steals in a game (Andre Woolridge three times and Jeff Horner). He had 13 points, six assists and no turnovers at Minnesota on Feb. 25. He netted 15 points in Iowa's win over Purdue on March 1 and contributed 11 points and, assists, four rebounds and two steals against Illinois in the regular season finale.
WHITE HOT
Aaron White ranked first on the team in rebounding (6.7), and second in scoring (12.8), and third in steals (32) and assists (60) last season. White was the only Big Ten player to average 13+ points and 7+ rebounds during league play in 2014. White became the first Hawkeye ever to register 1,300+ points, 650+ rebounds, 100+ steals and 100+ assists by his junior season. White was the only player in the country to shoot better than 55 percent from the field and 80 percent from the foul line in 2014. He shot 58 percent from the field and 81 percent from the charity stripe. White became the fifth player, since 1960, to lead the Hawkeyes in rebounding three consecutive seasons. White joins Don Nelson (1960-62); Kevin Kunnert (1971-73); Bruce King (1975-77); and Greg Brunner (2004-06). He is seeking to become the first Hawkeye to ever lead the Hawkeyes in rebounding all four seasons. White became the 41st Hawkeye to surpass 1,000 career points with his 19th point scored with one second remaining at the free throw line versus Notre Dame (Dec. 3). He reached the 1,000-point milestone in his 82nd career game. He currently ranks 18th in Iowa scoring. The native of Strongsville, Ohio, became the first Hawkeye in 10 years to amass 25 points and 17 rebounds in a game at Iowa State on Dec. 13, 2013. The last Hawkeye to accomplish the feat was Jared Reiner on March 1, 2003, at Indiana. The 17 rebounds are the most in a single-game since Greg Brunner cleared 23 against Minnesota on Jan. 18, 2006.
CENTER OF ATTENTION
Iowa got 12.2 points, 8.9 rebounds and 1.9 blocks of production per game from its center position of Adam Woodbury and Gabriel Olaseni.
IOWA FASTBREAKS
? The Hawkeyes out-rebounded 23 of their 33 opponents last year.
? Aaron White and Gabriel Olaseni each posted a team-best four double-doubles last year. The four double-doubles tied for the ninth most in the Big Ten.
? Iowa was 15-6 last season when making five 3-pointers or more. Iowa was 8-3 in Big Ten play when sinking at least five triples.
? Junior forward Aaron White ranked first in the Big Ten in field goal percentage (.584) and ninth in free throw percentage (.807).
? Iowa was the last Big Ten team to lose at home last season, falling 71-69, to No. 6/7 Michigan State on Jan. 28.
? Iowa is 34-6 when scoring 80 or more points, the last four seasons. The Hawkeyes are 39-1 when holding opponents to fewer than 61 points, the last four seasons – with the one loss coming to Michigan State (59-56) at the Big Ten Tournament last season.
? Iowa was credited with 20 or more assists seven times last season. The Hawkeyes ranked 11th nationally in assists (16.1).
? Iowa was 9-1 in afternoon games last season.
? Iowa was 9-2 when wearing its white uniforms last season.
REBOUNDING BOOST
Last year, Iowa owned a +7.0 rebounding margin, which ranked 11th in the country. Iowa ranked 12th in the nation in defensive rebounding (26.9) and 22nd in offensive rebounding (13.5) a year ago.
SHARPSHOOTER
Josh Oglesby, who missed the first 12 games last year due to an injured foot, came on strong towards season end. Oglesby tied a season high of 17 points (8-of-12 FG, including 1-of-3 from 3-point range) against Wisconsin on Feb. 22, 2014. Oglesby scored 15 of his 17 points in the second half. Oglesby followed up that performance scoring 16 points (5-of-10 FG, including 4-of-9 from 3-point territory), in a starting role, at Minnesota on Feb. 25, 2014 — marking the first time since his third and fourth game his freshman season that he reached double figures in consecutive games. Oglesby made his first four 3-point attempts in his season debut following injury against Arkansas-Pine Bluff (Dec. 22, 2013) and then once again against Minnesota (Jan. 19, 2014). Oglesby finished with 13 and 17 points, respectively. Oglesby made a season-high five 3-pointers against Minnesota on Jan. 19, 2014. Oglesby made at least one trey in 12 of the last 14 games and 16-of-21 games in 2013-14. Furthermore, he made two or more triples in four of the last seven contests. Oglesby averaged a single-season best 6.6 points per game and is shot at a 40-percent clip from 3. Oglesby was one of Iowa's top perimeter players in league play, scoring 6.7 points and boasting a 3.3 assist-to-turnover ratio in the 18-game conference slate.
BENCH MOB
Iowa's reserves played a large role in Iowa's 20 victories last year. Overall, Iowa's bench averaged 30.6 points, 18.8 rebounds and 2.7 blocks. The Hawkeye reserves' rebounding average was tops in the country, while their scoring and blocks rank third best. In victories, Hawkeye reserves average 35.9 points and 21.7 rebounds, while in losses Iowa's bench averages 22.5 points and 14.5 rebounds.
BLOCK PARTY
Junior Gabriel Olaseni blocked at least three shots five times last season. His 43 blocks ranked 10th in the Big Ten (1.3 average). The center rejected five shots in the season opener against UNC Wilmington. Sophomore Jarrod Uthoff denied 34 shots (1.1 average), a total that ranked 11th in the league. As a team, Iowa ranked second in the Big Ten, and 40th nationally, in rejections (5.0).
UTHOFF, OLASENI, OGLESBY LED HAWKEYES OFF BENCH
Gabriel Olaseni, Josh Oglesby, and Jarrod Uthoff averaged a combined 18.3 points, 10.5 rebounds and 2.4 blocks per game coming off the bench for the Hawkeyes. Uthoff ranked fourth on the team in scoring (7.6) and fourth in rebounding (4.6); Olaseni ranked first on the squad in rejections (1.3) and third in rebounding (4.9); while Oglesby averaged 6.6 points and 1.5 rebounds. Uthoff poured in 17 points on 5-of-6 shooting from the field, including a perfect 3-of-3 shooting from 3-point range, and 4-of-4 from the foul line against Northwestern at the Big Tn Tournament. The three triples equal a personal best for the redshirt sophomore. Olaseni averaged an offensive rebound every six minutes played. More than half of Olaseni's rebounds were offensive (82-of-163); the center was second in the league (overall games) in offensive rebounding (2.5). Olaseni, shared the team lead with four double-doubles. Olaseni's four double-doubles are the most by a Big Ten reserve in 2013-14. Olaseni put up career highs at Illinois (15 points and 12 rebounds) on Feb. 1.
ATTACKING THE RIM
Iowa's 27.2 free-throw attempts average last season, ranked 15th nationally. The Hawkeyes ranked ninth in the country in made free throws (20.0). Aaron White is on pace to shatter the school's free-throw makes record. White currently ranks seventh with 423 career makes. White (562) is also climbing Iowa's free-throw attempts chart, ranking seventh. White made all 10 free throw attempts against Northwestern on Jan. 9, 2014 — he is 1-of-8 Hawkeyes ever to make all free throw attempts in a game played in Carver-Hawkeye Arena (minimum 10 attempts).
HAWKEYEBASKETBALL.COM
Check out the Iowa basketball team's website, HawkeyeBasketball.com, devoted to everything on-and-off-the-court surrounding the program. HawkeyeBasketball.com, allows fans a chance to go behind the scenes with the Hawkeye basketball program on and off the court. The site is complete with exclusive videos, photo galleries and content featuring the basketball program.
COACHING EXPERIENCE
Fran McCaffery has one of the most experienced coaching staffs in the country. The Iowa men's basketball staff has 66 years of combined collegiate head coaching experience and more than 130 years of collegiate coaching under their belts.
ALL-SESSION BIG TEN TOURNAMENT TICKETS ON SALE
All-session tickets for the 2015 Big Ten Men's Basketball Tournament are on sale. The Big Ten Men's Basketball Tournament will return to the United Center in Chicago, March 11-15. The event will feature a five-day format for the first time in conference history. Lower level tickets may be purchased through the UI Ticket Office. Upper level tickets may be purchased at Ticketmaster outlets, ticketmaster.com, by calling Ticketmaster at (800) 745-3000 or going to unitedcenter.com. All-session tickets for the 100 and 200 levels at the United Center are available for $375 through the Big Ten university ticket offices only. All-session tickets for the 300 level are available for $275 or $200 (depending on seat location) through Ticketmaster or the United Center box office only. Orders will be limited to four all-session tickets. The tournament will continue to feature a discounted student ticket program. Students of Big Ten universities will be able to purchase tickets for $20, good for only the session or sessions featuring their school. All students must have a valid student ID for entry. Student section seating will be available in balcony sections and orders will be limited to one ticket per student.
ON THE HORIZON
Iowa will open the regular season on Friday, Nov. 14, when it hosts Hampton at 8:30 p.m. (CT). Tickets for the season opener are available for $17 for adults and $5 for youth and UI students.