Box Score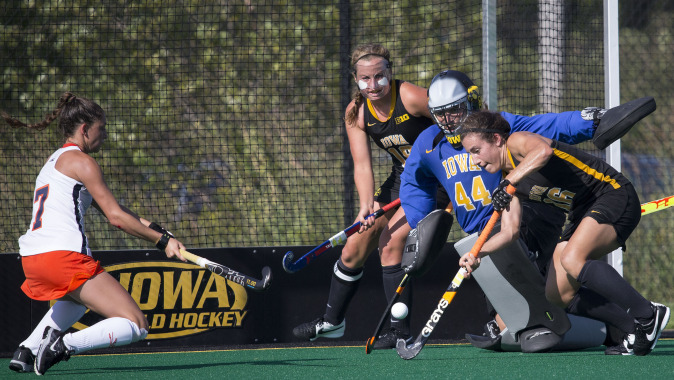 November 1, 2014
College Park, Md. — The 14th-ranked University of Iowa field hockey team (11-6, 4-4) dropped a 4-1 decision to No. 2 Maryland (16-2, 7-1) Saturday in College Park, Maryland. The Hawkeyes made a late push in the second half but were unable to complete the comeback in their regular season finale.
"Maryland is an outstanding opponent and was the better team today," said UI head coach Lisa Cellucci. "We played well in pockets of the game, but in order to beat the No. 2 team in the country we needed much better possession and execution of the game plan. We will regroup and get ready to make some noise in the Big Ten Tournament."
Sophomore Alexandra Pecora had an outstanding first half collecting 10 saves against the No. 1-ranked offense in the country. Pecora (10-6) collected three additional saves in the second half. The 13 saves marks a career-high for the Marlton, New Jersey, native — besting her previous single game high of 12 (Aug. 31 vs. No. 2 North Carolina).
The Terrapins held a 2-0 advantage going into the half. The home squad led the Hawkeyes in shots (16-4), and penalty corners (7-3).
UI senior Dani Hemeon narrowed the gap, 2-1, at the 49:50 mark, scoring off a rebound on a penalty corner. The score marked Hemeon's eighth on the season.
The one-score game didn't last long. Anna Dessoye extended the Terrapin lead immediately with a goal in the 50th minute putting Maryland on top, 3-1.
With nine minutes to go in the contest, Maxine Fluharty capped the scoring for the home team, netting her second goal from just inside the circle to put the Terrapins on top, 4-1.
The Hawkeyes return to action next week traveling to the Big Ten Tournament, Nov. 6-9, at Ocker Field in Ann Arbor, Michigan. Game times and pairings are still to be determined.
GAME SUMMARY
#14 Iowa (11-6, 4-4)
0
1
1
#2 Maryland(16-2, 7-1)
2
2
4
SCORING
Maryland
Maxine Fluharty
16:32/1st

Maryland
Alyssa Parker 32:32/1st
Iowa
Dani Hemeon 49:50/2nd
Maryland
Anna Dessoye 50:55/2nd
Maryland
Maxine Fluharty 61:07/2nd
STATS
Shots
Iowa 10, Maryland 29
Penalty Corners
Iowa 5, Maryland 11
Saves
Alexandra Pecora (10-6) (Iowa), 13