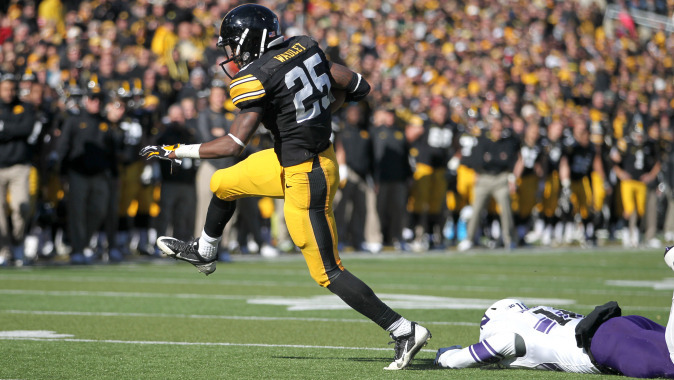 Nov. 1, 2014
Iowa 48, Northwestern 7 Photo Gallery

By DARREN MILLER
hawkeyesports.com
IOWA CITY, Iowa — University of Iowa running backs coach Chris White called the shot Thursday after practice.
Akrum Wadley will play two days later against Northwestern, he said, and Hawkeye fans will like what they see.
Talk about a prognostication.
With injuries to junior Jordan Canzeri and sophomore LeShun Daniels, Jr., Wadley stepped in and finished with a game-high 106 rushing yards on 15 carries. It marked the first rushing attempts of the redshirt freshman's career.
"This was the right time," Wadley said. "There is always a process when you have four good backs in front of you. You have to learn to be patient and the time will come. It came for me today."
The spark from Wadley was one of many highlights for the Hawkeyes (6-2 overall, 3-1 Big Ten), who became bowl eligible for a 13th time in the last 14 seasons by thumping Northwestern (3-5, 2-3), 48-7.
"We came out with a win, that's most important," Wadley said. "We're bowl eligible now, that's another good feeling. We're moving forward, we're not trying to look back."
Wadley is from Newark, New Jersey, and played his high school ball at Weequahic. He originally committed to Temple before making a late switch to round out Iowa's 2013 recruiting class.
Before he could adjust to the speed of Division I football, he had to adjust academically. He fell behind in the classroom during his first semester on campus, then he hit the books like he hit holes Saturday against the Wildcats.
| | |
| --- | --- |
| | "This was the right time. There is always a process when you have four good backs in front of you. You have to learn to be patient and the time will come. It came for me today." |
"I realized what an opportunity I have playing here, it doesn't come around every day," Wadley said. "I had to do what I do best, which was get back to the drawing board and keep grinding."
Wadley entered the game against Northwestern early in the second quarter with the Hawkeyes leading, 24-7. His first college carry was a 1-yard gain. He then picked up 23. Meanwhile, Iowa extended its advantage to 38-7 at halftime.
On the Hawkeyes' fourth play of the second half, Wadley got the call again. He gained six yards, but lost a fumble in Wildcat territory.
"Aw man, it's over," Wadley thought.
But one by one — White, head coach Kirk Ferentz, offensive line coach Brian Ferentz, teammates — offered a pat on the helmet.
"They told me to shake it off, it happens to the best of us and we're going to come right back to you," Wadley said. "It is what it is, just keep playing. That's what I did."
After the lost fumble, Wadley made quick amends on special teams. Iowa punted on its next possession, and the person who tackled Northwestern returner Miles Shuler for no gain was Wadley.
"I got mad and had to make up for that fumble," he said.
In the second half, Wadley gained 72 yards on 13 carries to become Iowa's first 100-yard rusher since Canzeri at Purdue on Nov. 9, 2013 (a span of 10 games). Wadley capped the game's scoring with a 5-yard touchdown run with 3:17 remaining.
"Coach called 28 boss," Wadley said. "The fullback, John Kenny, said, `Stay behind me, I will get you in there.' That's what I did. As soon as I saw him make that block on the end, I bounced it outside with one man to beat."
While Wadley did most of his damage in the second half, senior Mark Weisman set the tone with 93 of his 94 yards during the first half. In the last two games, Weisman has 30 carries for 172 yards and five touchdowns.
"It was a statement coming off the Maryland game (a 38-31 loss on Oct. 18)," Wadley said. "We felt the need to get back and keep doing what we do best; get back to the old Iowa way. Weisman did his thing, he kept pounding it, and the linemen opened it up and made it easy for me and the other running backs."
After impressive back-to-back wins in Kinnick Stadium, the Hawkeyes hit the road for two consecutive weeks. They play at Minnesota on Nov. 8 (11 a.m. CT) and at Illinois on Nov. 15.