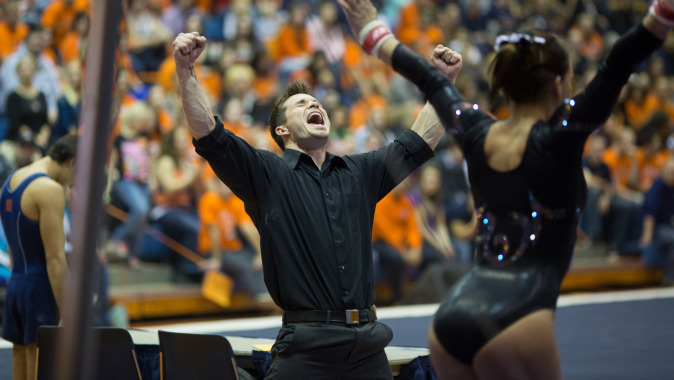 Nov. 3, 2014
IOWA CITY, Iowa — Caleb Phillips has returned to the University of Iowa women's gymnastics coaching staff as an assistant coach, UI head coach Larissa Libby has announced.
Phillips served as an assistant coach for the Hawkeyes from 2008-13, before leaving to pursue a career outside of coaching, and relocating with his family to Utah.
"We are elated that Caleb has returned to Hawkeye Nation," said Libby. "His infectious personality and enthusiasm for the team and Iowa in general has been missed. The atmosphere surrounding the team since his return is electric and I am excited to work with him again."
"It is great to be back in Iowa," said Phillips. "I had the opportunity to try my hand at something else and fortunately it was short lived. Coaching is what I do, it's what I am and it's what I love. I feel blessed with the opportunity to come back to the Hawkeye family and do what I absolutely love and have a passion for. The next step is to make some waves in the Big Ten and show people just how strong this team and program can be."
Phillips was responsible for the uneven bars squad during his first stint at Iowa, which was consistently ranked in the top 20 in the country. In 2013, Phillips led the bar squad to a 49.115 NCAA Regional Qualifying Score, ranking 16th nationally. In 2012, Phillips coached the bar team to a 49.100 Regional Qualifying Score, ranking 13th nationally.
The Hawkeyes have received NCAA postseason berths every year he has been on staff. Additionally, Phillips has helped coach two Hawkeye gymnasts, Houry Gebeshian and Rebecca Simbhudas, to NCAA Championship appearances.
In 2011, Phillips was named the North Central Region Assistant Co-Coach of the Year with fellow assistant Linas Gaveika. Under Phillips' guidance, Gebeshian, Jessa Hansen and Simbhudas were selected to the All-Big Ten team.
With the help of Phillips, Iowa placed third at the Big Ten Championships in 2010, its best finish in six years. Gebeshian, Hansen and Simbhudas took home All-Big Ten honors, and Gebeshian won the Big Ten beam title, just the second in program history.
Prior to joining the Iowa staff, Phillips spent four years as an assistant coach at Southern Utah. He helped lead Southern Utah to two NCAA Regional appearances and helped send two competitors to NCAA Championships — Leah Sakhitab in 2005 and Elise Wheeler in 2008. Phillips coached three athletes to NCAA Regionals in 2006 and four in 2007.
Phillips has a Bachelor's degree in psychology from Southern Utah. He and his wife, Ashley, have two children — Cable and Beck.
The Hawkeyes — selected for NCAA Regional competition as a team in six of the last seven seasons — will kick off the season with the annual Black and Gold Intrasquad on Dec. 6 in the UI Field House at 11 a.m. (CT). Admission is free.