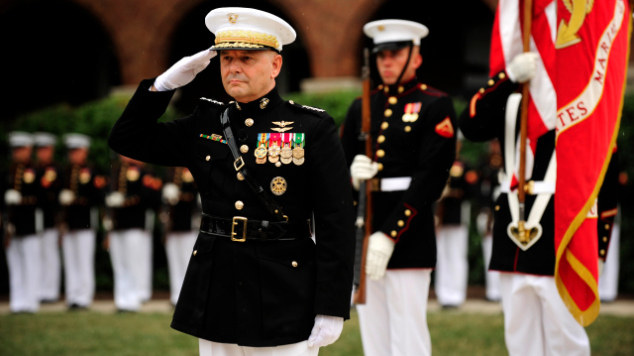 November 11, 2014
Editor's Note: Every Big Ten school has produced leaders who have reached the pinnacle of their professions, whether business, government, science and technology, medicine or education. High Profile takes a look at how these alums rose to the top of their field.
By TAB BAMFORD
Many athletes have been drafted out of the University of Iowa and gone on to do impressive things. But not many have made as much of an impact as a former Hawkeye swimmer.
Wait … a swimmer? Who was drafted? It's true.
In the late 1960s, James Cartwright earned a swimming scholarship at Iowa. He was drafted by the military, however, not a professional sports team. During the next few decades, he rose to the rank of four-star general — and perhaps no one is more surprised by that than Cartwright himself.
"Joining the military was never on my radar," he said. "During my sophomore year at Iowa, I received notification that I had been drafted. I stayed for two more years with the deferment period to finish my degree and then went into the military thinking, `OK, I'll do my two years and move back to the civil sector.' But I never left."
Cartwright's time spent as a student-athlete prepared him for the move to officer training in aviation. From the water to the sky, his ability to prioritize was influenced by his experience at Iowa.
Click HERE to read the complete story on BTN.com.