Nov. 12, 2014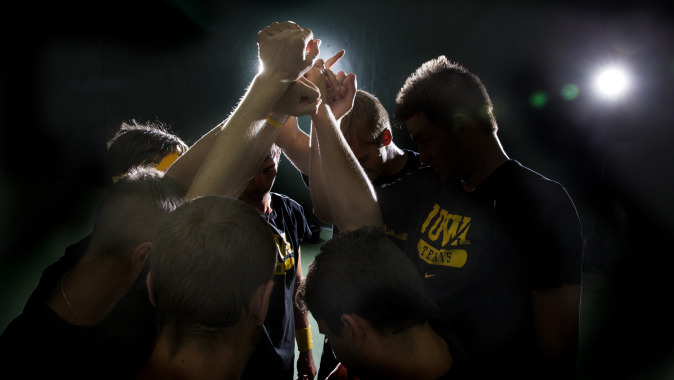 By Exodus Cardoza
hawkeyesports.com
IOWA CITY, Iowa— The University of Iowa men's tennis program recently finished the fall season at the Big Ten Singles and Doubles Championships, Oct. 31-Nov. 3. As the team prepares for the upcoming spring season there was a chance to catch up with UI interim head coach Ross Wilson and to get his overall thoughts on what transpired this fall.
How impressed are you with how the team dealt with the transition from Coach Houghton to yourself?
"I think the team adjusted well and it's been good. We were lucky because half of our team is brand new and they really didn't know anything else. But, obviously Coach Houghton was great for me, he mentored me all last year and allowed me to have my hand in every part of the program. I was involved in every aspect so I think it was an easy transition for them. However, at the same time they enjoyed having Coach Houghton and the team likes when he comes around," said Wilson.
Newcomers such as Josh Silverstein and Jake Jacoby found success this fall in their first year under the program. What are you looking for out of them moving forward?
"Josh and Jake had a good fall. It is tough for freshmen to come in and get acclimated to college tennis but they got a lot of match experience. We are going to be a young team and they are going to be big contributors in both singles and doubles. It's going to be up-and-down; everything will depend on how they mature throughout the year and that will determine the success for those two," said Wilson.
Off a great fall season how do you think Matt Hagan has progressed from last year to this fall?
"Matt has done a great job and he practiced hard all summer. This is his second year under me in the program and everything is starting to come together for him. He knows his game and has earned results. It will be interesting to see what happens to him this season, he is probably going to be playing No. 1 for us and is going to have a lot of opportunities in the spring to play top-ranked players. We'll see if he can put together some wins to possibly make the NCAA Tournament and be first team All-Big Ten," said Wilson.
Winning a Big Ten Doubles Championship was an exciting moment not only for Hagan and Dominic Patrick but also for the Iowa tennis program. How did you feel during that moment and what does it mean for Iowa men's tennis?
"I was actually nervous. I wasn't on the court, our assistant Ty Schaub was there with Matt and Dominic. I was watching from the side hoping those two could pull it off and it was a great win for them. The work that those two have put in the last year and a half and the improvement that they have made showed in that big moment. It shows that we can compete with anyone in the Big Ten and that's the goal, every time we go to tournaments like that our goal is to have people playing in the semis and finals being able to play for championships," added Wilson.
What are you looking for out of the guys come spring season?
"We need to keep getting better. Our goal is always to overachieve and keep improving every single day with every match. We are looking to finish in the top ten in the Big Ten and to have individuals earn good results as well as having a player finish first team All-Big Ten," said Wilson.
The Hawkeyes have an extended break before they host Western Michigan on Jan. 25th.