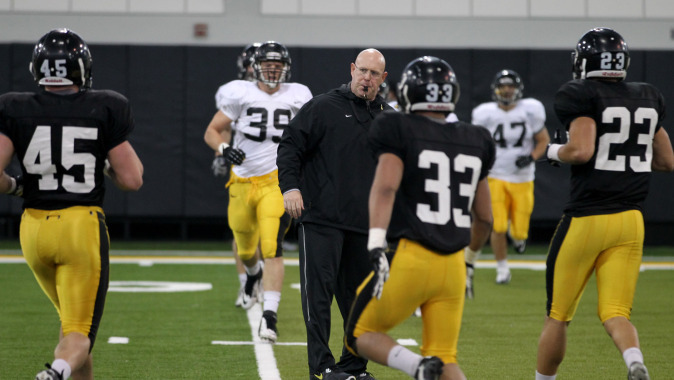 Nov. 13, 2014
IOWA CITY, Iowa — The University of Iowa football team practiced outside Thursday in Kinnick Stadium preparing for Saturday's contest against Illinois. The Hawkeyes and Fighting Illini will tee it up for the first time in six years, come Saturday in Champaign.
One of the Hawkeyes, running back Mark Weisman, is an Illinois native and is closing in on Iowa's career rushing touchdown record of 33. Weisman enters Saturday's contest with 30 career scores. Experienced strength and conditioning coach Chris Doyle, who is in his 16th season at Iowa, has been impressed with how the senior prepares each day and how he leads by example.
"Mark is a guy who is disciplined and mature beyond his years," said Doyle. "He quickly climbed our depth charts after transferring here from Air Force. A big part of that was his work ethic and attention to detail. He's a smart guy, who takes care of his body.
"We're really looking forward to him having a strong finish to the season."
Another senior, who is having a solid campaign is defensive tackle Carl Davis. The native of Detroit has started 22 consecutive games at tackle disrupting opposing offenses up the middle. Davis' efforts landed him an invite to the 2015 Senior Bowl earlier this week. Doyle admires Davis' character and work ethic.
"Carl is a guy that has really matured in our program," Doyle said. "He came in here young as a big guy, atypical of a defensive tackle that we've had at the University of Iowa. When you look at some of the last few guys –Mike Daniels and Karl Klug they're undersized guys — that worked up into being an NFL defensive tackle. Carl came in the door a big guy, 330-plus pounds. Initially he needed to change his lifestyle habits, eating habits, and training habits to lean down to 305; now since then, he's added some good-lean body mass. He's about 322 pounds and he's a proto-typical size speed guy that the NFL likes."
Developing talent at the University of Iowa has been a staple for years and Doyle and his staff help train underclassmen not just in the off season, but during the season as well.
"This is a big developmental phase for our young guys," said Doyle. "We have 125 guys on the roster, of which about 70 guys are actually in a three-day training program in-season. We can't afford to maintain what we don't have. So if you're a freshman or first-year guy, even transitional guys that are transitioning from their first and second year… if they're not on the two-deep and they're not playing a lot on Saturdays, we're training them just like it's the out-of-season. We're preparing them for bowl prep so they can go out and compete in bowl prep and then for jobs in spring ball for."
Iowa's game at Illinois is its final road game of the season. Watch the action on BTN (BTN2GO) or listen on the Hawkeye Radio Network.