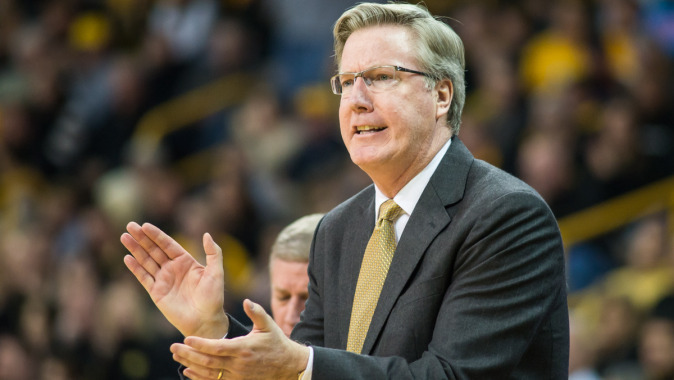 Nov. 14, 2014
IOWA CITY, Iowa — University of Iowa head men's basketball coach Fran McCaffery has signed a one-year extension to his current contract. The agreement was announced today by UI Director of Athletics Gary Barta.
McCaffery is now signed through the 2019-2020 competitive season. His base salary for the 2014-15 season is $1.8 million, which reflects the previously agreed upon to increase $200,000 after coaching the Hawkeyes to the NCAA Tournament last spring. The amendment to the contract also outlines salary increases for continued success.
"Fran's passion, commitment, and abilities, continue to move the Hawkeyes in the right direction," said Barta. "I'm excited about this season and beyond."
In his first four years as UI's head coach, McCaffery has brought enthusiasm and excitement back to the Hawkeye basketball program. Since taking over the program in 2010, the Hawkeyes have vaulted back to national prominence. McCaffery has guided Iowa to three consecutive postseason tournaments (two NIT and one NCAA), and posted back-to-back 20-win and upper-division finishes in the Big Ten.
The positive steps the Iowa basketball program has taken under McCaffery are par-for-the-course for a coach who has demonstrated his ability to rebuild programs. McCaffery coached Iowa to the 2014 NCAA Tournament, becoming one of just 12 Division I head coaches to take four different programs to the NCAA Tournament.
"I am grateful to Gary Barta and President Sally Mason for their continued support," said McCaffery. "It is a great honor to represent the University of Iowa and coach the young men in our program. We remain excited about the future of Iowa basketball."
Iowa tips off the 2014-15 season tonight against Hampton in a 2K Classic Regional Round Game in Iowa City. Tipoff is slated for 8:32 p.m. (CT) on Mediacom Court at Carver-Hawkeye Arena.