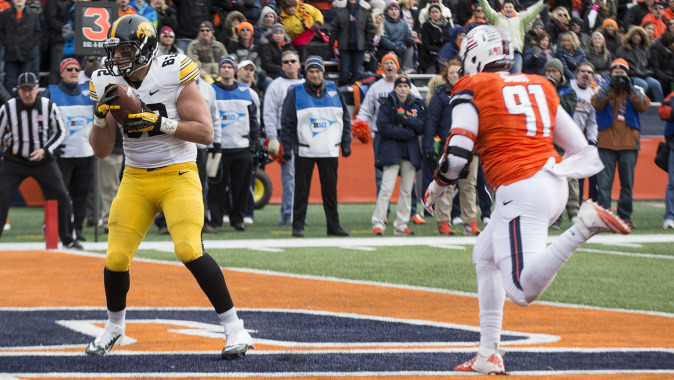 Nov. 17, 2014
Editor's Note: The following first appeared in the University of Iowa's Hawk Talk Daily, an e-newsletter that offers a daily look at the Iowa Hawkeyes, delivered free each morning to thousands of fans of the Hawkeyes worldwide. To receive daily news from the Iowa Hawkeyes, sign up HERE.
By DARREN MILLER
hawkeyesports.com
CHAMPAIGN, Ill. — Entering Saturday's contest at the University of Illinois, Hawkeye senior tight end Ray Hamilton had played 44 career games without a touchdown reception.
It had been 18 games since University of Iowa senior running back Mark Weisman gained 100 or more yards on the ground in a game.
Both those streaks — which many UI football fans would find hard to believe — came to an end during Iowa's 30-14 victory Nov. 15 at Memorial Stadium. Hamilton caught touchdown passes of 1 and 6 yards from quarterback Jake Rudock, giving the Hawkeyes leads of 9-7 and 16-7. Weisman carried the ball 23 times for 134 yards.
"I was fortunate, there were a couple good play calls that called my number," Hamilton said. "The first one was a quick catch and I was already in the end zone; the second one just don't let anyone stop you. You get that ball over the (goal) line because these are big plays for the team. It's not about me, it's about the team."
Hamilton finished the game with a team-high four receptions for 20 yards, giving him 14 catches for 114 yards this season.
Hamilton played as a true freshman in 2011, catching a pass for 15 yards in his first game against Tennessee Tech. Entering the 2014 season, he had 11 catches for 130 yards.
| | |
| --- | --- |
| | "We take pride as an offense in running the ball. Seeing that 300 number come up there for rushing yards is pretty cool; definitely a step in the right direction." |
"Ray is a high-energy guy who has a great personality," UI head coach Kirk Ferentz said. "Tight end is not a real flashy position and he does a good job for us out there. Good for him to get a couple key receptions."
Hamilton is the first Iowa tight end with two receiving touchdowns in a game since Tony Moeaki against Michigan in 2009.
Weisman has been a consistent force in the Hawkeye offensive backfield for three seasons. As a sophomore in 2012 he went four games in a row with at least 113 rushing yards and a rushing touchdown. He opened the 2013 season with 100-yard rushing performances in three straight games and four of the first five. But before Saturday, the last time he surpassed 100 yards was during a 23-7 win at Minnesota on Sept. 28, 2013 with 24 carries for 147 yards.
A native of Buffalo Grove, Illinois, Weisman scorched the Illini for a season-high 134 yards on 23 carries. Weisman was more pleased about the team gaining 304 rushing yards than for him to top 100 for a ninth time in his career.
"We take pride as an offense in running the ball," Weisman said. "Seeing that 300 number come up there for rushing yards is pretty cool; definitely a step in the right direction."
Seven Hawkeyes combined for a season-high 304 yards on the ground in 55 attempts. Earlier this season, Iowa rushed for 221 yards against Northwestern (Nov. 1) and 207 yards against Indiana (Oct. 11). All three were Hawkeye victories.
"We took a step forward and that was good to see," Ferentz said. "It seemed like we were blocking pretty well and then the guys ran hard. Mark got his first 100 in quite a while which was good to see."
Iowa rolled to a season-high 587 yards of total offense against the Illini, the fourth-highest total under Ferentz. The 304 rushing yards is also the fourth-highest total for a Ferentz-coached Hawkeye team.
Iowa takes on No. 14 Wisconsin with the Big Ten West Division lead on the line Nov. 22 with a 2:30 p.m. (CT) kickoff from Kinnick Stadium.