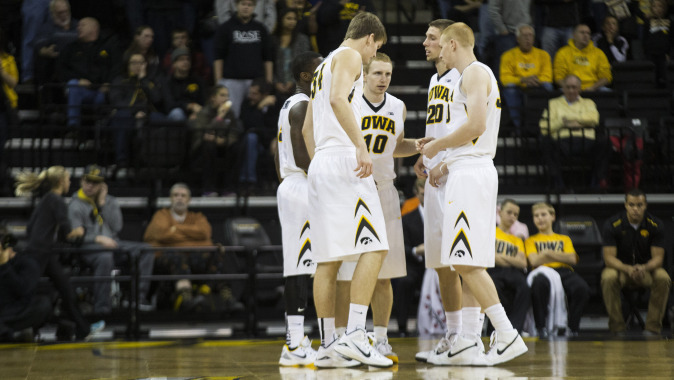 Nov. 19, 2014
IOWA CITY, Iowa — Thursday's 2K Classic game against No. 10 Texas will be a defining early-season game for the 25th-ranked University of Iowa men's basketball team.
"It's important in the nonconference schedule to play elite teams with great coaches and talent to see where you are," UI head coach Fran McCaffery said Wednesday on a media teleconference. "We'll learn a lot about our team.
"This will define where we are and it could accentuate some positives and negatives that we have to address prior to the rest of the nonconference schedule and Big Ten play."
Texas brings a 2-0 record into Thursday's game that will be contested at New York City's Madison Square Garden. The Longhorns, ranked 10th in both polls, have three players averaging in double figures with guard Isaiah Taylor leading the way at 15 points per game.
| | |
| --- | --- |
| | "This will define where we are and it could accentuate some positives and negatives that we have to address prior to the rest of the nonconference schedule and Big Ten play." |
McCaffery says Texas' size and bulk, which features Jonathan Holmes (6-foot-9, 240 pounds), Connor Lammert (6-9, 240), Cameron Ridley (6-9, 285), Prince Ibeh (6-10, 240), and highly-touted freshman Myles Turner (6-11, 240), makes the Longhorns a load to defend.
"A lot of times you see frames like that that are not as bouncy, but these guys are bouncy, too," said McCaffery. "These guys are mobile, can play up-and-down, can post defend, and move their feet. If they're missing shots, they go back and get it.
"It's a great opportunity for our front court to go against a team of this caliber with this kind of talent."
Texas is plus-19 on the boards in two games and averages 13 offensive rebounds.
McCaffery says Iowa's ball movement in its first two games has resulted in strong perimeter shooting to start the year. The Hawkeyes have made 43.9 percent from 3-point range, connecting on nine 3-pointers in both contests.
"We've done a good job moving the ball and getting open shots for people," he said. "We have good shooters taking good shots. If you're shooting contested shots or the wrong guys are shooting at the wrong time, you're going to have terrible numbers. We've been locked into being unselfish and are finding the right guy."
Iowa will be making its second appearance in the Garden in three seasons, which is beneficial for the team, but not a game-changer. The Hawkeyes advanced to the championship game of the National Invitational Tournament in 2013.
"It's good that we've played there before, but it doesn't make that much difference," said McCaffery. "All players at this level are used to played in prestigious places, in big arenas, and in front of big crowds. "We're going to play a good team, I am more concerned about that than anything else."
McCaffery believes games against national brand opponents are good for the program.
"You look at the four teams (in the field) and everybody knows those four teams," said McCaffery. "It's a television opportunity, impacts the program in recruiting, and it also brings our program to the East Coast, which we're trying to do more often.
"Two years ago, Hawkeye fans showed up in a big way because a lot of those people can't get (back to Iowa) as much to see us. There are a lot of positives that come out of this opportunity."
Thursday's game will tipoff at 6:02 p.m. (CT), and it will be televised on ESPN2 with John Saunders, Len Elmore, and Jeff Goodman on the call.
Syracuse and California play in the nightcap of the doubleheader. Friday's consolation game will tip at 4 p.m., while the championship game is slated for a 6:30 p.m. start.