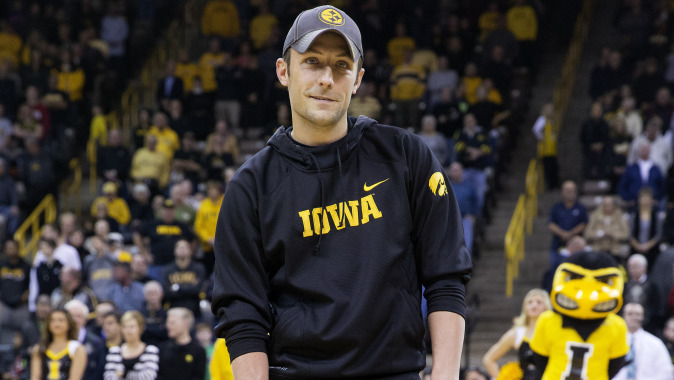 Nov. 19, 2014
IOWA CITY, Iowa — On Monday, Josh Mulder served as the honorary captain for Iowa's men's basketball game against North Dakota State in the 2K Classic benefiting the Wounded Warrior Project.
Below is an article written this week by Dean Close of Vinton Today.
When the Iowa Hawkeyes play Texas in New York City on Thursday night, a Wounded Warrior from Vinton will be among soldiers honored at Madison Square Garden.
Josh Mulder of Vinton was an honorary captain during Iowa's home victory Monday night over North Dakota State. He and his service dog, Traveler, were introduced to the crowd at half-time. Mulder and Traveler will accompany the team to New York, where the four major universities involved in the 2K Tournament (Iowa, Texas, Syracuse and Cal) will play on the home court of the NBA's New York Knicks.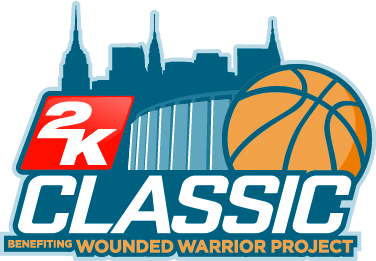 The tournament is a benefit for the Wounded Warrior Project, where Mulder hopes to work one day.
Mulder served for several months in Afghanistan, part of American efforts to worked with coalition forces from several countries to secure that part of the country. His unit was in the Helmand Province in 2010, where coalition troops often faced heavy combat as they tried to secure areas of that province.
In Afghanistan, Mulder was a member of "3/1," the Third Battallion, First Marine Division, which suffered many casualties; years later, many of the units veterans are still dealing with the impact of their injuries as well as PTSD.
Mulder is among those who came home with no noticeable physical injuries, but intense PTSD. For the past several months, his service dog, Traveler, has been at his side 24 hours a day.
"Traveler helps me cope with the effects of combat along with numerous other daily tasks that are challenging for me," says Mulder.
Journey from soldier to student
Mulder who joined the Marines Corps after graduation from V-S, is now a junior at Iowa, studying exercise science, and hopes to work with the Wounded Warrior Project, helping injured soldiers in with their recovery. He also served as panelist during the U of I 2014 Veterans Conference, discussing the topic of making the transition from soldier to student.
During his time with the Marines, he also spent time in Okinawa, the Philippines and Korea.