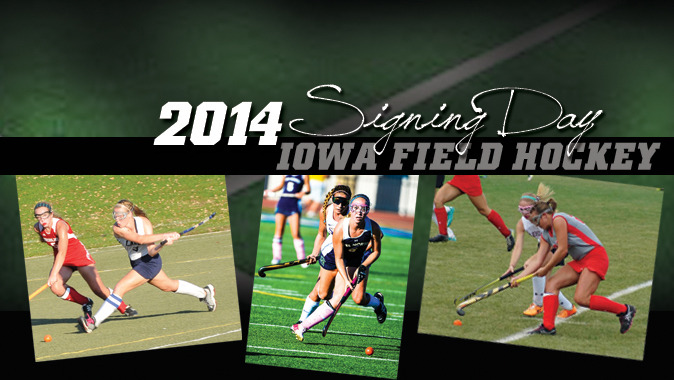 Nov. 20, 2014
IOWA CITY, Iowa — Avery Semler (Allentown), Makenna Grewe (San Diego), and Riley Kniptash (St. Louis) have signed national Letters of Intent to attend the University of Iowa next fall, UI head coach Lisa Cellucci announced Tuesday.
"We are extremely excited to add three outstanding people to our program," said UI head coach Lisa Cellucci. "This class is determined and extremely passionate about being a part of the Iowa Field Hockey program. Their competitiveness, work rate, and energy will contribute to an outstanding group of returners."
The incoming class joins a program that has 22 NCAA Tournament appearances, 11 Final Fours, 12 Big Ten Championships and has produced 85 national All-Americans.
2015 Recruiting Class
Name
Pos.
Ht.
Hometown
Avery Semler
F/MF
5-7
Allentown, Pennsylvania
Makenna Grewe
M
5-5
San Diego, California
Riley Kniptash
F/MF
5-10
St. Louis, Missouri
Avery Semler
5-7, Forward/Midfielder
Allentown, Pennsylvania ? Parkland High School
Semler, a forward/midfielder from Allentown, Pennsylvania, attends Parkland High School where she played under head coach Michelle Steele. In four years on the varsity roster, Semler appeared in 58 games, netted 28 goals, and registered 13 assists. As a sophomore, Semler was named to the Futures Region 5A team and was a NFC Alternate. Semler was tabbed honorable mention All-State as a junior. She was a two-time team captain her junior and senior seasons, a two-time Lehigh Valley Conference All-Star Team selection, and a two-time leading scorer for the Trojans.
Cellucci on Semler:
"Avery is a dynamic attacking player. She will be an asset to our front field and midfield as we look to add depth on those lines. She is a high energy player with an outstanding work rate."
Semler: Why Iowa?
"The moment I drove on campus for the first time, I got that feeling everyone talked about. I knew Iowa would be the perfect school for me in every aspect. When I saw what Iowa had to offer I knew I could see myself here for the next four years. With its amazing combination of excellent academics and a great field hockey program, it is definitely the right choice for me. I knew I wanted to play in the Big Ten and be around other athletes that have the same mindset as me, and Iowa definitely offers that. Seeing the passion and tradition that the Iowa field hockey program has made me want to be a part of it. I am beyond excited to continue my academic and athletic career at the University of Iowa."
Makenna Grewe
5-5, Midfielder
San Diego, California ? Del Norte High School
Grewe, a midfielder from San Diego, California, attends Del Norte High School where she played under head coach Jason Askegreen. Grewe set school records for the Nighthawks in single-season assists (23), career assists (35), and career goals (44). As a sophomore, Grewe garnered second-team all-league honors following a CIF Division 2 third-place finish and a league championship. She earned first-team All-League honors as a junior and was named team captain as a senior. Grewe's senior season was highlighted by 26 goals and 23 assists. Grewe played club hockey for three years as a member of the Coastal Clash, and was a Futures Camp participant from 2011-2014. Grewe was also a four-year Nighthawk Scholar recipient, and a Scholar Athlete honoree in 2013.
Cellucci on Grewe:
"Makenna will add to our potency on the forward line. She has great athleticism and speed and has the potential to be an outstanding goal scorer."
Riley Kniptash
5-10, Forward/Midfielder
St. Louis, Missouri ? Ladue Horton Watkins High School
Kniptash, a forward/midfielder from St. Louis, Missouri, attends Ladue Horton High School where she played under head coach Barb Dwyer. Kniptash garnered Rookie of the Year honors as a freshman for the Rams. She was a three-time first team all-conference recipient from 2012-2014. Kniptash was named first team All-Metro in 2013 as a junior, and All-Suburban Conference Player of the Year with Team MVP honors as a senior. Kniptash helped the Rams to four straight elite eight appearances from 2011-14 and four top-four finishes in the Suburban Conference. As a captain in 2014, Kniptash led the Rams to a first place finish at the 2014 Public School Tournament and capped her career with 101 points on 28 goals and 31 assists.
Cellucci on Kniptash:
"Riley will bring solid distribution skills and playmaking ability to our midfield. She has a great sense for the game and has the versatility to play numerous positions. Her competitiveness and work rate are contagious."
Kniptash: Why Iowa?
"I chose the University of Iowa because it has the athletic and academic atmosphere I was looking for in a school. Everything from the facilities on campus to Iowa City, it was all a perfect match. I am very excited to play in the Big Ten and be a part of the program next year."