Box Score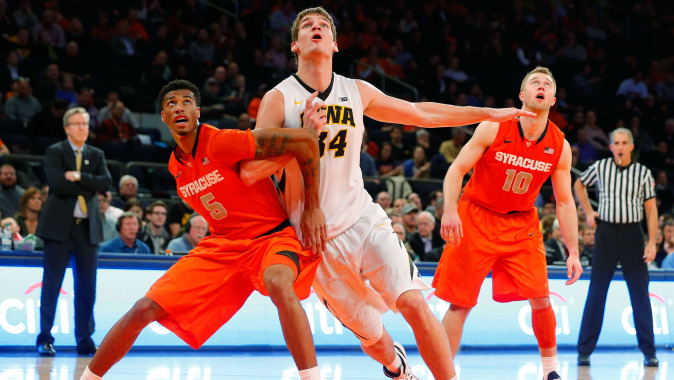 Nov. 21, 2014
Box Score | USATSI Gallery

| Photo Gallery

By JAMES ALLAN
hawkeyesports.com
NEW YORK — The University of Iowa men's basketball team rallied from a 15-point second half deficit, but 18 turnovers proved costly in a 66-63 loss to No. 23 Syracuse in the third-place game of the 2K Classic on Friday at Madison Square Garden.
"It's a tough one to lose because the guys fought so hard," said junior Jarrod Uthoff, who finished with a career-high 20 points. "We came back from a 15 point deficit with 12 minutes to go, had a chance to win, but we just came up short."
The Hawkeyes trailed 50-35 with 12 minutes left before rallying to within a single point three times in the final two minutes. Iowa called a timeout trailing 63-62 with 36.8 seconds and a second with 14.4 left, but the team couldn't get off a shot as the 18th turnover — on a steal by Chris McCullogh with eight seconds left — was a back-breaker.
"I warned Aaron (White), but I didn't warn (Adam) Woodbury that the weak-side guy would drop down," said Uthoff. "The Syracuse player made a good read and came out of nowhere from Woodbury's perspective and made a good play."

| | | | |
| --- | --- | --- | --- |
| | 1st | 2nd | Final |
| #23 Syracuse (3-1) | 34 | 32 | 66 |
| Iowa (2-2) | 29 | 34 | 63 |
| | | |
| --- | --- | --- |
| Stats at a Glance | SU | IOWA |
| FG Percentage | 41.7 | 40.0 |
| 3-Point FG Percentage | 20.0 | 28.6 |
| FT Percentage | 68.4 | 65.0 |
| Total Rebounds | 38 | 37 |
| Points in the Paint | 38 | 28 |
| Points off Turnovers | 20 | 14 |
Syracuse made 6-of-9 free throws inside the final eight seconds, and fouled three times when Iowa cut the deficit to a three-point or one possession game, allowing the Orange to hold on for a 66-63 victory.
"I was proud of how we fought," said UI head coach Fran McCaffery. "I was proud that we got to the point that we had a chance to win. I felt good about that, but not the mistakes we made."
Iowa committed 11 turnovers in the first half and 18 for the game, which led to 20 Syracuse points. The Hawkeyes shot 40 percent from the floor, went 6-of-21 from 3-point range, and was 13-of-20 from the free throw stripe. Iowa won the rebounding battle, 38-37.
Uthoff made 7-of-14 field goals en route to his career-high 20-point performance. He also had six rebounds. Senior Aaron White posted a double-double, finishing with 15 points and 12 rebounds, and Woodbury added 12 points to go along with three steals. Junior Mike Gesell had six points and seven assists.
"No matter what Jarrod does, I am not surprised," said McCaffery. "I thought he had a really good game and I am proud of him."
Syracuse scored 38 of its 66 points in the paint and finished with a 42.9 field goal percentage for the game. The Orange went just 3-of-15 from long range and 13-of-19 from the free throw stripe.
McCullough led the team with 20 points and 10 rebounds, while Rakeem Christmas had 18 and Trevor Cooney 14.
After taking a 34-29 lead into the half, Syracuse stretched its advantage to 42-33 on a Cooney 3-pointer two minutes into the second half. The lead swelled to 15 points on a McCullough reverse layup with 12:05 to play.
Trailing 57-43 with 8:35 left, Gesell hooked up with White for an alley-oop dunk to open an 8-0 Hawkeye run that was capped off by a Uthoff 3-pointer that cut the deficit to 57-51 with 6:29 to play. Uthoff followed with two free throws and a second 3-point field goal two minutes later to make the score 59-56 with 4:22 remaining.
"We got back into the game with our press," said McCaffery. "We didn't panic with our defense, and it created some offensive opportunities."
The Hawkeyes trailed 34-29 at the break after turning the ball over 11 times in the opening 20 minutes. Iowa stayed in the game by working the ball inside-out against the Orange 2-3 zone, making 4-of-9 attempts from 3-point range in the half.
The Orange jumped out to a 12-5 lead over the first six minutes behind six early points from Christmas. Iowa worked its way back into the game with Josh Oglesby connecting on a pair of 3-pointers to trim the deficit to 16-15 with 10:43 left in the first half.
The Hawkeyes took a 25-24 lead — their first advantage since 5-4 — on a Gesell 3-pointer at the 7:43 mark before the Orange used a 7-0 run to take a 28-24 advantage.
Iowa (2-2) returns to action Monday, hosting Pepperdine at 7 p.m. on Mediacom Court inside Carver-Hawkeye Arena.