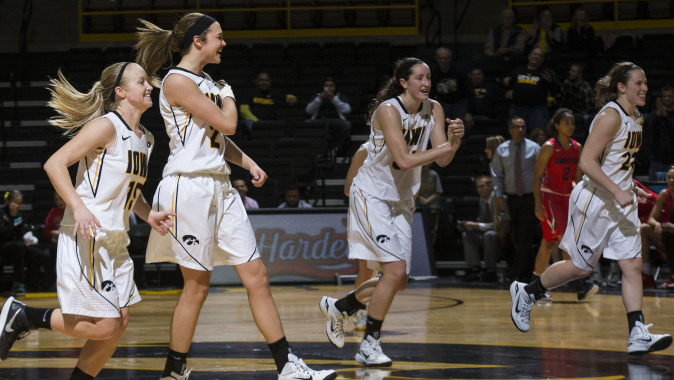 Nov. 24, 2014
Game Notes: UNI, Arkansas, Gonzaga

THE SETTING:
The 17th-ranked University of Iowa women's basketball team (4-0) continues its stretch of playing five games in nine days this week, hosting UNI on Tuesday at 7 p.m. (CT) on Mediacom Court at Carver-Hawkeye Arena.
The Hawkeyes then travel to the South Point Thanksgiving Shootout in Las Vegas, facing Arkansas on Friday (3 p.m. CT) and Gonzaga on Saturday (5:30 p.m. CT) at South Point Arena. Both teams are receiving votes in this week's AP Top-25 poll.
TICKETS:
Single-game women's basketball tickets are $12 for adults. Youth — high school-aged and younger — are admitted free to all weekday games, including Friday night games. Youth tickets for weekend games cost $8. Youth — five years old and younger — are admitted free to all games. UI students are admitted free with student ID. Tickets are available by visiting the ticket office at Carver-Hawkeye Arena, calling 1-800-IA-HAWKS, or online at hawkeyesports.com.
SEASON TICKETS:
Season tickets are on sale for the 2014-15 Iowa women's basketball season. General public season tickets are $100. UI faculty/staff can purchase tickets for $80. Seniors (50 and older) are also $80, while youth season tickets (18 or younger) are $25. UI students are admitted free to women's basketball games.
TELEVISION:
Tuesday's contest can be seen locally in the state of Iowa on Mediacom Connections (MC22) and also via BTN Plus. Rob Brooks and Shelley Till will call the action.
AUDIO COVERAGE:
Brent Balbinot and Kristi Faulkner will call Tuesday's game for the Hawkeye Radio Network. Hawkeye fans can listen to the contest on AM-800 KXIC in Iowa City, AM-600 WMT in Cedar Rapids, AM-1040 WHO in Des Moines (and other Hawkeye Radio Network stations), or on the Hawkeye All-Access page of hawkeyesports.com. Balbinot and Till will call the action from Las Vegas.
FOLLOW THE ACTION:
Hawkeye fans can also follow the game via live stats (Gametracker). The "GT" link can be accessed under the "Calendar" tab on the front page of hawkeyesports.com or on the women's basketball schedule page.
ANOTHER TRIPLE-DOUBLE:
Senior Samantha Logic notched her fifth career triple-double on Saturday, tallying 12 points, 11 rebounds, and 10 assists to lead Iowa over Dayton in the Hawkeye Challenge title game. She is tied for the fifth-most triple-doubles in NCAA history, and the most by any player as a member of the Big Ten. Suzie McConnell of Penn State (1985-88) and Louella Tomlinson of St. Mary's (CA) (2008-11) hold the career record with seven. Stanford's Nicole Powell (2001-04) and Alyssa Thomas of Maryland (2011-14) both posted six in their careers. Logic, Joskeen Garner (Northwestern State, 1993-96), Shalee Lehning (Kansas State, 2006-09), and Brittney Griner (Baylor, 2010-13), all have five career triple-doubles.
SOUTH POINT THANKSGIVING SHOOTOUT:
Las Vegas welcomes Iowa, American, Arkansas, Central Michigan, Gonzaga, Oregon, and Richmond for the South Point Thanksgiving Shootout. All games will be played at South Point Arena. Richmond and Central Michigan open tournament play on Thursday, while three games will be held on Friday and Saturday at 3 p.m., 5:30 p.m., and 8 p.m. (CT) each day.
SCOUTING UNI:
? UNI is 1-1 on the season, winning at Tulsa (69-66) on Nov. 14, and falling at Akron (82-73) on Nov. 18.
? The Panthers finished 17-13 a year ago, with a 13-5 conference mark.
? UNI is coached by Tanya Warren. She is in her eighth season.
? The Panthers have been picked to finish second in the Missouri Valley Conference this year.
SCOUTING ARKANSAS:
? Arkansas is 4-0 on the season and receiving votes in the latest AP Top-25 poll. The Razorbacks enter the week with wins over Nicholls State, Savannah State, Middle Tennessee, and Northwestern State.
? Arkansas finished 19-11 in 2013-14.
? Jimmy Dykes is in his first year as head coach of the Razorbacks.
SCOUTING GONZAGA:
? Gonzaga is 3-0 entering the week, with wins over Dayton (75-65), Idaho State (88-63), and Montana State (89-60). The Bulldogs were ranked 24th in last week's AP Top-25 poll.
? Gonzaga finished 29-5 in 2014 and advanced to its sixth-straight NCAA Tournament.
? The Bulldogs are be led by first-year head coach Lisa Fortier. She is in her 10th year on the Gonzaga staff.
ALL-TIME SERIES / LAST MEETING:
? Iowa leads the all-time series against UNI, 17-2. The Hawkeyes won in Cedar Falls a year ago, 67-60. The Hawkeyes defeated the Panthers, 68-46, on Dec. 1, 2012, in the last meeting in Iowa City.
? Arkansas leads the all-time series against Iowa, 2-0. The two teams last met at Arkansas during the 1999-00 season. The Razorbacks won, 72-65.
? Iowa is 2-1 all-time against Gonzaga. The Bulldogs defeated the Hawkeyes, 92-86, in the last meeting in the 2011 NCAA Tournament in Spokane, Washington.
HAWKEYES 17TH IN RANKINGS:
Iowa is No. 17 in the Associated Press Top-25 poll and No. 18 in last week's USA Today Preseason Coaches poll.
Maryland is the highest-ranked Big Ten team (No. 10), followed by Nebraska (No. 15), Michigan State (No. 16), and Iowa (No. 17). Rutgers is 21st, while Minnesota and Purdue are receiving votes.
The Hawkeyes finished the 2013-14 season ranked 19th in the AP Top-25 poll, and 26th (receiving votes) in the USA Today Coaches poll. Iowa was ranked for eight weeks last season in the AP poll, and received votes in nine additional weeks.
LOGIC NAMED TO WOODEN AWARD LIST:
Samantha Logic, named Preseason All-Big Ten and preseason All-America by ESPN, has been named to the John R. Wooden Award Women's Preseason Top 30 list, comprised of the early front-runners for college basketball's most prestigious honor. The list is chosen by a preseason poll of national women's college basketball media members.
Logic, the NCAA's active career assists leader (659), ranks seventh in assists in Big Ten history. She leads the NCAA in the category this season (9.3), while also averaging 10.5 points and 8.5 rebounds per game.
DIXON REACHES 1,000, NAMED TO B1G HONOR ROLL:
Iowa senior Melissa Dixon was named to the Big Ten Player of the Week Honor Roll on Nov. 17 after recording her 1,000th-career point and averaging 18.5 points per game in a pair of wins over USC Upstate (107-65) and Robert Morris (85-67). She is Iowa's 32nd career 1,000-point scorer.
LOGIC NAMED TO B1G HONOR ROLL:
Samantha Logic was named to the Big Ten Player of the Week Honor Roll on Nov. 24 after recording her fifth-career triple-double with 12 points, 11 rebounds and 10 assists in the Hawkeyes' comeback win over Dayton. Logic was named the Hawkeye Challenge MVP after guiding Iowa to victories over Pepperdine and Dayton, averaging 12.0 points, 8.5 rebounds, 9.5 assists and 2.5 steals per game.
IOWA WINS HAWKEYE CHALLENGE:
The Hawkeyes defeated Dayton, 90-83, in the Hawkeye Challenge title game on Nov. 22. Iowa defeated Pepperdine, 97-68, in its opening game on Nov. 21. Samantha Logic was named tournament MVP, while Ally Disterhoft and Bethany Doolittle were named to the all-tournament team.
HAWKEYES SET SCHOOL RECORD IN OPENER:
The Hawkeyes defeated USC Upstate in the season-opener on Nov. 14, 107-56, setting a new school record for points in a game. The previous record was 106 against North Carolina in 1990 and Northern Iowa in 1978.
Iowa is leading the Big Ten in scoring offense (94.8).
MOVING UP CAREER CHARTS:
? Samantha Logic (659 career assists) surpassed Cara Consuegra (1997-2001; 576) as Iowa's all-time assists leader during Iowa's win at Illinois on March 2, 2014, in the regular season finale. She ranks seventh in Big Ten history.
? Melissa Dixon is fourth in 3-pointers on Iowa's all-time list (228). Kamille Wahlin is third with 231, and Jaime Printy is second with 252. Lindsey Meder holds the school record (261).
? Bethany Doolittle is third all-time with 193 career blocks. Tangela Smith is second with 235.
TOUGH SCHEDULE:
Iowa's schedule this season features 29 regular season games (18 conference, 11 nonconference). Of those 29 contests, 20 will come against teams that played in a postseason tournament last season. Seventeen-of-24 teams the Hawkeyes play this season reached a postseason tournament a year ago.
During the 2014 postseason, Big Ten programs combined for 15 NCAA Tournament and WNIT victories, tied for the most postseason wins in conference history.
WATCH THE HAWKEYES:
Twenty-six of Iowa's 29 regular season contests can be seen on BTN, BTN Plus, ESPN2, ESPN3, or MC22 (Mediacom Connections). Seventeen games will appear on BTN or digitally on BTN Plus, and two additional regular season contests will be televised by ESPN2. All 18 of Iowa's league games can be seen on one of the BTN or ESPN platforms, and the Hawkeyes' home nonconference contest against Iowa State on Dec. 11 will be televised by BTN at 7 p.m. (CT).
NCAA STREAK BEST IN BIG TEN:
Iowa is the only Big Ten team, and one of only 14 teams in the country, to appear in the last seven NCAA Tournaments. There are 343 Division I teams.
Iowa is 1-of-21 teams to advance to the Second Round of the NCAA Tournament in each of the last two seasons. The Hawkeyes, a No. 6 seed in the 2014 NCAA Tournament, defeated 11th-seeded Marist in the First Round, 87-65, marking the fourth-largest margin of victory in an NCAA Tournament game in program history.
IOWA PICKED 3RD; LOGIC NAMED ALL-BIG TEN:
Iowa has been picked to finish third behind Maryland and Michigan State in the 2014-15 Coaches Big Ten preseason rankings, while senior Samantha Logic has been named preseason All-Big Ten by league media and coaches.
Logic earned honorable mention All-America honors from the Associated Press and the WBCA as a junior last year. The Racine, Wisconsin, native was a unanimous first team All-Big Ten selection by the coaches, and a first team selection by the media to become the 18th Iowa player to garner first team All-Big Ten honors — the most of any Big Ten program.
LOGIC NAMED PRESEASON ALL-AMERICAN:
Samantha Logic, a 2014 honorable mention All-American, has been named to ESPN's Preseason All-America Second Team. Logic was joined on the second team by Rachel Banham of Minnesota, Moriah Jefferson of UConn, Isabelle Harrison of Tennessee and Aleighsa Welch of South Carolina. The first team included Jewell Loyd of Notre Dame, Tiffany Mitchell of South Carolina, Kaleena Mosqueda-Lewis of UConn, Nina Davis of Baylor and Breanna Stewart of UConn.
HAWKEYES AT CARVER-HAWKEYE ARENA:
The Hawkeyes are 353-101 (.778) all-time inside Carver-Hawkeye Arena, and 11-6 in NCAA Tournament games. Iowa went 14-4 at home last season, and is 93-23 in its last 116 games inside Carver-Hawkeye Arena.
Iowa's 14 home wins a year ago equaled the second-highest single-season total in program history. The 14 wins were the most in Iowa City since the Hawkeyes finished 14-0 in the 1995-96 season. Iowa also won 14 home games in 1988-89 (14-0), 1987-88 (14-0), 1986-87 (14-1), 1985-86 (14-1). The program record for home wins is 15, as the Hawkeyes finished 15-0 in 1992-93. Iowa advanced to the NCAA Final Four that season.
IOWA HISTORY:
Iowa has played 1,172 games since beginning basketball in 1974. Iowa's overall record is 723-449 (.617). That includes a 359-183 (.660) mark in regular season Big Ten contests and a 353-101 (.778) mark in Carver-Hawkeye Arena.
UP NEXT:
Iowa travels to No. 12 Louisville for an ACC/Big Ten Challenge matchup on Dec. 4, before hosting Colorado on Dec. 7.