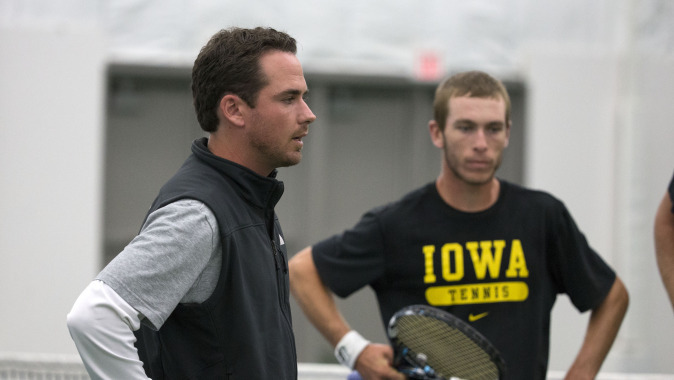 Nov 26, 2014
BY JACK ROSSI
IOWA CITY, Iowa — At the beginning of the 2013-14 fall season, the University of Iowa men's tennis team was at the bottom of the Big Ten Conference. The head coach at the time,Steve Houghton, brought on a bright, young assistant from San Diego. Today, that assistant has taken the reigns, and is reinvigorating the program.
Ross Wilson is a former Ohio State tennis star. He broke the Buckeyes' record for career wins and was a two-time NCAA All-American. Wilson was a part of the only doubles team in history to win back-to-back national indoor titles. Now, he is working his magic as a Hawkeye.
"When I started coaching, my goal was always to get back to the Big Ten and eventually be a head coach," Wilson said. "When I spoke to coach Houghton he said both of those things were possible if I came to Iowa, and I was ready to accept the challenge. I relished the fact that I could come in and revive a program that had been respectable in the past."
Houghton had been a student-athlete and coach at Iowa for 47 years. By bringing in Wilson, he had energy and a new style that worked well with a veteran team.
Wilson looked at the make-up of the team and decided to mold a playing style around them. Being aggressive was never more important. He pressed for his players to force their opponent to make mistakes rather than wait.
"Last year we had four guys that were 6-foot-3 or taller," Wilson said. "These guys had very good serves and that's going to put you ahead to put pressure on your opponent."
Houghton retired weeks before the beginning of the 2014 fall season, which left the program in a difficult spot. The athletics department went forward with Wilson, naming him interim head coach.
"It was a big surprise to me," Wilson said. "We sat down at the end of last year and he said he was coming back. He said it would have been another couple years until he leaves. I am happy that (director of athletics] Gary Barta and Houghton had enough faith in me to run the program."
Wilson is leading the charge, but he knows the team needs to improve on a 9-15 finish in 2014.
"Fortunately for me, coach Houghton groomed me for the position," Wilson said. "He gave me a lot of authority to do things in practice and with administrative duties and recruiting. The first thing I did was look to hire Ty Schaub as my assistant."
Wilson played with Schaub at Ohio State and the two have kept in contact since parting ways in 2006. Schaub was an assistant at the University of Pennsylvania when he was contacted by Wilson.
"The first time I heard from Ross about a position was about two weeks before I actually came here," Schaub said. "It was quick and came out of nowhere. Ross is somebody I have talked to a couple times a week, so I was familiar with the situation he had here. It was a quick turnaround for me."
"He was a guy I always had in mind," Wilson said. "I knew our personalities would work."
Wilson needed recruits. He brought in three promising players, including Lefteris Theodorou, who was the No. 1 Greek player in the U14, U16, and U18 divisions and was ranked as high as No. 31 in the European junior rankings.
"I saw that Iowa had a young team with a young coach who was ambitious to be one of the best teams in the Big Ten and be as highly ranked as possible," Theodorou said.
The pieces are in place and the rebuild is ongoing. The team needs one more thing. Experience.
The future is looking bright, and Wilson is striving for the top.
"Our ultimate goal is to compete for the Big Ten title," Wilson said. "We have young guys and there will be some bumps in the road, but we want to get into the NCAA tournament and get to the round of 16. We are excited to see where it goes."