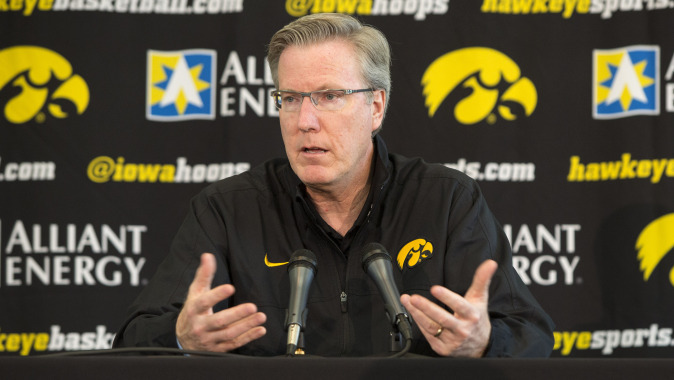 Dec. 1, 2014
IOWA CITY, Iowa — University of Iowa head men's basketball coach Fran McCaffery will meet with media today at 2 p.m. (CT) to preview the Hawkeyes' ACC/Big Ten Challenge match-up against No. 5/6 North Carolina on Wednesday.
The briefing with local, regional, and national media will be available live from start to finish on Hawkeye All-Access, the multi-media portal inside hawkeyesports.com, the official worldwide website of the Iowa Hawkeyes.
Iowa will travel to Chapel Hill, North Carolina, to square off against the Tar Heels at 6:30 p.m. (CT). The game will be televised on ESPN with John Saunders and Dick Vitale on the call.
The Hawkeyes have won three-straight contests to improve their record to 5-2 this season. North Carolina is 5-1 with its only loss coming to Butler, 74-66, on Nov. 26. The Tar Heels have downed No. 22 UCLA (78-56) and No. 18 Florida (75-64) in their last two contests.
In addition to live coverage of each of McCaffery's weekly news conferences, subscribers to Hawkeye All-Access also have exclusive access to weekly visits with the media of UI women's basketball coach Lisa Bluder, and head football coach Kirk Ferentz, live and exclusive coverage of Ferentz's, McCaffery's and Bluder's postgame news conference after home events, live and exclusive coverage of the weekly "Hawk Talk" radio shows of Iowa's head football, men's basketball, and women's basketball coaches, and the live play-by-play of every Iowa men's basketball game featuring the Hawkeye Radio Network's Gary Dolphin and Bobby Hansen and all football, women's basketball and wrestling events.
To become a subscriber to Hawkeye All-Access, click HERE.
To explore the offerings available inside Hawkeye All-Access, click HERE.