Dec. 1, 2014
THE SETTING
Iowa (5-2) hits the road to face No. 12 North Carolina (5-1) on Wednesday in the ACC/Big Ten Challenge. The game is scheduled to tipoff at 6:32 p.m. (CT) at the Dean Dome in Chapel Hill, North Carolina.
ON THE AIR
Radio: Iowa games are broadcast on the Hawkeye Radio Network. Gary Dolphin handles the play-by-play, along with color commentator Bob Hansen. The network includes more than 40 stations that blanket the state of Iowa and include portions of Illinois, Nebraska, Minnesota, Missouri and Wisconsin. The Hawkeye Radio Network coverage includes a 60-minute pregame show.
TV: Wednesday's game will be televised nationally on ESPN and will also be available on ESPN's mobile app WATCHESPN. John Saunders and Dick Vitale will call the action.
ACC/BIG TEN CHALLENGE QUICK HITS
? Wednesday will be the fourth meeting between Iowa and North Carolina, with Iowa leading the series, 2-1.
? Iowa's Mike Gesell and Adam Woodbury, and North Carolina guard Marcus Paige played on the same AAU teams (Iowa Stars and Martin Brothers). Paige hails from Marion, Iowa.
? Iowa is 3-10 in the Challenge games. The Hawkeyes did not take part in the event in 2003-04 and 2004-05. Iowa beat Notre Dame, 98-93, in last year's Challenge in Iowa City.
? Aaron White is the only Big Ten player to amass 100+ points, 50+ rebounds, and 10+ steals through seven games in 2014-15.
? Gabriel Olaseni, who hails from London, England, learned of his father's passing the morning of Nov. 26. He played later that evening, posting 10 points, blocking four shots and grabbing five rebounds in 20 minutes of action against the Huskies. He is planning to return to London for memorial services after Wednesday's game, but nothing is finalized as of Monday.
? Through seven games, Iowa's strength of schedule ranks 21st in the country.
? Iowa is 36-6 when scoring 80 points or more, the last five seasons. The Hawkeyes are 44-1 when holding opponents to fewer than 61 points, the last five years.
SERIES HISTORY
Iowa leads the all-time series over North Carolina, 2-1. The Hawkeyes won the first two meetings, 98-97, in Chapel Hill in 1989 and, 87-74, in Iowa City in 1990. The Tar Heels topped Iowa, 106-92, at the 2004 Maui Invitational. Iowa was ranked ninth and North Carolina was ranked sixth in the 1989 meeting in Chapel Hill. With the game tied 97-97, Roy Marble split a pair of free throws with 11 seconds remaining and a King Rice's long jumper was blocked to secure the Hawkeye victory.
HAWKEYES BEAT LONGWOOD
? Iowa beat Longwood, 77-44, on Nov. 29 for its third straight win.
? Three Hawkeyes scored in double figures: Aaron White (19), Jarrod Uthoff (11) and Gabriel Olaseni (10).
? Brady Ellingson saw extended minutes for the first time this season, scoring six points on 2-of-3 shooting from 3-point territory.
? Iowa outscored Longwood, 10-0, in second-chance opportunities and 14-5 on the fast break.
? Iowa blocked nine shots, five of which came from Gabriel Olaseni — a season high.
? The Hawkeyes assisted on a season-high 21 field goals. Josh Oglesby and Trey Dickerson each dished out a season-high four assists.
? Iowa's bench scored over half (40) of its point total (77).
SCOUTING NORTH CAROLINA
? North Carolina, ranked fifth last week and 12th this week, went 2-1 at the Battle 4 Atlantis last week, notching wins over UCLA and Florida, and losing to Butler.
? Four Tar Heels average double figures in scoring: Marcus Paige (15.2), Kennedy Meeks (13.8), Justin Jackson (11.7), and Brice Johnson (11.5).
? Marcus Paige (15-of-38, .395) is the only North Carolina player who has made more than six 3-pointers. Nate Britt has made five (5-of-13), followed by Justin Jackson (4-of-13), and J.P. Tokoto (4-of-11).
? Kennedy Meeks nearly averages a double-double (13.8 ppg and 9.7 rpg). He also leads the team in blocks (11).
? North Carolina assists on 64 percent of their field goals (109-of-169). Also, the Tar Heels boast a +3.3 turnover margin.
? North Carolina is 2-0 in home games this season, beating NC Central (76-60) and Robert Morris (103-59).
? The Tar Heels are coached by Roy Williams, who is in his 12th season at North Carolina and 27th season overall as a collegiate head coach. Williams has led North Carolina to NCAA championships in 2005 and 2009, and reached the Final Four in 2008.
OLASENI TO PLAY WEDNESDAY
Senior Gabriel Olaseni will make the trip to Chapel Hill with the team and play against North Carolina on Wednesday. The center is planning to return to London to be with family for his father's memorial services after Wednesday's game, but his travel arrangements haven't been finalized. Olaseni ranks first in the Big Ten in blocks (20), third in team rebounding (5.7) and fourth in scoring (7.7). The London native has scored in double figures in 4-of-7 games this season.
WHITE HOT
Aaron White ranks first among active Big Ten players in rebounding (706) and is fourth in scoring (1,418). White ranks first on the team in rebounding (7.6), steals (1.9), and scoring (16.7), and third in assists (2.4) this season. White is seeking to become the first Hawkeye to lead the team in scoring and rebounding since Greg Brunner in 2006 (14.1 points and 9.2 rebounds per game). He is the only Big Ten player through seven games, this year, to score 100+ points, grab 50+ rebounds and collect 10+ steals. White was the only Big Ten player to average 13+ points and 7+ rebounds during league play in 2014. White became the first Hawkeye ever to register 1,300+ points, 650+ rebounds, 100+ steals, and 100+ assists by his junior season. White was the only player in the country to shoot better than 55 percent from the field and 80 percent from the foul line in 2014. He shot 58 percent from the field and 81 percent from the charity stripe. White is already on pace to accomplish the feat a second consecutive season, shooting 59 percent from the field and 85 percent from the foul line after seven games. White became the fifth player, since 1960, to lead the Hawkeyes in rebounding three consecutive seasons. White joins Don Nelson (1960-62); Kevin Kunnert (1971-73); Bruce King (1975-77); and Greg Brunner (2004-06). He is seeking to become the first player all-time to lead the Hawkeyes in rebounding all four seasons. White became the 41st Hawkeye to surpass 1,000 career points with his 19th point scored with one second remaining at the free throw line versus Notre Dame (Dec. 3). He reached the 1,000-point milestone in his 82nd career game. White currently ranks 15th in Iowa scoring.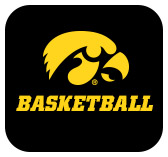 STRONG START FOR WOODBURY
Center Adam Woodbury averaged 5.7 points and 3.9 rebounds last year as a sophomore. Through seven games as a junior, Woodbury is averaging 9.1 points and 6.3 rebounds. He is shooting 60 percent (27-of-45) from the field this year. Woodbury has already matched his double-digit scoring games from a year ago (four).
UTHOFF PRODUCING ON THE WING
Jarrod Uthoff ranks second in team scoring (11.6 ppg) and second in steals (1.7) through seven games. The redshirt junior averaged 14 points, six rebounds, and three steals in Iowa's two games in New York. He has drained two 3-pointers or more in 5-of-7 games. Uthoff drained a personal-best four triples in Iowa's victory over Hampton (Nov. 14). He has reached double figures in five of Iowa's first seven contests. The native of Cedar Rapids, Iowa, tallied 11 points bolstered by 3-of-5 shooting from 3-point territory, grabbed six rebounds and collected two steals in Iowa's last game against Longwood on Saturday.
CLEMMONS RETURNS TO FORM
After a sluggish sophomore campaign, Anthony Clemmons has had a strong start to his junior season. Clemmons has started the first seven games, averaging 7.3 points. Reaching double figures just once a season ago, Clemmons has already netted double digits three times. He was 6-of-16 (.375) from 3-point territory last season and has already surpassed that total through seven games this year (9-of-20, .450).
ACADEMIC EXCELLENCE
In recognition of Mike Gesell's outstanding academic record in the Tippie College of Business at The University of Iowa, the junior has been invited to become a member of Beta Gamma Sigma, the National Scholastic Honor Society for business students. This honor is reserved for students who have earned GPAs that place them in the top 10 percent of their class. The UI chapter, established in 1920, is one of the 10 oldest in the nation.
HAWKEYE FAST BREAKS
? Iowa has won 29 straight nonconference home games, a streak that dates back to November 2011 (Clemson). The active streak ranks ninth in the country.
? Iowa ranks first in the Big Ten in field goal percentage defense (.348) and offensive rebounding (13.9), second in blocks (6.3) and steals (9.3), and third in scoring defense (57.6).
? Iowa ranks 21st in the country in strength of schedule through seven games.
? Gabriel Olaseni, as a reserve, ranks first in the Big Ten in blocks (2.9 bpg).
? Aaron White ranks fifth in the league in rebounding (7.6) and 10th in scoring (16.7).
BLOCK PARTY
Senior Gabriel Olaseni denied a game-high four shots in Iowa wins over Hampton (Nov. 14) and Northern Illinois (Nov. 26). He denied a career-high five shots in Iowa's win over Northern Illinois on Wednesday. Olaseni leads the Big Ten, averaging 2.9 rejections per game. Uthoff ranks eighth in the league in blocks (1.7), rejecting at least one shot in 6-of-7 games. As a team, Iowa ranks 20th in the country in rejections (6.3).
2014 IOWA BASKETBALL TEAM HIGHLIGHTS
? Iowa won 20 games or more in consecutive seasons for the first time since 2004-05/2005-06.
? Iowa returned to the NCAA Tournament for the first time since 2006. The Hawkeyes, who played in their 23rd tournament, fell 78-65 in overtime to Tennessee in the first round.
? Fran McCaffery is one of 12 coaches to guide four different teams to the NCAA Tournament.
? Iowa finished sixth in the Big Ten standings for the second consecutive season. McCaffery has posted upper division finishes in each of the past two seasons at Iowa and 14-of-18 seasons as a head coach. He has posted 20 wins or more six of the last eight seasons, including the last two at Iowa (2013 and 2014).
? Iowa scored 2,689 points, which are the fifth most in program history.
? Iowa attempted 660 free throws — the third most in program history.
ROSTER CHANGES FOR 2014-15
Roy Devyn Marble, Melsahn Basabe, and Zach McCabe (3,684 combined points) exhausted their eligibility after last season, while forwards Kyle Meyer and Darius Stokes transferred. Iowa welcomes five newcomers: Brady Ellingson, Trey Dickerson, Dom Uhl, and walk-ons Nicholas Baer and Charlie Rose. After spending the last three seasons as a walk-on, guard Kyle Denning has been rewarded with a scholarship for his senior season.
IOWA HISTORY
Iowa has played 2,648 games since beginning basketball in 1902. Iowa's overall record is 1,555-1,093 (.587). That includes a 994-349 (.740) record in home games, a 557-741 (.429) record in contests away from Iowa City, a 729-746 (.494) mark in Big Ten games and a 398-123 (.764) record in Carver-Hawkeye Arena.
2014 INDIVIDUAL HIGHLIGHTS
? Devyn Marble (first) and Aaron White (third) were all-conference honorees. Marble is Iowa's first all-conference first-team honoree since Adam Haluska in 2007.
? Aaron White was the only player in the country to shoot better than 55 percent from the field and 80 percent from the free throw line in 2013-14. White, who amassed 1,301 points, became just the fourth Hawkeye to accumulate 1,300+ points as a junior, joining Roy Marble (1,441), Ronnie Lester (1,423) and Jess Settles (1,303).
? Junior Gabriel Olaseni was one of only four players in the country (minimum 160 rebounds) with more offensive rebounds (82) than defensive (81).
COACHING EXPERIENCE
Fran McCaffery has one of the most experienced coaching staffs in the country. The Iowa men's basketball staff has 66 years of combined collegiate head coaching experience and more than 130 years of collegiate coaching under their belts.
HAWKEYEBASKETBALL.COM
Check out the Iowa basketball team's website, HawkeyeBasketball.com, devoted to everything on-and-off-the-court surrounding the program. HawkeyeBasketball.com, allows fans a chance to go behind the scenes with the Hawkeye basketball program on and off the court. The site is complete with exclusive videos, photo galleries and content featuring the basketball program.
HY-VEE BIG FOUR CLASSIC TICKETS ON SALE
The state of Iowa's four NCAA Division I institutions will host the third annual Hy-Vee Big Four Classic, a men's college basketball doubleheader at Wells Fargo Arena in Des Moines Dec. 20. Tickets, priced at $25, $50 and $70, can be purchased at dahlstickets.com the Wells Fargo Arena Ticket Office, all Dahl's Foods Locations and by calling 1-866-55-DAHLS.
ALL-SESSION BIG TEN TOURNAMENT TICKETS ON SALE
All-session tickets for the 2015 Big Ten Men's Basketball Tournament are on sale. The Big Ten Men's Basketball Tournament will return to the United Center in Chicago, March 11-15. The event will feature a five-day format for the first time in conference history. Lower level tickets may be purchased through the UI Ticket Office. Upper level tickets may be purchased at Ticketmaster outlets, ticketmaster.com, by calling Ticketmaster at (800) 745-3000 or going to unitedcenter.com. All-session tickets for the 100 and 200 levels at the United Center are available for $375 through the Big Ten university ticket offices only. All-session tickets for the 300 level are available for $275 or $200 (depending on seat location) through Ticketmaster or the United Center box office only. Orders will be limited to four all-session tickets. The tournament will continue to feature a discounted student ticket program. Students of Big Ten universities will be able to purchase tickets for $20, good for only the session or sessions featuring their school. All students must have a valid student ID for entry. Student section seating will be available in balcony sections and orders will be limited to one ticket per student.
ON THE HORIZON
Iowa returns home to host Maryland-Baltimore County on Saturday, Dec. 6. Tipoff is scheduled for 12:07 p.m. (CT) on Mediacom Court at Carver-Hawkeye Arena. Tickets are available for purchase.