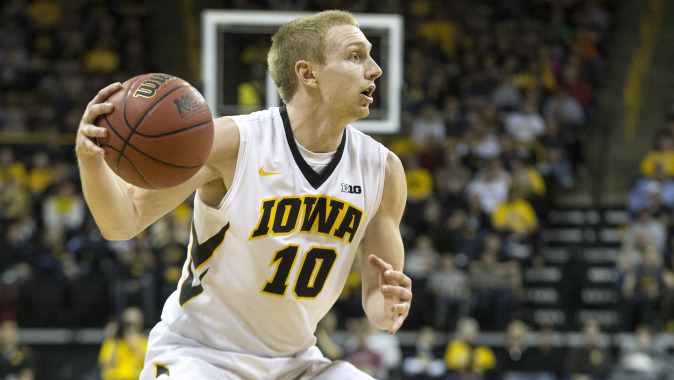 Dec. 2, 2014
Editor's Note: The following first appeared in the University of Iowa's Hawk Talk Daily, an e-newsletter that offers a daily look at the Iowa Hawkeyes, delivered free each morning to thousands of fans of the Hawkeyes worldwide. To receive daily news from the Iowa Hawkeyes, sign up HERE.
By JAMES ALLAN
hawkeyesports.com
IOWA CITY, Iowa — Friends become foes Wednesday when the University of Iowa men's basketball team squares off against No. 12 North Carolina in Chapel Hill.
UI juniors Mike Gesell and Adam Woodbury and UNC guard Marcus Paige were AAU teammates for the Iowa Stars and Martin Brothers throughout high school. Paige, a Marion, Iowa native and Linn-Mar High School graduate, also competed against Josh Oglesby and Jarrod Uthoff in high school.
"We played 100s of games… four summers, a lot of games, travel, and miles," said Woodbury. "We've known each other for a long time."
It isn't going to be difficult for Gesell to lace up his sneakers to play against his close friend.
"It's kind of like a competition with your brother," he said. "You love each other, but once you get into a competition, you hate each other, and you're going to do anything you can to beat him.
"After the game, you're going to be best friends again."
Paige is a preseason All-American by virtually every preseason basketball publication and is the Preseason Atlantic Coast Conference Player of the Year. The guard has led the Tar Heels to a 5-1 start, averaging 15.2 points. He has 21 assists and is shooting nearly 40 percent from 3-point range.
"(Marcus) is an integral part of what they do," said UI head coach Fran McCaffery. "He can have the ball, go off the ball, be a late-game shot maker, and is incredibly unselfish. He can get points, assists… whatever his team needs."
Gesell knows the challenge of competing against a player as talented as Paige. "We both know each others games like the back of our hand," said Gesell. "It's going to be an interesting matchup. Just because we are friends doesn't mean we're going to take it easy on each other. We're going to try to beat each other."
The Hawkeyes are looking to make the most of another early-season challenge to atone for a missed opportunity in November at the 2K Classic in New York City. Iowa lost its first two games against ranked competition, falling to No. 10 Texas (71-57) and No. 23 Syracuse (66-63).
"We didn't make the most of our opportunity in New York, so this is another chance for us," said Gesell. "You always want a signature win, and this would be a huge one for us in a hostile road environment. It will be a good test."
Uthoff says the team is excited to play in a marquee matchup against the Tar Heels, but they need to treat it like it's just another game.
"We have to treat every game the same whether it's Longwood or Northwood," he said. "Whoever we play, we have to be locked in every time. We'll treat this game the same, but realize the stage we're on."
Wednesday's ACC/Big Ten Challenge matchup will begin at 6:32 p.m. (CT) from the Dean Smith Center. The game will be televised on ESPN with John Saunders and Dick Vitale on the call.