Dec. 3, 2014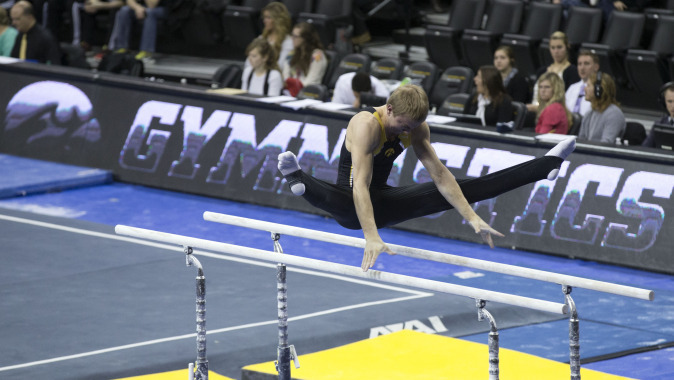 Weekly Release

THIS WEEK:
The University of Iowa men's gymnastics team kicks off the year with the annual Black and Gold Intrasquad on Dec. 6 at the UI Field House in Iowa City. The event begins at 2 p.m. (CT). Admission is free.
LAST TIME OUT:
The University of Iowa men's gymnastics team sent seven gymnasts to individual event finals at the NCAA Championships in 2014, and finished seventh at Big Ten Championships in Ann Arbor.
BREAKING RECORDS:
The Hawkeyes broke numerous records in 2014. Doug Sullivan broke current assistant coach Ben Ketelsen's pommel horse record (15.250) on Feb 15. At the Arnold Classic in March, Iowa set a school record on Rings (75.350). At Nebraska on March 15, the Hawkeyes set a new school record for overall team score (437.250). This was the second time in 2014 that Iowa had broken that record, the first time coming against Minnesota and Nebraska in Iowa City. At the same meet, Iowa set a team record for overall vault score (74.150), and Matt Loochtan broke a floor record (15.600) against Minnesota on March 8.
PRACTICE FACILITY RENOVATION:
The men's and women's gymnastics teams are amidst a practice facility renovation. The renovation will provide the gymnasts with more space to practice, include two new foam pits, and another pommel horse. The gym will help accelerate the gymnasts' skills and improve safety at the facility. The gym — located in the UI Field House — is scheduled to be completed in February 2015.
Canadian National Champion:
Over the summer sophomore Corey Paterson participated in the Canadian National Championships and won the high bar event with a score of 13.850. He also finished fifth in the all-around competition with a 79.800. Paterson is expected to have an increased role in 2015 with the departure of seniors Angelo Bronzino and Matt McGrath.
HEAD COACH JD Reive:
Entering his fifth year as head coach of the Hawkeyes, Reive has high expectations for his team. For the first time in his career Reive has a team comprised of gymnasts he personally recruited. He is looking to take the program another step forward. Reive led the Hawkeyes to a fifth place finish at the NCAA Championships in 2013, their best finish in a decade. In 2014, the gymnasts set seven school records and seven went on to compete individually at the NCAA Championships. Reive graduated from Nebraska in 2000 and was an assistant at Stanford from 2003-10 where he helped the team grab four top three finishes.
HAWKEYE NEWCOMERS:
The Hawkeyes welcome five newcomers to their team — Austin Hodges, Dylan Ellsworth, Elijah Parsells, Jon-Luc Garcia, and Anthony Van Aacken. Hodges comes in with high expectations on pommel horse placing second at Junior Olympic Nationals and fourth at 2012 Visa Championships. Ellsworth is a three-time former state champion from Utah.
TWO STUDENT-ATHLETES NAMED ACADEMIC ALL-BIG TEN:
Cyrus Dobre-Mofid and Jack Boyle ended 2014 with Academic All-Big Ten honors. Dobre-Mofid is a sociology major from Hagerstown, Maryland. Boyle is an engineering major from Naperville, Illinois.
NEW ASSISTANT COACH:
Minyoung Kwon was named Iowa's newest assistant coach this summer. Kwon brings over 30 years of gymnastics experience going back to when he was on the Korean National team in the 1990s. Kwon last coached at Westside Gymnastics Club in Nashville, Tennesee. He has experience as a coach, judge, and athlete. Kwon graduated from the Korea National Sport University in 1996 and went on to earn his master's degree in Physical Education in 1998.
ROSTER BREAKDOWN:
The Hawkeye men's gymnastics team is comprised of five freshman, six sophomores, six juniors, and three seniors.
SEASON TICKETS:
Fans interested in attending 2015 home meets at Carver-Hawkeye Arena should visit hawkeyesports.com or contact the UI Athletics Ticket Office at 1-800 IA-HAWKS. Season tickets are currently on sale for $8 for adults; the price will jump to $10 after Iowa's Intrasquad on Saturday.
UP NEXT:
The Iowa men's gymnastics team opens the 2015 regular season at the Windy City Invitational on Jan. 17. The event starts at 7:30 p.m. (CT).
FOLLOW THE HAWKEYES:
Web Address: hawkeyesports.com (check the schedule page for live stats and live streams)
Facebook: facebook.com/iowagymnastics
Twitter: twitter.com/iowagymnastics
YouTube: youtube.com/iowagymnastics