Dec. 6, 2014
Photo Gallery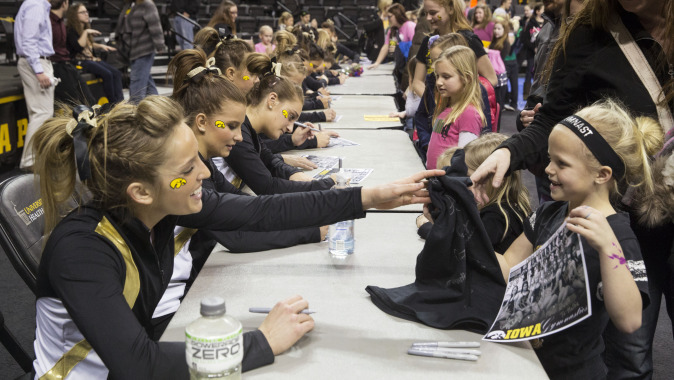 IOWA CITY, Iowa — Fans were given their first look at the 2015 University of Iowa women's gymnastics squad on Saturday at the annual Black and Gold Intrasquad held in the UI Field House. The Hawkeyes were divided into two teams and showcased their routines to a large and energetic crowd.
"I thought it was a great turnout considering we have six huge events on campus right now, which is exciting for the fans of every sport," said head coach Larissa Libby.
Libby is optimistic for the upcoming season and their opening contest against her alma mater (#3 LSU), but she acknowledges that there is still work to be done.
"I think that we have a lot more potential than we are showing right now. You know I've kind of beaten myself up watching because I felt like we should be a lot better but then I'm thinking back and I took a quick look at videos from last year and they weren't doing this stuff. They were getting spotted on things last year; they weren't doing full sets last year at this point. So that's a huge step in itself. Is it sloppy? Yes, but it's a full set. We don't compete until the second week of January. I am pleased with where they are as far as a team physically; mentally we have a long way to go."
Senior Sydney Hoerr's takeaway from the meet mirrored Libby's.
"I think it went really well. We were a little bit shaky, but overall I'm really impressed with what we did," said Hoerr. "We have been training really hard in the gym. We did really well coming out focused and aggressive, but we still have a lot more to work on."
With underclassmen making up a majority of the team, Libby was excited to see strong performances from the newest additions to the squad.
"I was impressed with Nikki (Youd). Nikki just got that vault and she was thrown in the lineup a couple different places, so I thought she went to the next level on bars and vault, which I was very happy to see," said Libby.
Youd made her first appearance as a Hawkeye in all four of the Intrasquad events, along with freshmen Ashley Fischer, Lanie Snyder, Melissa Zurawski, Kadi Knuth, Jori Robertson, and Megan Ruzicka.
The Hawkeyes begin the regular season on the road at LSU on Jan. 9, 2015.
"We as coaches just have to make sure we do the right things to not make these mistakes again and come out just a little bit quicker, stronger, faster, sharper, when we compete against LSU," said Libby.