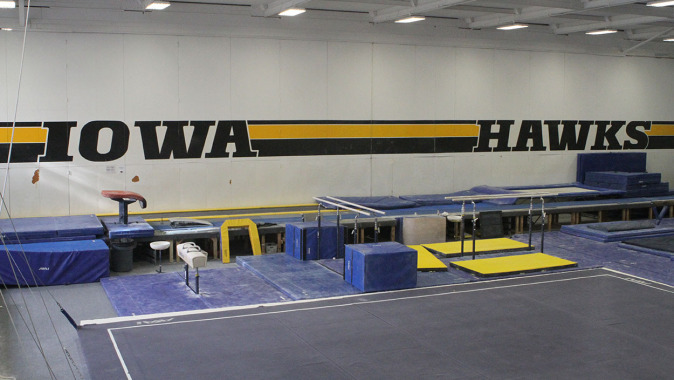 Dec. 6, 2014

Photo Gallery
By JACK ROSSI
IOWA CITY, Iowa — After months of talk and planning the University of Iowa Department of Intercollegiate Athletics approved the renovation and expansion of the men's and women's gymnastics practice facility located in the UI Field House. Crews broke ground on the project last week and are scheduled to complete the project in February, 2015.
"The University of Iowa is committed to the growth and development of Hawkeye gymnastics," director of athletics Gary Barta said. "We are providing many resources to the men's and women's programs by expanding and renovating their practice facility located in the UI Field House. The project will benefit Iowa student-athletes, coaches, and support staff for years to come. We are excited to have that impact on the sport of gymnastics."
Hawkeye head coaches Larissa Libby and JD Reive are excited about the project and the many ways it benefits both programs.
"This is a phenomenal statement for the athletics department, " Reive said. "They are committed to supporting gymnastics in general. We are incredibly grateful for that. It shows that they want us to be successful."
"We will be doubling a lot of the equipment," Libby said. "Right now we are sharing a lot of stuff with the men. We both use the floor and vault because we have that in common. After the renovation we won't be in each other's way. We stagger our schedules, but it's difficult to not be on top of each other. Ideally, we won't be waiting on each other to train."
The renovation will give the gymnasts more space than ever before and on top of that, the gymnasts will benefit from a safer environment and more resources for better teaching.
"It's bringing another level of teaching ability by giving us foam pits," Reive said. "The biggest thing we have right now for difficulty is hard landings, which is appropriate for competitions, but for the learning process, foam pits are necessary."
Both programs are excited this project is coming to fruition.
"We have been talking about a gym renovation for so long," said assistant coach Ben Ketelsen. "We've had designs and maps since before I got here, and now they're starting the demolition process. We have received great support for this project and are happy it's happening."
Until its completion, both teams will train in the main gym at the UI Field House.
The annual Black and Gold Intrasquad takes place today with the women kicking things off at 11 a.m. (CT) and the men at 2 p.m. Admission is free.
The Hawkeye men's team is hosting a flips event at The Mill in Iowa City on Sunday starting at 5 p.m. The team will showcase its skills and interact with fans until 7 p.m.