Dec. 10, 2014
THE SETTING
Iowa (8-2), winners of six straight, hosts in-state rival No. 13/14 Iowa State (6-1). Tipoff for the Iowa Corn Cy-Hawk Series matchup is scheduled for 7:06 p.m. (CT) on Mediacom Court at Carver-Hawkeye Arena (15,400). The game is sold out.
ON THE AIR
Radio: Iowa games are broadcast on the Hawkeye Radio Network. Gary Dolphin handles the play-by-play, along with color commentator Bob Hansen. The network includes more than 40 stations that blanket the state of Iowa and include portions of Illinois, Nebraska, Minnesota, Missouri and Wisconsin. The Hawkeye Radio Network coverage includes a 60-minute pregame show. TV: Friday's game will be televised nationally on BTN (BTN2GO). Kevin Kugler and Shon Morris will call the action.
OPENING TIPOFF
? Fans are encouraged to wear black clothing ("Blackout") to Friday's Iowa State-Iowa game.
? Iowa has won four of the last five games against Iowa State in Carver-Hawkeye Arena, dating back to 2004.
? Iowa State-Iowa is one of only four Division I men's basketball games across the nation Friday.
? Iowa won its 400th game (400-123, .765) in Carver-Hawkeye Arena Tuesday vs. Alcorn State.
? Iowa has won 31 straight nonconference home games, a streak that dates back to November 2011 (Clemson). The active streak ranks sixth in the country. Iowa State is ninth, winning its last 25 in Hilton Coliseum.
? Aaron White had himself a game in last year's meeting against Iowa State in Ames. White scored 25 points and grabbed 17 rebounds to become to first Hawkeye since Jared Reiner in 10 years (March 1, 2003) to accumulate 25 points and 17 rebounds in a game.
? Iowa is averaging a double-double out of its center position of Adam Woodbury and Gabriel Olaseni. The duo combine to average 17 points and 12.1 rebounds through 10 games.
? Iowa has held its last four opponents to under 50 points. The last time the Hawkeyes held four straight opponents to 49 points or less was the first four games of the 2007-08 season.
HAWKEYES OVERWHELM ALCORN STATE
? For the second straight game, four Hawkeyes scored in double figures in a Hawkeye win. Iowa beat Alcorn State, 67-44, Tuesday night in Iowa City.
? The 44 points scored by the Braves Tuesday equal the fifth fewest by an Iowa opponent in the Fran McCaffery era.
? Senior Gabriel Olaseni posted his team-best second double-double of the season (12 points and 10 rebounds). The 10 rebounds were a team-best. Olaseni has led the team in rebounding three of the last four games, including the last two.
? Aaron White netted nine of his 15 points from the free throw line. White sank 9-of-10 (.900) from the charity stripe.
? The Hawkeyes held Alcorn State without a 3-point field goal (0-of-8). It marked the first time since Jan. 24, 2010, that an Iowa opponent failed to make at least one triple (Indiana, 0-of-9).
? Freshman Dom Uhl scored a personal-best 11 points, bolstered by 5-of-6 shooting from the field, and also grabbed a season-high six rebounds.
? Iowa's bench scored 28 points en route to victory.
DEFENDING THE GOAL
Iowa enters Friday's game ranked seventh in the country in field goal percentage defense (.337) and 16th in scoring defense (54.9). The Hawkeyes have held their last five opponents (Northern Illinois, Longwood, North Carolina, UMBC, and Alcorn State) to 33 percent shooting or lower and six opponents overall (North Dakota State). Last year, Iowa opponents shot 41.5 percent from the field.
SCOUTING IOWA STATE
? Friday will be Iowa State's first true road contest of the season. The Cyclones are 5-0 at home and 1-1 on a neutral court.
? Iowa State leads the Iowa Corn Cy-Hawk Series, 11-2, with three events this week: Thursday (women's basketball); Friday (women's swimming & diving); Friday (men's basketball). All three events will take place in Iowa City.
? Iowa State's five starters all average in double figures: Georges Niang (18.0), Bryce Dejean-Jones (17.1), Naz Long (11.6), Dustin Hogue (11.6), and Monte Morris (10.3).
? Point guard Monte Morris ranks third in the country in assist-to-turnover ratio (6.8) and 23rd in assists per game (5.9), while forward Georges Niang ranks 19th in free throw percentage (92.1).
? Iowa State ranks fourth in the country in assist-to-turnover ratio (1.7), ninth in assists (18.6), 11th in fewest personal fouls (14.3), 12th in scoring offense (83.6), 22nd in field goal percentage (49.4).
? Iowa State's starting five play 76 percent of its minutes played (1,066-of-1,400).
? Iowa State handed Kansas City (UMKC) a 73-56 defeat Tuesday night in Ames. Bryce Dejean-Jones led all scorers with 22 points, while Monte Morris chipped in 13 for the Cyclones. Iowa State outscored the Kangaroos, 14-5 at the foul line.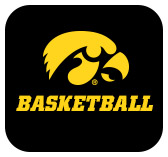 WHITE HOT
Aaron White ranks first among active Big Ten players in rebounding (724) and is third in scoring (1,457). White ranks first on the team in rebounding (7.1), steals (1.6), and scoring (15.6), and third in assists (2.1) this season. White is seeking to become the first Hawkeye to lead the team in scoring and rebounding since Greg Brunner in 2006 (14.1 points and 9.2 rebounds per game). White was the only Big Ten player to average 13+ points and 7+ rebounds during league play in 2014. White became the first Hawkeye ever to register 1,300+ points, 650+ rebounds, 100+ steals, and 100+ assists by his junior season. White was the only player in the country to shoot better than 55 percent from the field and 80 percent from the foul line in 2014. He shot 58 percent from the field and 81 percent from the charity stripe. White is already on pace to accomplish the feat a second consecutive season, shooting 55 percent from the field and 88 percent from the foul line after 10 games. White became the fifth player, since 1960, to lead the Hawkeyes in rebounding three consecutive seasons. White joins Don Nelson (1960-62); Kevin Kunnert (1971-73); Bruce King (1975-77); and Greg Brunner (2004-06). He is seeking to become the first player all-time to lead the Hawkeyes in rebounding all four seasons. White became the 41st Hawkeye to surpass 1,000 career points with his 19th point scored with one second remaining at the free throw line versus Notre Dame (Dec. 3). He reached the 1,000-point milestone in his 82nd career game. White currently ranks 15th in Iowa scoring.
STRONG START FOR WOODBURY
Center Adam Woodbury averaged 5.7 points and 3.9 rebounds last year as a sophomore. Through 10 games as a junior, Woodbury is averaging 8.2 points and 5.9 rebounds. He is shooting 56 percent (35-of-63) from the field this year. Woodbury has already surpassed his double-digit scoring total (five) from a year ago (four). The native of Sioux City, Iowa, ranks 11th in the Big Ten in field goal percentage (.556).
UTHOFF PRODUCING ON THE WING
Jarrod Uthoff ranks second in team scoring (11.3 ppg) and is second in steals (1.5). The redshirt junior averaged 14 points, six rebounds, and three steals in Iowa's two games in New York. He drained a personal-best four triples in Iowa's victory over Hampton (Nov. 14). He has reached double figures in seven of Iowa's first 10 contests. The native of Cedar Rapids, Iowa, tallied eight points and equaled career bests in rebounding (11) and blocked shots (five) in Iowa's five-point victory at No. 12 North Carolina. He posted 13 points and four rebounds in the Hawkeyes win over Alcorn State on Tuesday.
CLEMMONS RETURNS TO FORM
After a sluggish sophomore campaign, Anthony Clemmons has had a strong start to his junior season. Clemmons has started the first 10 games, averaging 6.3 points. Reaching double figures just once a season ago, Clemmons has already netted double digits three times. He was 6-of-16 (.375) from 3-point territory last season and has already surpassed that total through 10 games this year (10-of-25, .400).
IOWA VS. RANKED TEAMS
Friday will be Iowa's fourth game against a nationally-ranked opponent. The Hawkeyes are 1-2 against ranked opponents, most recently winning at No. 12 North Carolina (60-55) on Dec. 3. The Hawkeyes fell to No. 10 Texas (71-57) and No. 23 Syracuse (66-63) in New York City in mid-November.
WHITE NOMINATED FOR GOOD WORKS TEAM
The National Association of Basketball Coaches (NABC) and Allstate Insurance Company announced the nominees for the 2015 Allstate NABC Good Works Team. Among the nominees is University of Iowa basketball student-athlete Aaron White. This prestigious community service award recognizes a distinguished group of student-athletes who have demonstrated a commitment to enriching the lives of others and contributing to the greater good in their communities. College sports information directors and basketball coaches across the country nominated players who exhibit exceptional leadership skills and an unwavering commitment to volunteerism. From the 158 NABC nominees, distinguished voting panels will select two 10-member teams comprised of five student-athletes from the NCAA Division I level. The final roster of 20 award recipients will be unveiled in February.
HAWKEYE FAST BREAKS
? Iowa has made (162) more free throws than its opponents have attempted (156).
? Aaron White ranks first in the country by a wide margin in highest percentage of points scored from free throws (minimum 150 total points).
? Iowa is 36-6 when scoring 80 points or more, the last five seasons. The Hawkeyes are 47-1 when holding opponents to fewer than 61 points, the last five years.
? Iowa ranks seventh in the country in field goal percentage defense (33.7), 16th in scoring defense (54.9), 18th in 3-point field goal percentage defense (25.7), 23rd in free throw percentage (75.0), and 33rd in assists (16.2).
? Six different Hawkeyes have led the team in scoring, while five different players have led the squad in rebounding through 10 games.
? Aaron White ranks fifth in the Big Ten in rebounding (7.1), fourth in free throw percentage (.877), and 11th in scoring (15.6). Mike Gesell ranks 11th in the Big Ten in assists (3.8). Gabriel Olaseni is second in the conference in blocked shots (25).
? Aaron White has attempted 10 free throw or more in four games this season, including two of the last three. White has attempted more free throws (73) than any other Big Ten player.
BLOCK PARTY
Senior Gabriel Olaseni denied a game-high four shots in Iowa wins over Hampton (Nov. 14) and Northern Illinois (Nov. 26). He denied a career-high five shots in Iowa's win over Northern Illinois. Olaseni ranks second in the Big Ten, averaging 2.5 rejections per game. He also ranks seventh in Iowa career blocks (112). Uthoff ranks sixth in the league in blocks (1.8), rejecting at least one shot in 8-of-10 games. As a team, Iowa ranks 29th in the country in rejections (5.8).
IOWA HISTORY
Iowa has played 2,651 games since beginning basketball in 1902. Iowa's overall record is 1,558-1,093 (.588). That includes a 996-349 (.740) record in home games, a 558-741 (.429) record in contests away from Iowa City, a 729-746 (.494) mark in Big Ten games and a 400-123 (.765) record in Carver-Hawkeye Arena.
ACADEMIC EXCELLENCE
In recognition of Mike Gesell's outstanding academic record in the Tippie College of Business at The University of Iowa, the junior has been invited to become a member of Beta Gamma Sigma, the National Scholastic Honor Society for business students. This honor is reserved for students who have earned GPAs that place them in the top 10 percent of their class. The UI chapter, established in 1920, is one of the 10 oldest in the nation.
COACHING EXPERIENCE
Fran McCaffery has one of the most experienced coaching staffs in the country. The Iowa men's basketball staff has 66 years of combined collegiate head coaching experience and more than 130 years of collegiate coaching under their belts.
HAWKEYEBASKETBALL.COM
Check out the Iowa basketball team's website, HawkeyeBasketball.com, devoted to everything on-and-off-the-court surrounding the program. HawkeyeBasketball.com, allows fans a chance to go behind the scenes with the Hawkeye basketball program on and off the court. The site is complete with exclusive videos, photo galleries and content featuring the basketball program.
HY-VEE BIG FOUR CLASSIC TICKETS ON SALE
The state of Iowa's four NCAA Division I institutions will host the third annual Hy-Vee Big Four Classic, a men's college basketball doubleheader at Wells Fargo Arena in Des Moines Dec. 20. Tickets, priced at $25, $50 and $70, can be purchased at dahlstickets.com the Wells Fargo Arena Ticket Office, all Dahl's Foods Locations and by calling 1-866-55-DAHLS.
ON THE HORIZON
Iowa will have a week between games while the student-athletes prepare and take final examinations. The Hawkeyes return to the court on Saturday, Dec. 20, when they face Northern Iowa at 6:30 p.m. in Des Moines in the Hy-Vee Big Four Classic.