Dec. 10, 2014
Editor's Note: The following first appeared in the University of Iowa's Hawk Talk Daily, an e-newsletter that offers a daily look at the Iowa Hawkeyes, delivered free each morning to thousands of fans of the Hawkeyes worldwide.
By DARREN MILLER
hawkeyesports.com
IOWA CITY, Iowa — After bouncing back against Colorado, the University of Iowa women's basketball team wants to carry on against Iowa State in Thursday's Iowa Corn Cy-Hawk Series in Carver-Hawkeye Arena.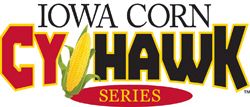 A key advantage could be that the game is played on Mediacom Court. The home team has won seven straight in the series, including Iowa State's 83-70 victory last season in Ames.
"Home court has been important," UI head coach Lisa Bluder said Tuesday at a news conference in Carver-Hawkeye Arena. "We are glad that it is on our home court, but we know that isn't the only element.
"I feel comfort in it and I love playing at home. I love playing in Carver-Hawkeye Arena. We have great fans, our players love playing here, so we're going to use our home court."
Iowa held serve against the Cyclones in Iowa City in 2012 (50-42), 2010 (62-40), and 2008 (66-46). The 24th-ranked Hawkeyes (7-2) are 6-0 at home this season, including a 15-point win Sunday against Colorado — three days after losing by 34 at No. 7 Louisville.
"You can tell a lot about a team in how it responds from a loss, especially a big loss," UI sophomore Ally Disterhoft said. "We want to learn from losses and move on."
It will be an in-state matchup of similar opponents. The most unique is at point guard, where UI senior Samantha Logic is No. 1 among active career NCAA assist leaders (677) and Iowa State senior Nikki Moody is No. 2 (581).
"Two of the best in America going at each other, what an opportunity," Bluder said.
Both teams lost one starter from their 2013-14 teams that qualified for the NCAA Tournament. Both have four starters averaging double figures in points per game. Both like to penetrate and pitch to open shooters (see Logic & Moody). Both are successful shooting from outside.
"We match up similar that way," said UI senior guard Melissa Dixon. "For us, it starts with defense, getting stops, and pushing in transition to get those open 3s. But, we need to get stops."
Thirty-one percent of the Hawkeyes' field goal attempts have come from 3-point range; Iowa State shoots 42 percent of the time from beyond the arc. Dixon leads Iowa with 31 3-pointers (3.4 per game); senior Brynn Williamson has 19 for the Cyclones (3.2 per game).
With shots flying from long range, another key could be in the post. Iowa has senior Bethany Doolittle (10.8 points, 7.3 rebounds per game) there and Iowa State starts freshman Bryanna Fernstrom (11.0 points, 3.8 rebounds).
"It will be an interesting matchup and I'm excited to see how it plays out," Doolittle said. "It's a different dynamic because I haven't played against her before. I will try to get a feel for her in the first couple minutes and go from there."
Iowa State is 5-1, 0-1 on the road. Rating Percentage Index favors Iowa. The Hawkeyes' RPI is 31 compared to 75 for the Cyclones. The Hawkeyes lead the series, 23-21.
When the ball is tipped Thursday at 7 p.m. (CT), you can throw out records, strength of schedule, and what happened in the past.
"We are going to have to have full focus for the entire 40 minutes," Bluder said.
Blackout T-shirts for the first 1,000 Hawkeye fans will be distributed free behind Section A. All fans are encouraged to wear black to the game.