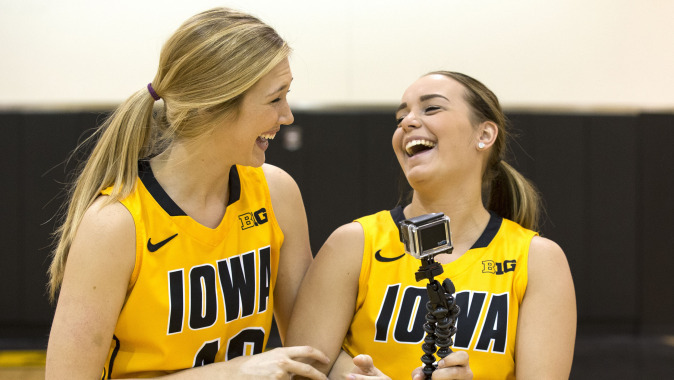 Dec. 15, 2014
Q: What is it like working with coach Bluder and the Iowa coaching staff?
A: It's awesome. They all have so much knowledge about basketball, and they're amazing to work with and learn from.
Q: Who was the key factor in the recruitment process that led you to Iowa?
A: I was actually going to come to school here no matter what because I'm from Iowa. My brother was a manager at the time, and with the help of the coaches I was invited to a practice. I worked out with the team and they asked me if I liked it, if I'd be interested in walking on, so I did and I love it.
Q: Going back to that process, is there any specific moment that jumps out that you knew you wanted to be a Hawkeye?
A: Interacting with the girls from that scrimmage. They were all so nice, sweet, and energetic. They were all awesome and I loved them.
Q: What facet of your game has improved the most since last spring?
A: I've been working on my rebounding a lot. That's something that coach Bluder and the coaching staff have been focusing on. It's something we've all worked on as a team.
Q: Team goals for 2014-15?
A: We want to make the NCAA Tournament and make a run in the postseason. We have different goals on a short term basis within practices and weeks as well. Individually, I want to help teammates improve and help the team out as much as possible.
Q: Is there any significance to the jersey number you wear?
A: I was No. 40 in high school and when I got here it was available. My brother ended up picking it out for me.
Q: What did you do with your free time this summer?
A: I took some naps. I don't nap a lot, but in the summer I'm usually able to. I also laid out in the sun a lot with my friends in the driveway. I like to hang out with friends and teammates.
Q: Who is the most influential person in your life?
A: My parents; they're extremely supportive and I'm really close with both of them.
Q: What is your first basketball memory as a child?
A: I remember being the only girl on one of my teams in either first or second grade.
Q: What did you want to be as a kid growing up?
A: I wanted to be a pediatrician.
Q: What is one word that describes you?
A: Goofy
Q: Favorite Candy?
A: TAKE 5
Q: Last movie you saw in theaters?
A: If I Stay
Q: What is your favorite place to eat in Iowa City and what do you order?
A: I really like Noodles & Company. I either order the pad thai or penne rosa.
Q: Where do you spend of your free time?
A: In my room watching YouTube videos. I watch a lot of beauty videos and clothing videos.
Q: What is your favorite home-cooked meal when you go back home?
A: Brussel sprouts
Q: Greatest memory as a Hawkeye?
A: When coach Bluder told me I had earned a scholarship. The team was so excited for me and it's a memory I will never forget.