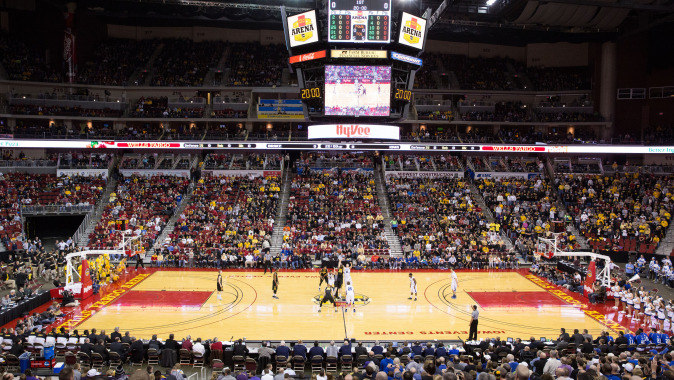 Dec. 17, 2014
AMES/CEDAR FALLS/DES MOINES/IOWA CITY, Iowa – The directors of athletics of Drake University, Iowa State University, University of Northern Iowa and the University of Iowa, and the leadership of the Iowa Events Center and the Greater Des Moines Convention and Visitors Bureau, announced today a two-year extension of the Hy-Vee Big Four Classic.
The 2014 Hy-Vee Big Four Classic will be the third of four events that were in the original contract among the four institutions. It will be played Saturday, Dec. 20, at Wells Fargo Arena and will feature Iowa State and Drake playing in the event's first game at 4 p.m. and Iowa and UNI squaring off in the nightcap at 6:30 p.m. This year's event is sold out.
The 2015 Classic is scheduled for Dec. 19, 2015 and will feature Drake playing Iowa, and UNI playing Iowa State.
The extension means the Hy-Vee Big Four Classic will be staged on Dec. 17, 2016 with Iowa playing UNI and Iowa State playing Drake, and again on Dec. 16, 2017 with Drake playing Iowa and UNI playing Iowa State.
The inaugural event staged in December 2012 drew an attendance of 13,180. Attendance at last year's event increased to 14,512. A sellout of 15,124 has been reached for this year's event on Saturday.