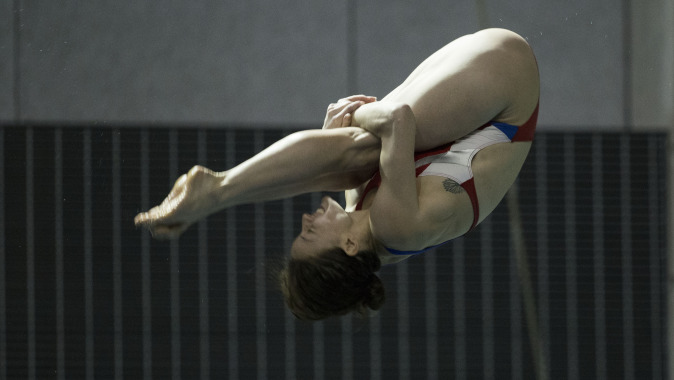 Dec. 19, 2014
COLUMBUS, Ohio — Deidre Freeman dove to a second-place finish in women's synchronized 3-meter competition on Friday at the 2014 USA Diving Winter National Championships in Columbus, Ohio.
"I'm really pleased with how Deidre's competed today," said UI diving Coach Todd Waikel. "She's really had a great meet so far placing sixth on the individual 3-meter and qualifying for finals in two events."
The Grinnell, Iowa, native dove alongside Indiana standout Jessica Paratto. The duo posted a score of 288.90, three points behind first-place finishers Abby Johnson and Laura Ryan (291.00). The two will compete in the finals at 10 a.m. on Saturday.
Freeman also dove to a sixth-place finish in the quarterfinals in 3-meter individual competition with a score of 272.50. She will compete in the finals on Sunday.
UI junior Addison Boschult made his nationals debut this week competing on the platform. The Omaha, Nebraska, native posted a score of 680.65 in the quarterfinals, placing 12th and qualifying for the semifinals. In the semifinals, Boschult dove to a ninth-place finish with a score of 354.70, and will compete Sunday in the finals.
"I'm really proud of Addison making it through the first round and placing ninth," said Waikel. "He continues to work hard and he's only getting better and better."
Freeman and Boschult will conclude the six-day event on Sunday in the finals.