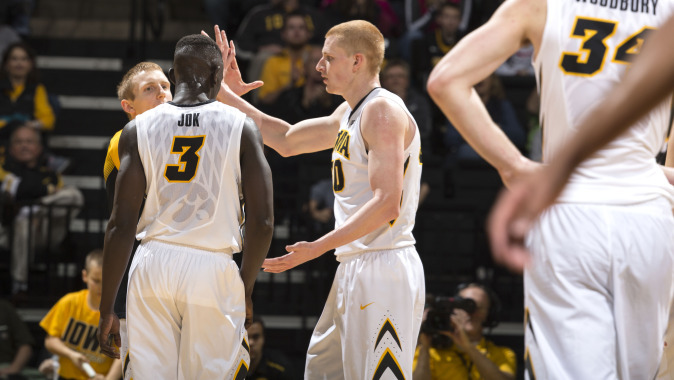 Dec. 29, 2014
By JAMES ALLAN
hawkeyesports.com
IOWA CITY, Iowa — The 18-game Big Ten marathon for the University of Iowa men's basketball team begins at No. 18/21 Ohio State — a place where the Hawkeyes handed No. 3 Ohio State an 84-74 loss last season.
"When you go (to Ohio State), it's a great atmosphere, and we played with a great deal of poise last year to win that game," UI head coach Fran McCaffery said on a Monday teleconference. "Having gone through that, you know what you have to do to win the game.
"It's one thing to play with a team, it's another to beat a team in that environment, and it took a great deal of concentration and execution. (This year) it's a different team, playing a different style, and they are different defensively."
The Buckeyes, ranked No. 18/21 in the two polls, bring an 11-2 record into Tuesday's game at Value City Arena. Ohio State is undefeated at home, winning all 11 games this season — the team is 114-11 at home since 2008-09 — the most wins nationally.
With four-year starter Aaron Craft now in the NBA Development League, the Buckeyes are a different team. Freshman guard D'Angelo Russell leads a trio of Ohio State players in double figures, averaging 17.7 points, making him the third-highest scoring freshman nationally.
"They let Russell play his game, which is a smart thing to do because he's capable of being a scorer and having the ball," said McCaffery. "They let him do both. He's a good passer, shooter, can get into the lane and plays at a great pace. He's a guy who is an integral part of anything they do."
Russell's backcourt mate — senior Shannon Scott — has also caught McCaffery's eye.
"I have always liked him," he said. "(With Craft gone) now it's his team… he's playing that way with that kind of confidence. That backcourt combination is impressive."
After posting 9-4 record during the nonconference portion of the schedule, McCaffery says team has to be better to win in the Big Ten.
"We're playing well, but we have to play better," he said. "We have to be more consistent with a lot of things we do. If we do that, we'll be OK. If you look at our league top to bottom, every team has a good record and is playing well. You better be ready and be more consistent."
During the nonconference season, Iowa has struggled shooting the basketball, ranking 12th in the league in 3-point field goal percentage, making 30.8 percent of its attempts. The Hawkeyes shot 35 percent in 33 games last season.
"We need to be a little more selective," said McCaffery. "We have to make sure whether we're in motion, running our sets, or are in transition that we're getting good shot opportunities and that we're open after ball movement or screening.
"We have to go inside more, still drive the ball, and get to the free throw line. Little by little, I think you'll see (our 3-point percent) numbers come up."
Sophomore Peter Jok is expected to remain in the starting lineup at the shooting guard position in place of junior Anthony Clemmons. Jok scored 12 points in his first career start against North Florida on Dec. 22.
McCaffery says Clemmons will play at Ohio State and is continuing to work his way back from ankle sprains he suffered (on opposite ankles) in successive games against Northern Iowa and North Florida.
Tuesday's game will tip off at 12:02 p.m. (CT). The game will be televised nationally on ESPN2 with Dave O'Brien and Fran Fraschilla on the call.