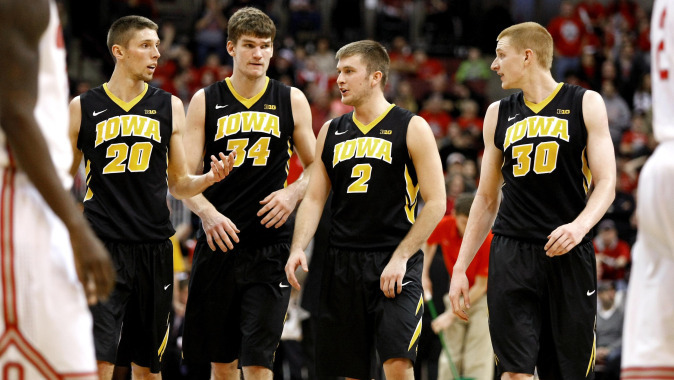 Jan. 2, 2015
By JAMES ALLAN
hawkeyesports.com
IOWA CITY, Iowa — Even with two straight and three of the next four games scheduled to be played at home on Mediacom Court, University of Iowa men's basketball coach Fran McCaffery isn't looking beyond Monday's game against Nebraska.
"If you look at this league and how good it is, the next game is (most) critical," McCaffery said during a Friday teleconference. "The next game is the most important because we're going to play a great team with a great coach, who has great players, and we have to play well."
The Huskers bring an 8-5 record into Carver-Hawkeye Arena after dropping their Big Ten opener to Indiana, 70-65, on Dec. 31 in Lincoln. Nebraska has lost four of its last seven games after starting the season 5-1.
Nebraska has a potent 1-2 attack in junior guard Terran Petteway and junior forward Shavon Shields. The pair rank second and third in the Big Ten in scoring, combining for 36.9 points and 12.7 rebounds per game. Petteway is second in the league, averaging 19.5 points.
"Coach (Tim) Miles uses them in a lot of ways," said McCaffery. "If you look at their numbers, they have the ball a lot and are all over the court, which makes them harder to stop. Even though they're shooting a lot, they both are unselfish, and that says a lot about both of them."
McCaffery says Iowa's ball movement and execution will be key against a strong Nebraska defense. The Huskers are in the top five in the conference in field goal percentage defense (38.7 percent) and 3-point percentage defense (29.8).
"They have an athletic team with athletic wings who can put pressure on the ball at the point of attack," said McCaffery. "They're a team that will challenge us with their defense."
The Hawkeyes are coming off arguably their best game of the season, where they shot 46 percent from the field and had 17 assists on 23 field goals in a 71-65 road victory at No. 18/21 Ohio State.
"We have to continue moving the ball whether we're playing against man or zone," said McCaffery. "(Earlier in the year) we were shooting early in the clock and there's a fine line because you want your guys to be aggressive and shoot and play with that attack mentality, but not at the expense of shooting contested shots that don't go in."
Junior Jarrod Uthoff had a breakout game against the Buckeyes, finishing with 18 points on 6-of-11 shooting, including four 3-pointers, and had seven rebounds and five assists. McCaffery says Uthoff has the ability to affect the game regardless of if his shots are falling.
"If you go back to the North Carolina game, he was 2-for-12 from the floor," said McCaffery. "He took the same shots (as he did against Ohio State), he just didn't make them, but he impacted the game with 11 rebounds and five blocks.
"The challenge I have put before him is to play as hard as he can on every possession because his impact on the game is immeasurable."
Monday's game will tip-off at 8 p.m. (CT), and it will be televised live on BTN.