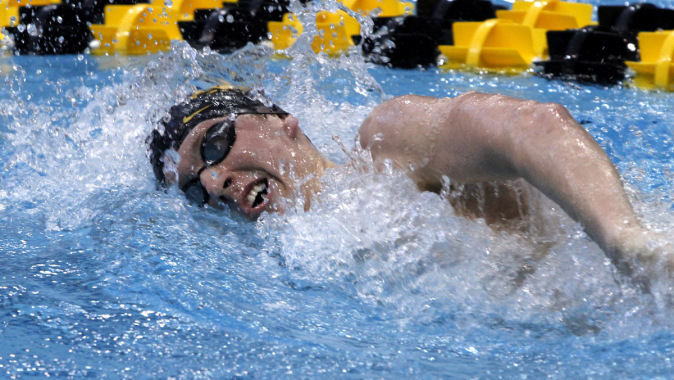 Jan. 3, 2015
Complete Results

ST. PETERSBURG, Fla. — The University of Iowa men's swim team scored a 126-90 win over South Dakota State University on Saturday at the St. Petersburg Invitational in St. Petersburg, Florida. The Hawkeyes were dominant throughout the entire meet taking first place in all nine events.
In the 200 yard freestyle, the quartet of Joseph Halsmer, Charles Holliday, Roman Trussov, and Colter Allen put the Hawkyes in control with a first-place time of 1:24.87. Thomas Rathbun, Chris Freeman, Luke Snow, and Andrew Parker extended the lead with a first-place finish in the 800 free relay, touching in at the 7:02.68 mark.
In the 3×100 yard butterfly relay, the Hawkeyes took three of the top four spots. The trio of Jackson Allen, Tyler Nichols, and Maverick Hovey claimed the top spot with a time of 2:32.71.
Iowa's dominance continued in the 3×100 yard backstroke relay with a one-two finish. Matthew Boyd, Andrew Parker, and Chris Freeman took gold (2:33.40), while Grant Betulius, Thomas Rathbun, and David Ernstsson finished second with a time of 2:37.80.
Trussov picked up his second win on the night as a member of the 3×100 yard breaststroke (2:54.91). The Ust-Kamenogorsk, Kazakhstan, native swam alongside Nichols and Michael Nelson.
The quartet of Ernstsson Brian Donatelli, Joseph Halsmer, and Jerzy Twarowski swam to a top finish in the 500 free relay (4:06.89). Brandon Farnum, Holliday, Freeman, and Snow took second touching in with a time of 4:11.90.
Betulius, Nichols, Hovey, and Snow shined in the 200 medley relay swimming to a first-place time in the 200 medley relay. The quartet touched in at the 1:34.81 mark. Parker, Trussov, Colter Allen and RJ Hemmingson finished second with a time of 1:34.89.
The Hawkeyes wrapped up Saturday's competition with a win in the 400 free relay. The foursome of Allen, Twarowski, Betulius, and Kyle Gannon touched in with a time of 3:06.67.
The Hawkeyes return to action Saturday, Jan. 24, hosting Northwestern at 11 a.m. (CT) in the Campus Recreation and Wellness Center Natatorium in Iowa City.