Jan. 6, 2015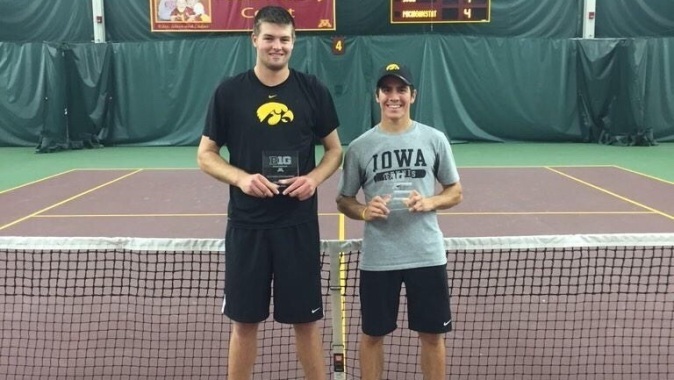 IOWA CITY, Iowa — The University of Iowa men's tennis doubles team of Matt Hagan and Dominic Patrick are ranked 31st in the initial spring ITA national rankings released Tuesday. Hagan and Patrick are the fourth-highest ranked pair in the Big Ten.
Hagan and Patrick posted a 4-1 record in the fall, including winning four straight matches at the Big Ten Indoor Championships to become the conference's doubles champions. The Hawkeye tandem became only the third pair in school history to accomplish the feat and first since David Nairn/John Nadig in 1960 (third flight); James Andrews/Robert Potthast were the first team to win a Big Ten Doubles Championship in 1958 (first flight).
Hagan and Patrick become Iowa's first doubles team to start the spring season ranked since 2012, when Marc Bruche and Will Vasos were ranked 59th.
Hagan is also among the ITA singles rankings, coming in at 116th. The native of Omaha, Nebraska, becomes the first Hawkeye to be ranked in the initial spring season rankings since Marc Bruche was ranked 93rd in 2012.
Iowa opens its spring dual meet season on Jan. 25, hosting Western Michigan (11 a.m.) and Western Illinois (5 p.m.) at the Hawkeye Tennis and Recreation Center.