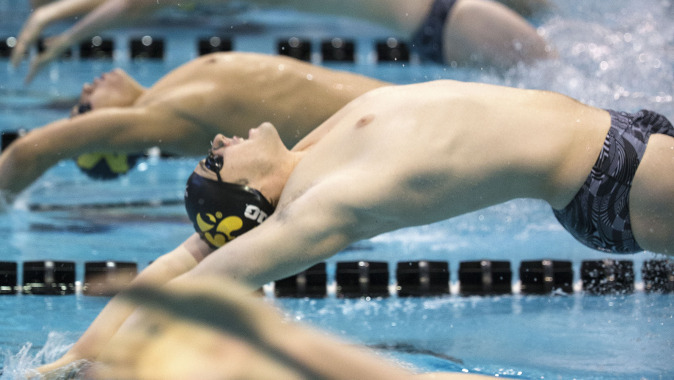 Jan. 6, 2015
IOWA CITY, Iowa — The University of Iowa men's swimming and diving team catapulted to 19th in the SwimSwam Power Rankings based on its performance at last month's Hawkeye Invitational.
The Hawkeyes earned a spot in the rankings after a strong showing in their first peak meet of the season. During the competition, Iowa posted six individual and four relay times that rank among the top-20 nationally.
Senior Grant Betulius led the way, swimming an NCAA "A" qualifying time in the 100-yard backstroke, touching out in 45.56 seconds — a time that ranks No. 2 in the country. He is one of two swimmers to post an "A" time thus far in the 2014-15 season.
Betulius also has the 13th-fastest time in the 200-backstroke (1:42.19), and is a member of all four relays that rank among the top 20.
The 400-medley relay with Betulius, junior Roman Trussov, freshman Jerzy Twarowski, and sophomore Jackson Halsmer has the seventh-best time at 3:09.76. The same quartet is 13th in the 200-medley relay in 1:26.60.
The 400-freestyle relay featuring Halsmer, juniors Jackson Allen and David Ernstsson, and Betulius has the 16th-best time (2:55.44), and the 200-freestyle relay with Halsmer, Allen, junior Charles Holliday, and Betulius is 20th (1:19.45).
The Hawkeyes also have two individuals both sitting in the top-18 in the butterfly and breaststroke events.
Twarowski has the 11th-fastest time in the 200 butterfly (1:44.00) and the 12th-best time in the 100 butterfly (46.70). Trussov has the 14th and 18th-fastest times in the 100 and 200 breaststrokes with times of 52.98 and 1:55.95, respectively.
For the complete SwimSwam Power Rankings, click HERE.
The Hawkeyes return to action Jan. 24, hosting Northwestern in a Big Ten dual at the Campus Recreation and Wellness Center Natatorium beginning at 11 a.m. (CT).