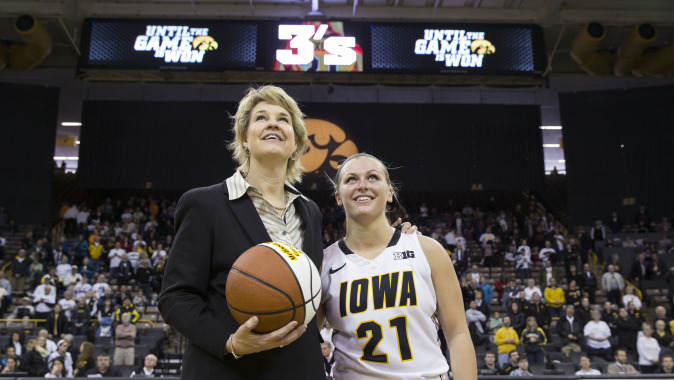 Jan. 11, 2015
Lisa Bluder: First off, I just want to give a shout out to our fans for coming out today, over 7,300 people here today. I thought they were fabulous. They gave us great energy. That's the beauty of playing at home, and that's why we love being Hawkeyes. When we were playing at Illinois, there's just no energy there, no excitement. Here you come to Carver Hawkeye Arena, and just to feel the energy, see the people come out and support us even after a loss is great, and everyone was in the spirit with a white out, so that was a lot of fun, and obviously tonight we got to award both of those young ladies with accomplishments, with Bethany at 1,000 career points, Melissa becoming the all time leader in 3-point field goals made, so that was fun.
But the game, I'm glad our free throws are coming around. That's been a little bit of an Achilles heel for us, and I thought our defense was very good, deflections that led to steals that led to high percentage baskets for us.
Q. How much did you challenge Beth to really be aggressive after the Illinois game the other night, came out, had a good game today?
Lisa Bluder: Yes, she did. We talked about resiliency and how you have to bounce back. When things are going well for you, it's real easy to be positive. It's real easy to be up. But when things don't go your way is when it really challenges you, and that's when you show your character. And I thought Beth showed that today. She came off a pretty tough game at Illinois, and she goes 5 for 9 the first half of this game and 6 for 10 overall. I thought that was again, battled a little bit of foul trouble in the second half, but I was happy with the way she came back in this game.
Q. Coach, how important is it for you to see on a night where the three point shots aren't really falling as much that you can turn that around and be able to compensate for it?
Lisa Bluder: Yeah, I think that's a great point. We've been known sometimes to win with our three point shot, and it's kind of nice to win with something else, free throws and defense. So you know, obviously they got too many offensive rebounds, but I think that statistic is a little deceiving because we didn't box out the first time, which is a problem, but then they would get another one and another one and another one because once you don't have offensive position, it's pretty hard to get that offensive or the defensive box out position on a quick shot, and they were just missing them, and then we would foul them unfortunately. A lot of times they would get three offensive rebounds in one possession just because they were missing point blank shots.
Q. When she's shooting it the way she has been the last month, do you guys work on that type of thing, setting up some other things for Melissa? People are going to overplay that?
Lisa Bluder: People are definitely going to overplay it, and we just have to spread it out. She had five two point baskets tonight and got fouled on one… a three point play, which is always exciting. She got one the old fashioned way. We should probably really celebrate that. Wow, that might be a first this year on that.
Again, I think it's a lot of timing, and then Sam's assist, hitting her on those back door cuts. If they take one thing away you've got to take advantage of something else. She still got seven threes shot in this game, might have rushed them a little bit because I don't know if she was I don't know if you ever say she rushes a shot because it's so quick, but they were face guarding her, but she still got seven threes.
Q. You've got Northwestern coming in on Wednesday, a team that's kind of been on the rise a little bit over the last couple years. What are you looking for on Wednesday night?
Lisa Bluder: Yeah, Nia Coffey is probably one of the best players in our conference, and she's only a sophomore. She is an unbelievable athlete, has had USA Basketball experience. They are playing very confidently. They're a very good basketball team, and so we know what we have in store for us. We have two days to prepare for it. I haven't watched them on film yet, but I'll start in about half an hour.
Q. Have they been surprising in your mind?
Lisa Bluder: I felt like both Minnesota and Northwestern could really make a run at it this year just because of who they were returning, basically everybody, from both of those teams, and they were so dangerous last year, and so it doesn't surprise us. Joe is a great coach. He's done a really good job recruiting there, and again, I think Nia Coffey is just a handful, and she poses some real match up problems for some people. They went into Ohio State and Ohio State has been burying people, and they only lost by 10 at Ohio State. That just shows you a little bit about how competitive they are.