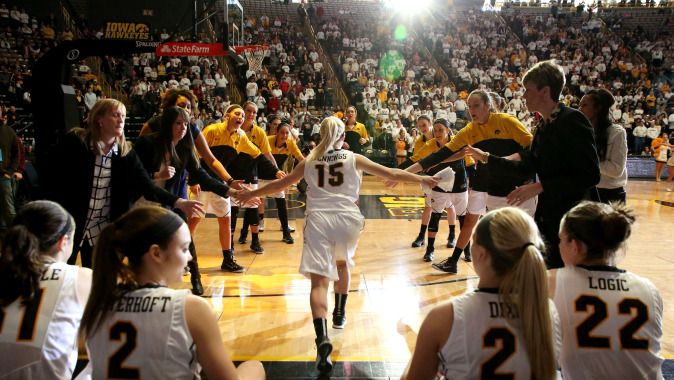 Jan. 13, 2015
Game Notes: Northwestern

THE SETTING:
The 21st-ranked University of Iowa women's basketball team (12-3, 3-1) hosts Northwestern (13-2, 3-1) on Wednesday. Tipoff is set for 7 p.m. (CT) on Mediacom Court at Carver-Hawkeye Arena.
TICKETS:
Single game women's basketball tickets are $12 for adults. Youth — high school-aged and younger — are admitted free to all weekday games, including Friday night games. Youth tickets for weekend games cost $8. Youth — five years old and younger — are admitted free to all games. UI students are admitted free with student ID. Tickets are available by visiting the ticket office at Carver-Hawkeye Arena, calling 1-800-IA-HAWKS, or online at hawkeyesports.com.
PROMOTIONS:
? Melissa Dixon Bobblehead Night — free Melissa Dixon bobbleheads for the first 1,000 fans
? Facebook/Twitter Fan Appreciation Night — Fans who follow @iowawbb on Facebook/Twitter can print off or show the coupon on their phone that was posted for free admission
? Lincoln Elementary Night
WATCH THE ACTION:
Wednesday's contest can be seen live on BTN Plus.
AUDIO COVERAGE:
Brent Balbinot and Shelley Till will call the action for the Hawkeye Radio Network. Hawkeye fans can listen to the contest on the Hawkeye Radio Network (AM-800 KXIC in Iowa City, AM-1360 KMJM in Cedar Rapids, AM-1040 WHO in Des Moines) or on the Hawkeye All-Access page of hawkeyesports.com. Balbinot is in his 11th season as Iowa's play-by-play voice, while Till is in her 10th providing analysis.
FOLLOW THE ACTION:
Hawkeye fans can also follow the game via live stats (Gametracker). The link can be accessed on the women's basketball schedule page of hawkeyesports.com. Follow @iowawbb on Twitter for live game updates.
SCOUTING NORTHWESTERN:
? Northwestern is 13-2 overall and 3-1 in Big Ten play with wins over Michigan State (twice) and Wisconsin.
? The Wildcats are 5-2 on the road this season.
? Four Wildcats are averaging double figures: Nia Coffey (15.6), Maggie Lyon (13.1), Christen Inman (10.7), and Lauren Douglas (10.4).
? Northwestern is coached by Joe McKeown. He is in his seventh season. The Wildcats are receiving votes in both polls.
SERIES HISTORY:
? Iowa leads the all-time series, 49-14.
? The Hawkeyes have won 23 of the last 25 meetings against the Wildcats dating back to Lisa Bluder's first season in Iowa City (2000-01).
? Iowa is 23-4 all-time against Northwestern at Carver-Hawkeye Arena.
? The Hawkeyes defeated Northwestern at home last season in the only meeting between the two schools, 90-84. UI head coach Lisa Bluder surpassed C. Vivian Stringer as the winningest coach in program history.
THE NATION'S LEADING 3-POINT SHOOTER:
? Iowa senior Melissa Dixon leads the nation in 3-point shooting, averaging 4.2 3-pointers per game, nearly one more 3-pointer than any other player. Sophie Bikofsky of Brown is second (3.46).
? Dixon has drained 31 3-pointers over the last four games (10 at Drake, 5 vs. Penn State, 6 at Rutgers, 8 at Illinois, 2 vs. Purdue).
? Dixon made six 3-pointers (6-of-10) in the win at Rutgers on Jan. 4, surpassing Lindsey Meder (261) for the most in Iowa history.
? Dixon ranks fifth in Big Ten history with 273 career 3-pointers.
? She scored 31 points in Iowa's win at Drake on Dec. 21, making 10 3-pointers (10-of-14), setting a new school record. The previous school record was seven, accomplished five times in program history, twice by Dixon; the NCAA and Big Ten record for 3-pointers in a single game is 12.
1,000-POINT CLUB:
? Four members of this year's team have reached, or have the potential to reach 1,000 career points this season.
? Senior Samantha Logic (1,254 points) ranks 18th on Iowa's all-time scoring list. Jamie Cavey is 17th (1,265).
? Senior Melissa Dixon (1,222 points) is 22nd. Lisa Long is 21st (1,230).
? Senior Bethany Doolittle became the 33rd member of Iowa's 1,000-point club in the Hawkeyes' win over Penn State on Dec. 28. She has 1,040 career points.
? Sophomore Ally Disterhoft has 698 career points. She tallied 474 in 36 games as a freshman last year (13.2 per game), and is averaging 14.9 points per game this season.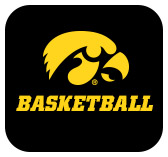 MOVING UP CAREER CHARTS:
? Samantha Logic (724 career assists) surpassed Cara Consuegra (1997-2001; 576) as Iowa's all-time assists leader during Iowa's win at Illinois on March 2, 2014, during the 2013-14 regular season finale. She ranks sixth in Big Ten history. Jess Strom of Penn State (776) is fifth, while Helen Darling of Penn State is fourth (791).
? Melissa Dixon is Iowa's career record holder for 3-pointers (273). She ranks fifth in Big Ten history. Amber Moore of Illinois is fourth (293), and Lindsay Bowen of Michigan State is third (294). Kelly Mazzante of Penn State is second (357), while Maggie Lucas of Penn State is the Big Ten record holder (365).
? Bethany Doolittle is third all-time in program history with 218 career blocks. Tangela Smith is second with 235.
IOWA RANKED FOR THE 10TH-STRAIGHT WEEK THIS SEASON:
Iowa is No. 22 in this week's Associated Press Top-25 poll and No. 21 in the USA Today Coaches poll. Iowa has been ranked in each of the first 10 weeks this year: preseason (19/19), week 2 (18/18), week 3 (17/16), week 4 (22/19), week 5 (24/24), week 6 (23/24), week 7 (23/20), week 8 (20/20), week 9 (17/17), and week 10 (22/21).
In the AP Poll, Maryland is the highest-ranked Big Ten team (No. 8), followed by Nebraska (No. 17), Iowa (No. 22), Minnesota (No. 23), and Rutgers (No. 24). Northwestern and Ohio State are receiving votes.
The Hawkeyes finished the 2013-14 season ranked 19th in the AP Top-25 poll, and 26th (receiving votes) in the USA Today Coaches poll. Iowa was ranked for eight weeks last season in the AP poll, and received votes in nine additional weeks.
HAWKEYES AT CARVER-HAWKEYE ARENA:
The Hawkeyes are 358-101 (.780) all-time inside Carver-Hawkeye Arena, and 11-6 in NCAA Tournament games. Iowa went 14-4 at home last season, and is 98-23 in its last 121 games inside Carver-Hawkeye Arena. The Hawkeyes are 9-0 at home this season.
Iowa's 14 home wins a year ago equaled the second-highest single-season total in program history. The 14 wins were the most in Iowa City since the Hawkeyes finished 14-0 in the 1995-96 season. Iowa also won 14 home games in 1988-89 (14-0), 1987-88 (14-0), 1986-87 (14-1), 1985-86 (14-1). The program record for home wins is 15, as the Hawkeyes finished 15-0 in 1992-93. Iowa advanced to the NCAA Final Four that season.
UP NEXT:
Iowa travels to Michigan State this weekend. The Hawkeyes and Spartans meet on Sunday at 2 p.m. (CT) on ESPN2.