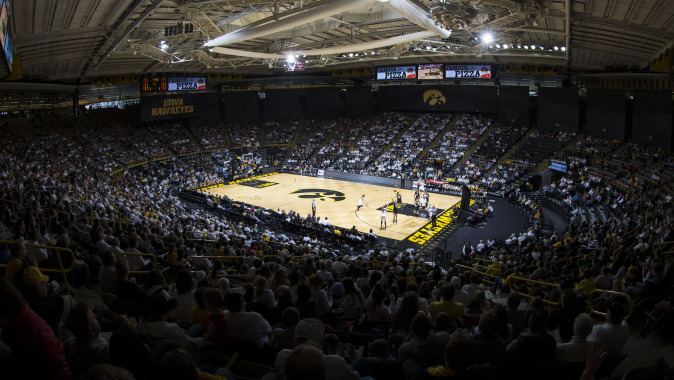 Jan. 13, 2015
Editor's Note: The following first appeared in the University of Iowa's Hawk Talk Daily, an e-newsletter that offers a daily look at the Iowa Hawkeyes, delivered free each morning to thousands of fans of the Hawkeyes worldwide.
IOWA CITY, Iowa — There are a variety of reasons why prospective student-athletes choose to play basketball at and attend the University of Iowa. The support of Hawkeye nation and the opportunity to play inside Carver-Hawkeye Arena is near the top of the list.
This idea was never more evident than during No. 22 Iowa's two games last week.
"I want to give a shout out to our fans for coming out today; over 7,300 people here," said UI head coach Lisa Bluder following Iowa's 73-59 win over Purdue on Sunday. "They were fabulous and gave us great energy. That is the beauty of playing at home, and that is why we love being Hawkeyes.
"When we were playing at Illinois, there was no energy there, no excitement. Here you come to Carver-Hawkeye Arena and feel the energy and see the people come out and support us even after a loss… it is great, and everyone was in the spirit with a whiteout. That was a lot of fun."
The Hawkeyes are 98-23 in their last 121 home games. Iowa's 14 home wins a year ago equaled the second-highest single-season total in program history and marked the most in nearly 20 years.
The Hawkeyes (12-3, 3-1), ranked 18th nationally in attendance, are 23-4 at home since the start of last season, and are one of three league teams with a perfect home record this year (9-0).
"It's absolutely awesome playing in Carver-Hawkeye Arena," said senior Melissa Dixon, the nation's leading 3-point shooter. "We always have a great crowd that comes out and supports us. Our fans give us so much every time out, and we cannot thank them enough."
The Hawkeyes are hoping for another great crowd Wednesday night when they host Northwestern at 7 p.m. (CT).
"Our fan support at Iowa is incredible, and we genuinely appreciate all those who have attended a game at some point in time," said sophomore Ally Disterhoft. "Nothing gets the adrenaline pumping like running out of that tunnel to the cheers of 7,000 Hawkeye fans. The energy that a big crowd brings, makes playing at Carver an electrifying experience."
"A great home crowd is huge for our energy," said senior All-American Samantha Logic. "It is important to have consistency on the floor with the energy we give, but there is definitely a difference playing at home with extra incentive to play well for the great Hawkeye fans that support us."
Wednesday night's matchup features two of the league's top teams. Maryland is 4-0 in league play, while Minnesota, Northwestern, and Iowa are tied for second at 3-1.
"Nia Coffey is probably one of the best players in our conference, and she's only a sophomore," said Bluder. "She is an unbelievable athlete who has had USA Basketball experience. They are playing very confidently. They are a very good basketball team, and we know what we have in store for us."
Wednesday night is Melissa Dixon Bobblehead Night, which will be available for the first 1,000 fans. The contest is also Facebook/Twitter Fan Appreciation Night; fans that follow @iowawbb on Facebook and Twitter can print off or show the coupon for free admission.