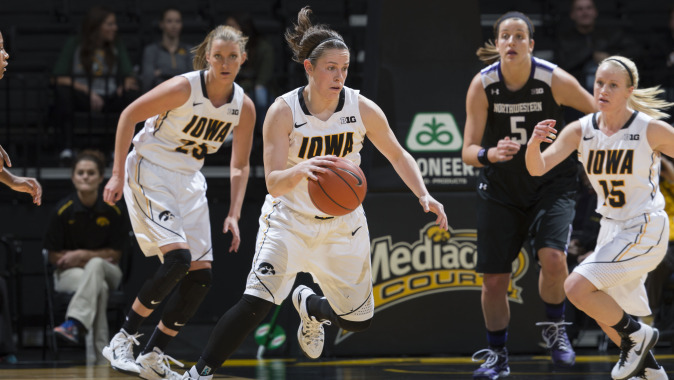 Jan. 14, 2015
COACH BLUDER: I thought we beat a very good basketball team tonight. Northwestern is an excellent team with all kinds of weapons, offensively and defensively. I'm really happy with the outcome of this basketball game. I thought our home crowd was great. I thought they helped us out, and we had a short turnaround from Sunday's game to get ready for today, and we needed that energy. So we appreciate the crowd support.
Bethany Doolittle deserved the game ball in my opinion. Great performance. Has a career high 29 points, has 12 rebounds, five blocks, three assists. She kind of did it all for us tonight, 13 for 20 shooting. She was outstanding. Sam has 11 rebounds and nine assists. Those are good numbers. I love the 22 assists that we had.
I felt this game, we shot the ball well, we were patient and got good percentage paint shots; 40 points in the paint, that's a high number and that was good. I thought we defended well. They have been scoring a lot of points, and their transition offense is pretty amazing.
Q. What did you look for what did you attack, what did you exploit today?
COACH BLUDER: I think it's that they spread out their zone so much and we were able to get into the paint a little more, and that's the premise of their defense. We just did a good job of watching our cutters and watching them all the way down into the paint.
I love, again, our balanced scoring today, four people in double figures. I think Claire (Till) and Chase (Coley) came off the bench and gave us some good momentum, as well. I mean, Kali (Peschel) had a big three. They were making a run, and she had a big three and followed that up with a rebound at the other end, so that was good.
Q. You talked on Sunday about finding new, different ways to win. On Sunday it was the free throws and defense, today it was getting in the paint and getting those high percentage shots. What does that say about your team that you keep finding these new ways to win games?
COACH BLUDER: Yeah, I love it. I think our players are such veteran players that they know what's available. They don't try to force something. Instead, they take what's given to them. The defense can't take everything away from you, so it's really smart at understanding that and being patient with the offense to get that shot.
I'm again, happy with our defense. This is a team that's been scoring a lot of points and I thought we got out and played pretty good defense, as well.
Q. As well as you have played defensively in a while?
COACH BLUDER: I'm never really good at remembering those things, kind of rear view mirror, I can't remember those things.
I thought they were a dangerous team, I really did, and I think their transition offense is as good as anybody's. I feel like they have so many weapons with their center being able to shoot threes; and Maggie Lyon is such a great three point shooter. Nia Coffey is an unbelievable athlete. Again, she's played USA Basketball, she's had that international experience. So there's some very talented women on that team.
Q. In terms of momentum, especially since you started the second half, on that big run, how important was that shot whit my hit?
COACH BLUDER: That was nice. You're exactly right. Because we had a lead and then we kind of surrendered that lead. But you know, it was kind of nice going into the locker room with that momentum shot. So that was nice. I'm glad you brought that up. You're right, that was kind of a key shot for Whitney (Jennings).
Q. Is that how you drew it up?
COACH BLUDER: Actually, we run that as a play. That is a play, yeah.
Q. Is that something you bring up?
COACH BLUDER: Michigan State is interesting. They are playing really pretty good basketball and then all of a sudden the Big Ten hit. And I've heard they have had the flu go through their team; they have had some injuries. They had lost one of their starters that just quit a week ago, so they have had some upheaval in their program.
The thing I know about Suzy Merchant, she's a competitor and she will have them ready. And it will be Sunday and there will be 7,000 or 8,000 people. It is going to be a hostile environment, very different from when we played at Illinois. This might be one of the more hostile environments that we go into, so that's something new.
But they play Illinois tomorrow. I kind of hope they win. I kind of hope that we are playing a 1 5 team instead of an 0 6 team. I don't know why, but that's how I'm feeling right now.
Q. You always talk about how playing at Carver gives you that jolt of energy; at Michigan State, more of a packed house. Do you kind of relish team that is when you walk on the floor?
COACH BLUDER: Absolutely. I would rather play in an environment that has great energy, even if they are cheering against you than just a dead, lackadaisical environment. It's just not fun. So, yeah, they will be cheering against us, but I will remind our team the sweetest sound is to make them be quiet.