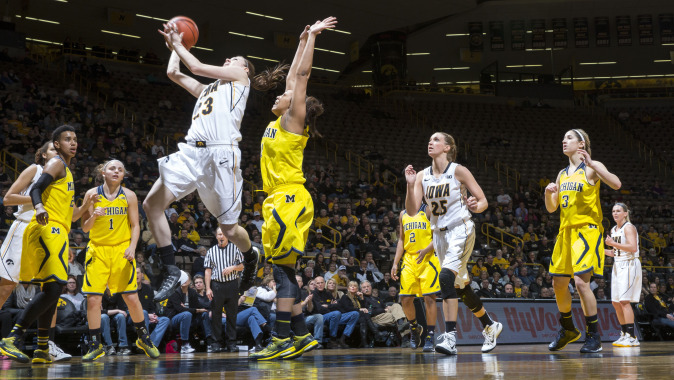 Jan. 22, 2015
Lisa Bluder: This was another great win for our program. Michigan is a really good basketball team. Cyesha Goree is as good a post in the conference as there is. She's an excellent rebounder. We had a hard time keeping her off the glass. Maybe we didn't really keep her off the glass, but she's a good player and we tried to throw a lot of different things at her, and I'm happy that we have five players in double figures. We won as a team, and we won playing Iowa basketball again. 25 assists tonight, great numbers there, distributed the ball. I thought we passed the ball really well. We looked for that open shot.
They tried to double Beth, and Beth made them pay for that. I thought we handled their press really well to begin this game, and Sam has a double double, and Whitney did a great job of getting us started in this game, and then I was really happy with the transition offense to begin the second half. I thought that was a difference maker.
Q. How refreshing was that coming off the Michigan State game, that fast start?
Lisa Bluder: Yeah, breathe a sigh of relief there. We really were concerned about their press, and I thought when they had to take it off, I thought that was a really good sign for us because we thought in the quarter court we were going to be pretty good, and again, we just got back to Iowa basketball. We were so low in assists at Michigan State. That's not us. We are a team that distributes, we're unselfish, and we got that done again today, and shot the ball extremely well.
Q. There were several times where Michigan was running out the shot clock. Was that because of you guys' defense or is that something they like to do? I heard a lot of that in the first half.
Lisa Bluder: We did, especially in the first half. You're right, I think our zone defense gave them a few problems in the first half. They came in here as a very good three point shooting team. I thought we identified their shooters very well. We gave up some twos to Goree because we're spreading out our zone, but we knew that they were good three point shooters, and that's what we wanted to do in that situation.
Q. You started both halves so fast.
Lisa Bluder: The second half I know defensively we got it going. We got some tips out of our zone defense that allowed us to run, and once you kind of start that, kind of just keeps getting better and better. The players love it.
First half I think we started by just shooting the ball well, and again, I thought our zone was pretty solid. I thought we moved well in our zone. I thought that, again, some of those deflections were really important.
Q. You mentioned it a little bit, but was it a concerted efforts to really identify their shooters, Flaherty goes 3 of 10, Thompson goes 2 of 9. Do you think that was more of what your defense did to them or was it a night where shots weren't going down for them?
Lisa Bluder: I hope it's our defense. You know, we spend a lot of time and our players really spend a lot of time studying the scouting report and watching film on the opposing team, and we identify who those players are, and we talk about it. They're on the floor and they're constantly telling each other who's the shooters, where they are, where they're moving to, and that's good teamwork. That's great communication out on the floor, and that's not letting people get open shots. She did get open for a couple, one out of bounds play, and that was probably my fault. I probably shouldn't have been in the zone on that particular out of bounds play, but she's a very good shooter.
Q. One other player that helped was Ally. How has she developed into an all around player for you guys, and do people forget how tough she is?
Lisa Bluder: Yeah, she's a terrific player. Ally Disterhoft really can do it from every area; she can shoot the three, she can post up, she can beat you off the bounce. Today we had her involved in our press break, so she really is that all around player that really allows us to stretch our offense out farther and open things up for Beth a little bit inside two.
Q. You're second all by yourself in the conference right now, Nebraska coming up on Monday. Talk about that.
Lisa Bluder: Well, it feels good to be in second place, but it's early. There's a lot of games left. We know that. We're going to enjoy this, but at the same time Nebraska comes to town on Monday. They've been our nemesis. They've been a team that has given us fits. We have them in Carver Hawkeye Arena. We have a lot of great promotions, Sam Logic Bobblehead night, buck night, kids are free. We're doing everything we can to try to get an 8:00 Monday night crowd here, because again, I thought tonight for an 8:00 tip our crowd was great. We feed off of that, our players love it, so I just think if we can get them here again 8:00 Monday night it would be huge for us.
Q. You talked about how Nebraska has sort of been the thorn in your side. What challenges does this particular iteration of the Huskers present?
Lisa Bluder: I really don't know yet. I can't answer that because I have never seen them yet. I'll start tonight watching them and try to get ready for practice, but they're very well coached, they're very well balanced. I can't tell you what they're good at this year.