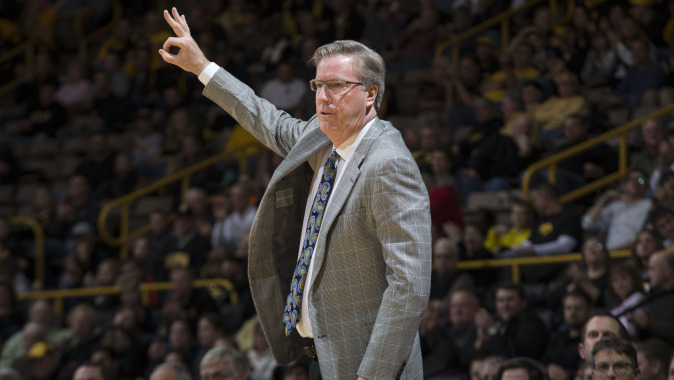 Jan. 23, 2015
By JAMES ALLAN
hawkeyesports.com
IOWA CITY, Iowa — In his coaching career, University of Iowa head coach Fran McCaffery hasn't charted how his teams have bounced back from lopsided defeats, but he is certain his current team will play harder and more together Saturday at Purdue.
Iowa heads to West Lafayette, Indiana, coming off an 82-50 loss at No. 5/6 Wisconsin on Jan. 20 where McCaffery says the team wasn't good across the board.
"When a team breaks down collectively, it's not something you like to see," said McCaffery during a Friday teleconference with local media. "Hopefully our guys will respond and play better."
After a mandatory off day Wednesday, McCaffery had everyone's complete attention when the team returned to practice Thursday. With a veteran team, he hopes it lends to a bounce back performance at Purdue, but it isn't guaranteed.
"You're bound to play better, but does that mean you play great? I don't know," he said. "We have great kids and character in that locker room and they were disappointed (in the Wisconsin result). They weren't happy with themselves. We had to take collective blame and move to the next game."
The next one features a Boilermaker team that enters the weekend with an 11-8 overall and 3-3 Big Ten record. Purdue opened conference play with a 2-0 record with wins over Minnesota and Michigan, but it has lost 3-of-4 games since.
The Boilermakers have three players averaging in double figures this season and six scoring at least 9.1 points per game. Guard Kendall Stephens is leading the team at 10.9 points. Seven-footers A.J. Hammons and Isaac Haas are averaging 10.6 and 9.4 points, respectively.
"I like their team," said McCaffery. "They really defend and run good stuff on offense. They'll put pressure on your defense with various movements and post ups. They'll run, but they're going to defend and compete."
The Hawkeyes have won the last two meetings in the series, including an 83-76 victory last season in Iowa City. Purdue has won 11 of the last 14 matchups and leads the series 86-73 all-time. Iowa hasn't won in West Lafayette since Feb. 1, 2006.
The Hawkeyes are averaging 69.7 points in 19 games a year after scoring an average of 81.5 points over the course of the 2013-14 season. McCaffery says the dip in tempo and offensive production isn't deliberate or schematic.
"We want to run as much as we have ever wanted to run," he said. "It's a function of a lot of things and sometimes it's how (the opponent) plays you. We've taken more time offensively than in the past.
"We shot it quicker (in previous years), but that's a function of who this team is as opposed to those other teams."
Sophomore Trey Dickerson saw his first Big Ten action Tuesday at Wisconsin, playing 10 minutes and finishing with eight points and two assists. McCaffery says it will be a game-by-game approach with Dickerson's playing time moving forward.
"I felt like he'd help us (at Wisconsin) and he did," said McCaffery. "I have been impressed with his attention to detail and work ethic the last four weeks. He's ready to go."
Saturday's game will tip off at 11:06 a.m. (CT) from Mackey Arena. It will be televised on BTN with Kevin Kugler and Shon Morris on the call.