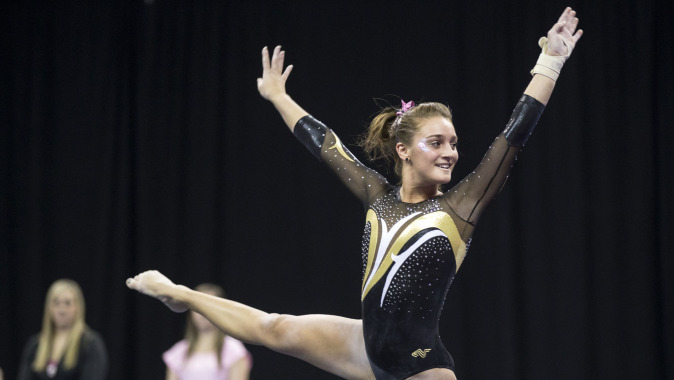 Full Results

Jan. 24, 2015
COLUMBUS, Ohio — The University of Iowa women's gymnastics team fell to No. 20 Ohio State on Saturday night inside St. John Arena in Columbus, Ohio, 195.225-196.200. The Hawkeyes were lead by senior Sydney Hoerr, who won the all-around title with a score of 39.125, while sophomore Angel Metcalf won both beam (9.900) and bars (9.900).
"I am very pleased," said head coach Larissa Libby. "The team that came out there tonight was on fire. Completely different look, a different demeanor, a different intensity, and that is what we have been trying to get out of them for a while."
Four GymHawks earned a total of seven career bests to highlight the competition. Metcalf earned a trio of career bests on bars (9.900), vault (9.875), and beam (9.900), while sophomore Ashleigh Edlin posted a pair of career bests on vault (9.800) and floor (9.800). Junior Alie Glover earned a career best on vault (9.850), and senior Johanny Sotillo rounded out the record setting night on bars posting a career best score of 9.900.
The GymHawks began the night with a solid performance on the bars, posting a 49.275, while the Buckeyes opened with a 49.100 on the vault. Iowa kept its momentum going into the vault, where it posted a season-best 49.000. Ohio State posted a 48.900 on bars. Iowa led at the mid-way point, 98.275 to 98.000.
Iowa posted a 48.825 on the floor and Ohio State tallied a 49.050 on the beam. The Buckeyes then clinched the come from behind victory in the final rotation, registering a team score of 49.150 on the floor while Iowa tallied 48.125 on the beam.
"I am disappointed that we blew the lead, but I am so pleased with all of the other things that were taken care of," said Libby. "It was special tonight. The team I saw out there is definitely a force to be reckoned with."
The GymHawks return home to host Maryland on Friday, Jan. 30. The meet is scheduled to begin at 7 p.m. (CT) inside Carver Hawkeye Arena. The event will serve as Iowa's `Recycle Like a Hawk' meet, and the first 100 fans will receive free tote bags.