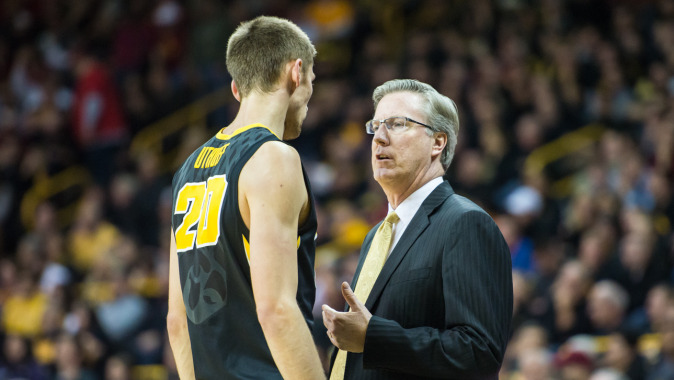 Jan. 28, 2015
Editor's Note: The following first appeared in the University of Iowa's Hawk Talk Daily, an e-newsletter that offers a daily look at the Iowa Hawkeyes, delivered free each morning to thousands of fans of the Hawkeyes worldwide. To receive daily news from the Iowa Hawkeyes, sign up HERE.
IOWA CITY, Iowa — Infiniti is once again proud to partner with the National Association of Basketball Coaches (NABC), the NCAA and ESPN to sponsor the "Infiniti Coaches' Charity Challenge." Now in its fifth year, the program consists of 48 NCAA Division I men's basketball coaches, including University of Iowa head coach Fran McCaffery, competing for fan votes in a four-round online bracket tournament that helps raise money for charities of the coaches' choice.
Forty-eight coaches compete in a round robin bracket tournament for the chance to win $100,000 for charity. McCaffery and 23 other coaches have received enough votes to advance to the second round, which takes place Jan. 26 through Feb. 15.
Fan participation will determine the ultimate winner over an eight-week period by registering and voting on ESPN.com/Infiniti. The tournament is divided into four rounds. The coaches with the most votes advance to the next round and earn more money for their charity.
Fans are encouraged to log on to ESPN.com/Infiniti each day, using multiple email addresses, and vote for McCaffery and his charity, Coaches vs. Cancer — an amazing charity that raises awareness and funds to help the American Cancer Society save lives. Last year with the help of your votes in this event, McCaffery raised $10,000 for Coaches vs. Cancer.
"The American Cancer Society and Coaches vs. Cancer is a cause that's close to Margaret and me because cancer has affected both of our families," said McCaffery.
McCaffery makes a cameo at the end of this season's Coaches' Challenge commercial. You can watch the video HERE.
"Troy Hilton from the NABC called and said, 'we'd like you to be in the commercial this year,'" said McCaffery. "They filmed it in three segments. It's interesting to see how it all came together. It's like they were making a movie. There were about 100 people in there during the shoot."
"Infiniti is inspired by the determination and athleticism shown during the NCAA Finals," said Michael Bartsch, Infiniti's Vice President. "It's with that same spirit that we're excited to once again partner with NABC, NCAA, and ESPN to raise money for many deserving charities with the "Infiniti Coaches' Charity Challenge."
"Men's college basketball coaches make significant contributions regularly in their own communities and across America," said NABC Executive Director Jim Haney. "The Infiniti Coaches' Charity Challenge has had a tremendous impact over the last several years and is yet another opportunity for our coaches to raise awareness and gain support for many very worthy causes."
"Having the opportunity to collaborate with Infiniti, one of our NCAA corporate partners, the NABC and its membership, and ESPN on the Infiniti Coaches' Charity Challenge allows all of us a chance to help individuals and worthwhile charities," said Keith Martin, NCAA managing director of championships and alliances. "The Challenge is an excellent way to unite sports and outreach in a beneficial way."
* 2nd Round (Jan. 26-Feb. 15) / 24 coaches / $7,500 for each eliminated coach
* 3rd Round (Feb. 16-March 1) / 16 coaches / $10,000 for each eliminated coach
* Final Round (March 2-15) / 4 coaches / $15,000 for each eliminated coach
* Winner / 1 coach / $100,000