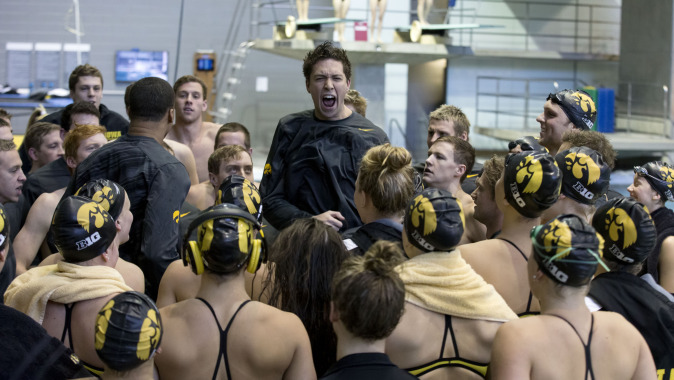 Jan. 29, 2015
Weekly Release

This Week
The No. 19 University of Iowa men's swimming and diving team travels to South Bend, Indiana, taking part in the two-day Shamrock Invitational on Friday and Saturday at the Rolfs Aquatic Center.
Live Results
Fans can follow this week's action http://www.und.com/livestats/m-swim/013015/index.htm, and on the "Meet Mobile" swim meet application on cell phones and tablets. Download the application at this link: http://www.active.com/mobile/meet-mobile-app.
Looking Ahead
The Hawkeyes return to action Feb. 6, hosting Western Illinois and South Dakota at 6 p.m. (CT) in the Campus Recreation and Wellness Center Natatorium in Iowa City.
Scouting the Field
The Hawkeyes join a four-team field this weekend, competing alongside Notre Dame, Missouri State, and Incarnate Word.
CSCAA Top-25 Rankings
Iowa ranks 19th in the most recent College Swimming Coaches Association of America (CSCAA) Division I team ranking, announced Jan. 22, by the CSCAA. Iowa is one of six Big Ten schools in the Top-25: No. 6 Michigan, No. 9 Indiana, No. 12 Ohio State, No. 17 Wisconsin, and No. 23 Minnesota. Penn State also received votes.
In the National Rankings
UI senior Grant Betulkius ranks second nationally in the 100 back (45.56) and 13th in the 200 back (1:42.19). Roman Trussov ranks 14th in the 100 breast (52.98) and 19th in the 200 breast (1:55.95). Jerzy Twarowski ranks 11th in the 200 fly (1:44.00) and 13th in the 100 fly (46.78).
All-Time Series
This weekend's competition will be scored as individual head-to-head competitions as opposed to a traditional invite format. In head-to-head competition, Iowa holds the all-time series against Notre Dame (4-2-0) and Missouri State (2-1). It will mark the first head-to-head meeting between Iowa and Incarnate Word.
We Meet Again
Iowa has familiarity with Notre Dame and Missouri State in recent years. The Hawkeyes defeated Notre Dame earlier this season at the Hawkeye Invite on Dec. 7. Iowa also squared off with Missouri State in 2013 at the Northwestern Invitational downing the Bears, 246-122.
Quick-Cap vs. Northwestern
Iowa won its third-straight outing on Jan. 24, posting a 171-129 Big Ten win over Northwestern at the Campus Recreation and Wellness Center Natatorium in Iowa City, Iowa.
Boschult Makes Nationals Debut
UI junior Addison Boschult made his nationals debut on Dec. 18, competing on the platform at the 2014 USA Winter Diving Nationals. The Omaha, Nebraska, native finished 11th after posting a score of 1,050.45 in the finals.
Record-Breaking Weekend
Five school records fell at the Hawkeye Invite from Dec. 5-7, in the CRWC Natatorium.
Jerzy Twarowski: 100 butterfly (46.70) 200 butterfly (1:44.00).
Grant Betulius: 100 backstroke (45.56)
Roman Trussov: 100 breaststroke (52.98)
Addison Boschult: platform diving (394.35)
Betulius Qualifies for Nationals
UI senior Grant Betulius posted an NCAA `A' cut time of 45.56 in the 100 backstroke to lead off the 400-medley relay on Dec. 5, at the Hawkeye Invite. Betulius, a native of Naperville, Illinois, smashed the previous record, held by Dustin Rhoads (46.33) and topped the pool record of 46.30 that has held since the 2012 Big Ten Championships.
Swimming to the Postseason
Eight Hawkeyes — Jerzy Twarowski (2), Roman Trussov (2), Jackson Halsmer (2), David Ernstsson (1), Chris Dawson (3), Grant Betulius (2), Chris Freeman (2), and Andrew Parker (1) — have a combined 15 NCAA `B' cut times in 2014. Betulius also holds an NCAA `A' cut time in the 100 back (45.56).
Diving to the Postseason
Two Hawkeyes have posted NCAA Zone Standard diving scores on the 1-meter, 3-meter, and platform. Brandis Heffner posted qualifying dives on the 1-meter (325.88) and 3-meter (339.00). Addison Boschult posted qualifying dives on the 1-meter (310.95), 3-meter (367.13), and platform (394.35).
Trussov Leads Breaststrokers
Junior Roman Trussov returns to lead the Iowa breaststrokers in 2014-15. The Kazakhstan native qualified for the NCAA Championships in both the 100 and 200 breaststroke as a freshman. He currently is the Iowa school record holder in the 100 (52.98) and 200 breaststroke (1:55.84).
Newcomers Stepping Up
Two freshmen have posted top times for the Hawkeyes in 2014. Jerzy Twarowski has posted season bests in the 100 (46.70) and 200 butterfly (1:44.00), and holds the second-best time in the 200 IM (1:51.15). Chris Dawson posted top times in the 500 free (4:28.39),1,000 freestyle (9:22.75), and the 1,650 free (15:28.38) as well as the 400 IM (3:56.72). Garrett Hoce holds the second-best time in the 400 IM (4:01.48). Two of Iowa's relay events include at least one newcomer as a member of the top quartets.
Twarowski: B1G Newcomer of the Week
UI freshman Jerzy Twarowski was named the Big Ten Freshman of the Week on Nov. 4. Twarowski earned the accolade after a breakout meet in the dual against Minnesota on Oct. 31. The Krakow, Poland, native claimed three top finishes and swam to season-best times in the 200-yard medley relay (1:29.46), 100 fly (48.65), and 200-fly, where he touched in with an NCAA `B' cut time of 1:47.55.
Championship Season
Six Hawkeyes competed in the Phillips 66 National Championships this past summer in Irvine, Calif. Senior Grant Betulius, juniors Mike Nelson, Brian Donatelli and Colleen Champa, and sophomores Kyle Patnode and Emma Sougstad each took part in competition. Sougstad earned a 16th-place finish in the 100 breaststroke.
Betulius Back for Senior Season
Senior Grant Betulius returns as the most accomplished swimmer on the Hawkeye roster after garnering honorable mention All-America honor in three events in 2013 – 100 back and 200 and 400-medley relays. The Naperville, Illinois, native is the Iowa school record holder in four events — 100 back (46.33), 200-medley relay (1:25.82), 400-medley relay (3:09.66), and 800-free relay (6:26.79) — heading into his senior season. Betulius posted NCAA "B" qualifying times in both the 100 and 200 backstroke last season. Betulius swam to the Hawkeyes lone win in the 100 backstroke against Michigan on Oct. 4. The Naperville, Illinois, native recorded a time of 49.27.
Off the High Dive
The Iowa diving team has experience and youth on its roster in 2014-15. The Hawkeyes return junior Addison Boschult and sophomore Brandis Heffner, while welcoming two incoming freshmen — Evan Hull and Matt Mauser. Boschult led the Hawkeyes in 3-meter (343.20) and platform (381.50) last season. He qualified for NCAA Zone Diving in both events and finished fifth at the NCAA Zone D Diving Championships with a school-record score of 381.50 points on the platform. Boschult capped the 2013-14 season by garnering the "Lobby" Lobdell Award as the men's diving MVP.
FREEMAN JOINS STAFF
Former Hawkeye All-American Deidre Freeman joins the Iowa coaching staff as a volunteer assistant coach. Freeman, who coached from 2011-14 at Grinnell High School and Grinnell College, will work with diving coach Todd Waikel and the divers. Freeman is an accomplished diver in her own regard, as she was 1-of-14 women named to the 2014 AT&T Olympic Performance Squad. The group includes divers who most exhibit the skill and determination to become 2016 Olympic Team members. Freeman is still the Iowa record holder on both the 1 and 3-meter springboard events.
A Special Year
The University of Iowa men's swimming and diving team will host the Big Ten, NCAA Zone Diving, and NCAA Championships as part of its 2014-15 schedule. It is the second time the NCAA Men's Swimming and Diving Championships will be held in Iowa City. The UI hosted the 1927 NCAA Championship at the UI Field House. The 2015 Big Ten Championships will take place Feb. 25-28, while the NCAA Zone D Diving Championships are set for March 9-11. The NCAA Championships will be held March 26-28. All events will be held at the UI Campus Recreation and Wellness Center Pool.
CAMPUS RECREATION AND WELLNESS CENTER
Ground was broken for the Campus Recreation and Wellness Center in October 2007. The facility opened in August 2010 and is home for the Hawkeyes. It is located at the corner of Burlington and Madison streets and cost approximately $69 million. The facility includes a 50-meter competition pool, a separate diving well, a leisure pool with lap lanes and 24,000 square feet of fitness space.
Iowa Swimming and Diving Tradition
Iowa was one of the first schools in the nation to compete on a collegiate level and competed at the first NCAA Championship. From 1937 to 1960, Iowa placed in the NCAA top 10 18 times, crowning nine NCAA and 22 Big Ten champions.
Follow the Hawkeyes
Become fans of the official Iowa Swimming and Diving fan page by going to facebook.com/IowaSwimmingandDiving to follow the Hawkeyes on Facebook. Fans can also follow on Twitter: @IowaHawkeyeSwim