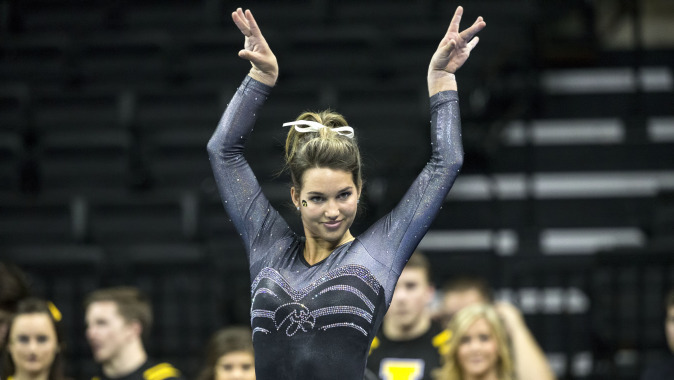 Feb. 7, 2015
Full Results

IOWA CITY, Iowa — The University of Iowa women's gymnastics team fell to Nebraska on Saturday night, 197.325-195.175 inside the Devaney Center.
"We struggled tonight. The illness bug hit us and we had to change up our lineups last second. Our vault team went to pieces today, which is very unusual," said head coach Larissa Libby. "On the flip side, the floor and beam team stepped up their game tremendously. I couldn't be more proud of them because it was a rough day."
Iowa started the meet on bars posting a 48.925. Senior Johanny Sotillo paced the GymHawks, posting a score of 9.850 and taking second place in the event.
While on vault, the GymHawks were lead by sophomore Angel Metcalf and sophomore Ashleigh Edlin, both posting a score of 9.850 and tying for fifth place. Iowa trailed 97.200-98.550 heading into floor routines.
"Instead of a disaster after their second event we told them we are not going in that direction," said Libby. "We told them not to look back, move forward, and push to the finish. I think they did an excellent job with that."
During the third rotation, the Hawkeyes recorded a 48.875 on floor. Senior Sydney Hoerr paved the way for the GymHawks with a fourth place score of 9.875 with junior Alie Glover close behind posting a 9.825.
While on beam, Nebraska tallied a 49.325 and maintained the lead going into the final rotation. The score stood at 147.875-146.075 as Iowa headed to the beam.
The GymHawks finished the night strong on beam, tallying a 49.100. Junior Alie Glover took second place in the event with a score of 9.875. Sophomore Angel Metcalf was not far behind her teammate, registering a score of 9.850, good enough to take fourth place.
Hoerr, and Metcalf both competed for the all-around title for Iowa, posting 38.650 and 38.900 respectively. Metcalf finished third behind Nebraska's Hollie Blanske (39.500) and Jessie Deziel (39.550).
"The one thing that made me extremely proud of them was that they pushed through, they didn't give up, and they salvaged a really fantastic group score," said Libby. "Instead of getting on a bus and being disappointed, we are getting on the bus very excited that we have the ability to finish and when we put it all together, I still believe this team is going to be dangerous," said Libby.
The Hawkeyes will return home to host Illinois on Saturday, Feb. 14 at 3 p.m. (CT) inside Carver-Hawkeye Arena. The Hawkeyes will be celebrating Valentine's Day at the dual and the event will serve as Iowa's annual 'Think Pink: Breast Cancer Awareness' meet.