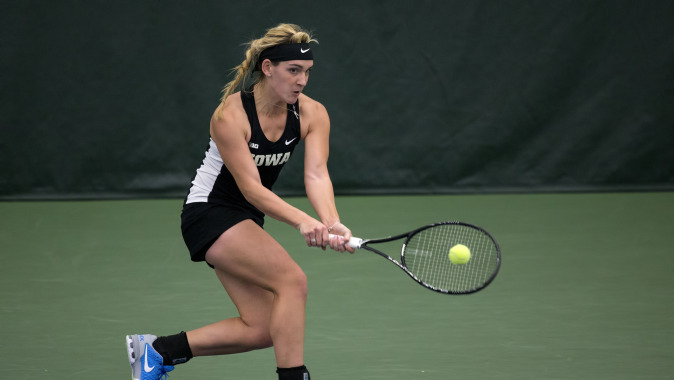 Feb. 10, 2015
Weekly Release

THIS WEEK FOR THE HAWKEYES
The University of Iowa women's tennis team heads to Oregon this weekend for its first road trip to take on the University of Montana and the University of Oregon. The Hawkeyes will take on the Grizzlies on Saturday at 12 p.m. (CT) and meet the Ducks on Sunday for another noon (CT) competition.
IOWA OPENS THE SEASON WITH A 3-0 RECORD
This is the first time since the 2011-12 season that the Iowa women's tennis team has started the season with a 3-0 record. During the 2011-12 season, Iowa held a 3-0 home record before heading to No. 32 ranked Oklahoma where they fell 5-2 to the Sooners.
HAWKEYES HIT THE ROAD
Since the start of head coach Katie Dougherty's tenure at Iowa, she holds a 3-2 record for first road trips of each respective season.
GOING AGAINST THE DUCKS
Iowa leads the all-time series against Oregon, 4-0. The last meeting between the schools swung in Iowa's favor as they clinched a 5-2 win over the No. 72 ranked Ducks at home last season.
IOWA TAKES ON THE GRIZ
This is the second dual meeting between Iowa and Montana. During their first meeting, the Hawkeyes rolled the Grizzlies 7-0 during the 2003-04 season. Head coach Paul Wardlaw had a 14-10 winning record that season at Iowa, the second best season record in his tenure at Iowa.
THE BEGINNING OF THE END
The Hawkeye roster features four seniors who were tabbed the No. 18 recruiting class in the country four years ago. Shelby Talcott, Katie Zordani, and Morven McCulloch have a combined 172 wins entering their final season, while Ellen Silver is showing signs of stability after battling injury since her freshman year. Silver came to campus as the 64th best prospect in the nation and hopes this bill of health will help make up for lost time. All four seniors found success during their first dual of the 2015 season, with a 4-0 singles record and a 3-1 doubles record as a class.
HAWKEYES ROLL IOWA STATE, 4-1
The University of Iowa women's tennis team trounced Iowa State, 4-1, in the annual Iowa Corn Cy-Hawk Series on Friday, Feb. 6. The win gives the Hawkeyes a 35-0 series record against the Cyclones and helped to close the current lead Iowa State holds in the Iowa Corn Cy-Hawk series to 13-9.
COMING UP FOR THE HAWKEYES
Iowa women's tennis returns to action on Feb. 20 hosting Oklahoma at the Hawkeye Tennis and Recreation Complex. The dual is set to begin at 2:30 p.m (CT).
BECOME A FAN
Fans can follow the Iowa women's tennis team at facebook.com and via twitter @Iowa_Tennis. Live results from this weekend are available on the Iowa women's tennis schedule page at hawkeyesports.com.