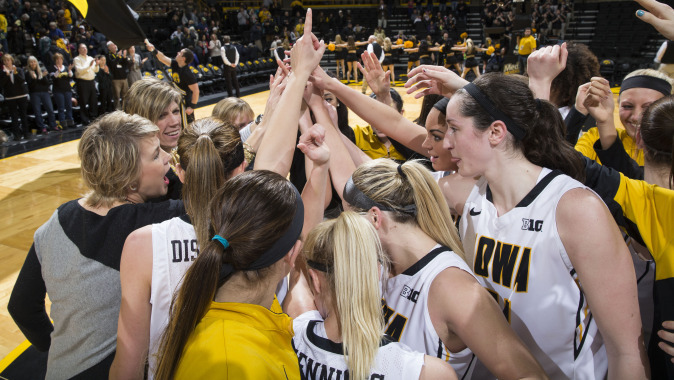 Feb. 10, 2015
Game Notes: at Nebraska

THE SETTING:
The 13th-ranked University of Iowa women's basketball team (19-4, 10-2) travels to Lincoln, Nebraska, to challenge the No. 20 Cornhuskers (17-6, 7-5) on Thursday. Tipoff is set for 8:06 p.m. (CT) inside Pinnacle Bank Arena.
Game 23 | #14 Iowa (19-4, 10-2) at #20 Nebraska (17-6, 7-5)
Date:
Thursday, Feb. 12 | 8:06 p.m. (CT)
Location:
Pinnacle Bank Arena | Lincoln Nebraska
TV:
BTN
Radio (online):
Hawkeye All-Access
Live Coverage:
Live Stats | Twitter Updates (@iowawbb)
All-Time Series:
Nebraska leads, 10-8
WATCH THE ACTION:
Thursday's matchup will be shown live on the Big Ten Network. Kevin Kugler and Stephanie White will call the action from Lincoln, Nebraska.
AUDIO COVERAGE:
Brent Balbinot and Shelley Till will call the action for the Hawkeye Radio Network. Hawkeye fans can listen to the contest on the Hawkeye All-Access page of hawkeyesports.com. Balbinot is in his 11th season as Iowa's play-by-play voice, while Till is in her 10th providing analysis.
FOLLOW THE ACTION:
Hawkeye fans can also follow the game via live stats (Gametracker). The link can be accessed on the women's basketball schedule page of hawkeyesports.com. Follow @iowawbb on Twitter for live game updates.
BEST START SINCE 1996:
? The Hawkeyes (10-2) are off to their best start in Big Ten play since starting 11-1 during the 1995-96 season.
? Iowa is off to its best start (19-4) through 23 games since the 1995-96 season when it opened 21-2. The Hawkeyes finished 27-4 overall and 15-1 in Big Ten action that year while advancing to the Sweet Sixteen.
SCOUTING NEBRASKA:
? No. 22 Nebraska is 17-6 overall and 7-5 in Big Ten action. The Huskers are tied for fifth in conference standings along with Minnesota and Northwestern.
? The Huskers are 11-1 at home this season, and 4-1 at home in conference action.
? Nebraska is on a two-game losing streak after falling on the road at Rutgers, 46-43, on Feb. 5, and at Maryland, 59-47, on Feb. 8.
? Three Huskers are averaging double figures: Rachel Theriot (16.5), Tear'a Laudermill (13.5), Emily Cady (12.2).
? Nebraska is coached by Connie Yori. She is in her 13th season.
SERIES HISTORY/NOTES:
? The Hawkeyes are 8-10 all-time against Nebraska. In games played at Nebraska, Iowa is 3-4 all-time.
? Iowa's last win in Lincoln over the Huskers occurred on March 21, 2005. The Hawkeyes defeated the Huskers, 71-67, in the WNIT Second Round to advance to the WNIT Quarterfinals.
? The Hawkeyes ended an eight-game losing streak against Nebraska when they defeated the Huskers, 78-72, in overtime on Jan. 26 inside Carver-Hawkeye Arena.
? Samantha Logic (22), Ally Disterhoft (20), and Bethany Doolittle (12) scored in double figures in the victory.
? Disterhoft logged a double-double with 13 boards (all defensive) and 20 points. It was her second of the season and the fifth of her career.
? Iowa is third in the Big Ten in scoring offense (79.7), while Nebraska is 11th (67.2).
CAREER NIGHT FOR LOGIC:
? Samantha Logic scored a career-high 30 points in her home state in Iowa's 87-75 win at Wisconsin on Feb. 8.
? Her previous career-high of 28 points was set against UC Riverside on Nov. 8, 2013.
? She added four assists in the game, which ties her for fourth all-time in Big Ten history with 791 career assists (matches Helen Darling of Penn State).
? The Racine, Wisconsin, native has excelled on the road at Wisconsin in her career, posting the following numbers in her four games played in Madison.
? 2015 – 87-75 Iowa win: 30 points, 7 rebounds, 4 assists
? 2014 — 82-65 Iowa win: 16 points, 11 rebounds, 7 assists
? 2013 — 65-56 Iowa win: 12 points, 10 rebounds, 9 assists
? 2012 — 85-79 Iowa win: 20 points, 13 rebounds, 8 assists
DOOLITTLE NAMED TO BIG TEN PLAYER OF THE WEEK HONOR ROLL:
? Bethany Doolittle was named to the Big Ten Player of the Week Honor Roll on Feb. 9 for her efforts in wins against Ohio State and at Wisconsin.
? She posted her sixth double-double of the season with 19 points and 13 rebounds, and compiled five blocks against Ohio State.
? The Oakdale, Minnesota, native scored 18 points, blocked three shots, and posted a career high five steals at Wisconsin.
? Doolittle has scored in double figures 17 times this season, including the last six games.
DISTERHOFT, LOGIC NAMED ACADEMIC ALL-DISTRICT:
? Ally Disterhoft and Samantha Logic have been named Capital One Academic All-District first team honorees for their combined performance athletically and in the classroom.
? The Hawkeye duo will advance to the Capital One Academic All-America Team ballot, where first-, second-, and third-team All-America honorees will be elected later this month.
? Disterhoft, a business major, and Logic, a health and human physiology and sports studies major, account for half of the Big Ten honorees.
? Iowa is the only Division I school in the nation to have two honorees.
LOGIC NAMED TO LIEBERMAN AWARD WATCH LIST FOR 2ND-STRAIGHT YEAR:
? Senior point guard Samantha Logic has been named to the 2015 Nancy Lieberman Award Watch List, the Naismith Memorial Basketball Hall of Fame announced on Feb. 6. It marks the second-straight year Logic has been named to the watch list.
? The award recognizes the top point guard in women's NCAA Division I college basketball. Candidates exhibit the floor leadership, play-making and ball-handling skills of Hall of Famer Nancy Lieberman.
FUN FACTS:
? Iowa is 46-13 overall since the start of last season (27-9 last year; 19-4 this year).
? The Hawkeyes enter Sunday's game ranked No. 6 in the NCAA RPI. Nebraska is No. 30.
? Iowa is 10-3 against teams in the top 55 of the RPI.
? Iowa is 18-1 this season when scoring 70 or more points, and 1-3 when failing to reach the 70-point plateau.
? The Hawkeyes are 13-0 when registering more steals than their opponent this year, and 14-1 when recording fewer turnovers.
? Iowa ranks 14th nationally in assists per game. The Hawkeyes are 13-1 when notching more assists than their opponent.
? The Hawkeyes are third nationally in 3-point field goal percentage (39.9%), ninth in scoring offense (79.7) and field goal percentage (46.3%), 15th in assist to turnover ratio (1.22), and 19th in 3-pointers per game (8.0).
DISTERHOFT NAMED TO BIG TEN PLAYER OF THE WEEK HONOR ROLL:
? Ally Disterhoft was named to the Big Ten Player of the Week Honor Roll on Feb. 2 after averaging 21.3 points and eight rebounds during Iowa's three games against No. 15 Nebraska, Northwestern, and No. 5 Maryland.
? The sophomore notched a double-double in the overtime win over Nebraska (20 points, 13 rebounds), and scored 22 points at Northwestern and at Maryland.
SHARP 3-POINT SHOOTER:
? Iowa senior Melissa Dixon is second in the nation in 3-point field goals, averaging 3.74 per game.
? Dixon is first in the Big Ten and fifth nationally in 3-point percentage (47%).
? Dixon has made 86 in 23 games, while Ohio State's Kelsey Mitchell has made 91 in 24 games. No other player in the country has converted more than 76.
? Dixon is third in Big Ten history with 296 career 3-pointers.
? Dixon made six 3-pointers (6-of-10) in the win at Rutgers on Jan. 4, surpassing Lindsey Meder (261) for the most in Iowa history.
? She scored 31 points in Iowa's win at Drake on Dec. 21, making 10 3-pointers (10-of-14), setting a new school record. The previous school record was seven, accomplished five times in program history, twice by Dixon; the NCAA and Big Ten record for 3-pointers in a single game is 12.
? Dixon finished 9-of-10 from 3-point range in Iowa's 102-99 win at Northwestern (Jan. 29).
1,000-POINT CLUB:
? Four members of this year's team have reached, or have the potential to reach 1,000 career points this season.
? Senior Samantha Logic (1,365 points) ranks 13th on Iowa's all-time scoring list.
? Senior Melissa Dixon (1,333 points) is 16th.
? Senior Bethany Doolittle became the 33rd member of Iowa's 1,000-point club in the Hawkeyes' win over Penn State on Dec. 28. She has 1,175 career points to rank 24th.
? Sophomore Ally Disterhoft has 842 career points. She tallied 474 in 36 games as a freshman last year (13.2 per game), and is averaging 16.0 points per game this season.
MOVING UP CAREER CHARTS:
? Samantha Logic (791 career assists) surpassed Cara Consuegra (1997-2001; 576) as Iowa's all-time assists leader during Iowa's win at Illinois on March 2, 2014, during the 2013-14 regular season finale. She is tied for fourth in Big Ten history with Helen Darling of Penn State. Tina Nicholson of Penn State is third (826).
? Melissa Dixon is Iowa's career record holder for 3-pointers (296). She is third in Big Ten history. Kelly Mazzante of Penn State is second (357), while Maggie Lucas of Penn State is the Big Ten record holder (365).
? Bethany Doolittle is second all-time in program history with 241 career blocks. Morgan Johnson is first with 293.
IOWA RANKED FOR THE 14TH-STRAIGHT WEEK THIS SEASON:
? Iowa is No. 14 in this week's Associated Press Top-25 poll and No. 13 in the USA Today Coaches poll. Iowa has been ranked in each of the first 14 weeks this year: preseason (19/19), week 2 (18/18), week 3 (17/16), week 4 (22/19), week 5 (24/24), week 6 (23/24), week 7 (23/20), week 8 (20/20), week 9 (17/17), week 10 (22/21), week 11 (20/18), week 12 (20/17), week 13 (16/17), and week 14 (14/13).
? It marks the longest Iowa has been ranked since being ranked for 18-straight weeks during the 1995-96 season.
? In the AP Poll, Maryland is No. 5, followed by Iowa (No. 14), Rutgers (No. 18), and Nebraska (No. 22).
? The Hawkeyes finished the 2013-14 season ranked 19th in the AP Top-25 poll, and 26th (receiving votes) in the USA Today Coaches poll. Iowa was ranked for eight weeks last season in the AP poll, and received votes in nine additional weeks.
LOGIC NAMED SENIOR CLASS AWARD CANDIDATE:
Senior point guard Samantha Logic is one of 30 NCAA Division I women's basketball players to be named a candidate for the 2015 Senior CLASS Award®. To be eligible for the award, a student-athlete must be classified as an NCAA Division I senior and have notable achievements in four areas of excellence: community, classroom, character and competition. Logic is one of two candidates from the Big Ten, joining Nicole Elmblad of Michigan.
An acronym for Celebrating Loyalty and Achievement for Staying in School®, the Senior CLASS Award focuses on the total student-athlete and encourages students to use their platform in athletics to make a positive impact as leaders in their communities.
The two-time Academic All-Big Ten honoree, Big Ten Distinguished Scholar, and Dean's List member is active in the eastern Iowa community, volunteering with numerous charities, organizations, and local elementary schools.
HAWKEYES IN BIG TEN PLAY:
Iowa head coach Lisa Bluder is a three-time Big Ten Coach of the Year (2001, 2008 and 2010). She has guided Iowa to 10 upperdivision finishes in the Big Ten in 14 seasons. Iowa won a share of the Big Ten regular season championship in 2008 and finished in a three-way tie for second in 2009. The Hawkeyes clinched a share of the title in 2008 with a win at Wisconsin in the regular season finale (March 2, 2008). Since the 2008 season, Iowa has finished first once, second twice, third twice, fourth once, and seventh once.
LOGIC NAMED TO DAWN STALEY AWARD WATCH LIST:
Senior Samantha Logic is one of 16 student-athletes to be named to the Midseason Watch List for the Dawn Staley Award. The Dawn Staley Award is given to the most outstanding collegiate guard in the country; a player who exemplifies the skills that Dawn possessed during her career (ball handling, scoring, her ability to distribute the basketball, and her will to win).
LOGIC NAMED TO WOODEN AWARD MIDSEASON TOP 20:
Senior Samantha Logic has been named to the John R. Wooden Award Women's Midseason Top 20 list, comprised of the front-runners for college basketball's most prestigious individual honor. The list is chosen by a poll of national women's college basketball media members. Logic is the only player from the Big Ten on the midseason list.
IOWA PICKED 3RD; LOGIC NAMED ALL-BIG TEN:
Iowa was picked to finish third behind Maryland and Michigan State in the 2014-15 Coaches Big Ten preseason rankings, while senior Samantha Logic was named preseason All-Big Ten by league media and coaches.
Logic earned honorable mention All-America honors from the Associated Press and the WBCA as a junior last year. The Racine, Wisconsin, native was a unanimous first team All-Big Ten selection by the coaches, and a first team selection by the media to become the 18th Iowa player to garner first team All-Big Ten honors — the most of any Big Ten program.
MOST B1G VICTORIES:
Head coach Lisa Bluder has 148 career Big Ten victories (148-94), surpassing former Ohio State head coach Jim Foster (136) for the fourth-most in league history. Karen Langeland of Michigan State has the third most (156), while Rene Portland of Penn State is second (176). Former Hawkeye head coach and current Rutgers coach C. Vivian Stringer is first with 177 wins. She won 169 at Iowa.
TOUGH SCHEDULE:
Iowa has played the 11th toughest schedule in the country this season. Iowa's schedule this season features 29 regular season games (18 conference, 11 nonconference). Of those 29 contests, 20 will come against teams that played in a postseason tournament last season. Seventeen-of-24 teams the Hawkeyes play this season reached a postseason tournament a year ago.
With the addition of Maryland and Rutgers to the Big Ten, the 14 league teams will compete in an 18-game conference schedule, playing five teams both home and away and eight teams once. Each team will play four of its single-play opponents at home and four on the road. Iowa plays Minnesota, Nebraska, Northwestern, Ohio State, and Wisconsin twice, while playing the other eight league teams once.
NCAA STREAK BEST IN BIG TEN:
Iowa is the only Big Ten team, and one of only 14 teams in the country, to appear in the last seven NCAA Tournaments. There are 349 Division I teams. Iowa is 1-of-21 teams to advance to the Second Round of the NCAA Tournament in each of the last two seasons. The Hawkeyes, a No. 6 seed in the 2014 NCAA Tournament, defeated 11th-seeded Marist in the First Round, 87-65, marking the fourth-largest margin of victory in an NCAA Tournament game in program history.
LOGIC NAMED PRESEASON ALL-AMERICAN: Samantha Logic, a 2014 honorable mention All-American, has been named to ESPN's Preseason All-America Second Team. Logic was joined on the second team by Rachel Banham of Minnesota, Moriah Jefferson of UConn, Isabelle Harrison of Tennessee and Aleighsa Welch of South Carolina. The first team included Jewell Loyd of Notre Dame, Tiffany Mitchell of South Carolina, Kaleena Mosqueda-Lewis of UConn, Nina Davis of Baylor and Breanna Stewart of UConn.
LOGIC NAMED TO WOODEN AWARD / WADE WATCH / NAISMITH LISTS:
Samantha Logic, named Preseason All-Big Ten and preseason All-America by ESPN, was named to the John R. Wooden Award Women's Preseason Top 30 list, comprised of the early front-runners for college basketball's most prestigious honor. The list is chosen by a preseason poll of national women's college basketball media members. She has also been named a 2014-15 "Wade Watch" list candidate for the prestigious award (The Wade Trophy), the Women's Basketball Coaches Association (WBCA) announced. In addition, Logic has been named to the Naismith Trophy Women's Top 50 Watch List, the Atlanta Tipoff Club announced.
IOWA HISTORY: Iowa has played 1,191 games since beginning basketball in 1974. Iowa's overall record is 738-453 (.620). That includes a 369-185 (.667) mark in regular season Big Ten contests and a 362-101 (.781) mark in Carver-Hawkeye Arena.
IOWAWBB.COM:
Check out the Iowa women's basketball team's website, iowawbb.com, devoted to everything on-and-off-the-court surrounding the program. Iowawbb.com, allows fans a chance to go behind the scenes with the Hawkeye basketball program. The site is complete with exclusive videos, photo galleries, and content featuring the basketball program.
UP NEXT:
Iowa returns to Carver-Hawkeye Arena to face Indiana (13-10, 3-9) on Sunday. Tipoff is set for 5 p.m. (CT) in Iowa City, Iowa. The game will be shown on BTN Plus.