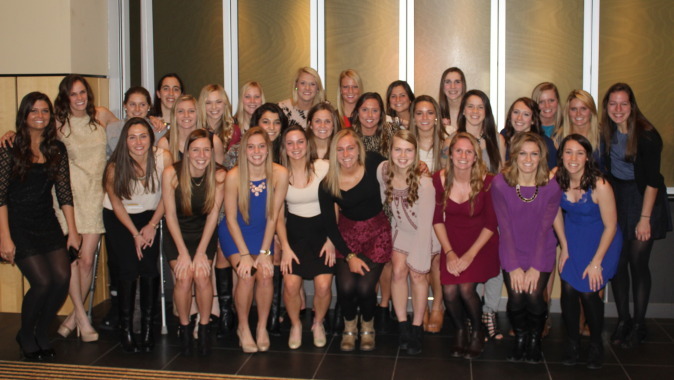 Feb. 13, 2015
IOWA CITY, Iowa — University of Iowa senior defender Melanie Pickert was tabbed as the Hawkeyes' Team Most Valuable Player and Defensive Most Valuable Player for the 2014 season at the end-of-year team banquet Feb. 7 in the Paul W. Brechler Press Box at Kinnick Stadium.
The Hawkeyes also honored senior Cloe Lacasse as the Offensive Most Valuable Player, sophomore Natalie Krygier was the recipient of the Newcomer Award, and senior Katie Nasenbenny received the Hawk Award.
Pickert earned her second-straight Team MVP and fourth-consecutive Defensive MVP honors after being named a fourth-team All-American by College Sports Madness and first-team All-Big Ten and All-Great Lakes Region honoree in 2014. The Canton, Michigan, native started 20 games, ranking second on the team with seven goals, including four game winners. Pickert was also a key cog on an Iowa defense that tied a school record with 10 shutouts.
Lacasse earned Iowa's top offensive honor for the fourth-straight year after earning first-team All-Big Ten and All-Great Lakes Region honors as a senior. The Sudbury, Ontario, native led the team in goals (12) and points (30), while ranking second in assists (6). Lacasse finished her career as one of the program's all-time greats, tying for first in points (112) and ranking second in goals (43), game-winning goals (13), and assists (26).
Krygier earned the Newcomer Award after immediately stepping into the Iowa lineup in her first season as a Hawkeye after transferring from Connecticut. The midfielder from Novi, Michigan, started 20 games in 2014, where she scored three goals and tallied four assists. Krygier scored the game-winner in Iowa's 1-0 victory over No. 23 Rutgers in the quarterfinals of the Big Ten Tournament.
Nasenbenny was the recipient of the Hawk Award for the third-straight season in 2014. The award is presented annually to an individual that is strong in the classroom, community, and on the soccer field. It honors a player that displays hard work, dedication, and selflessness, and has a desire to improve on a daily basis. Nasenbenny missed the 2014 season with a knee injury — the third such setback of her collegiate career.
The Hawkeyes finished the 2014 season with a 14-7-1 record under first-year head coach Dave DiIanni with the 14 victories being the second-most in a single-season in program history. Iowa tied a school record with seven Big Ten victories to notch its third top-five league finish since 2011 and advanced to the championship game of the Big Ten Tournament for a second-straight season.