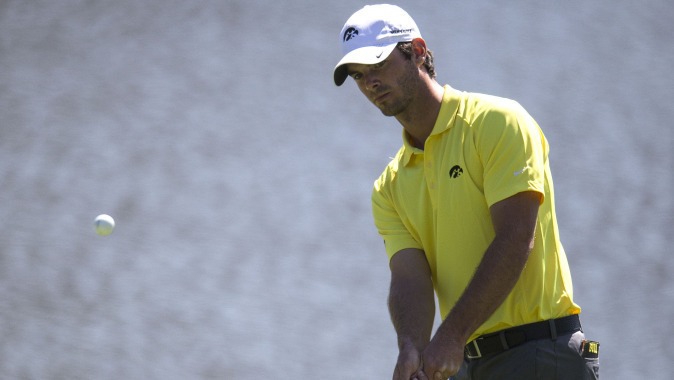 Feb. 15, 2015
PALM COAST, Fla. — After sweeping Nebraska, 5-0, in the first round of the 2015 Big Ten Match Play Championships early Sunday morning, the third-seeded University of Iowa men's golf team notched a 3-1-1 victory over Minnesota in the second round to advance to the semifinals. The two-day event is being held at the Hammock Beach Resort in Palm Coast, Florida.
"Everything went great today," said UI head coach Tyler Stith. "We had great efforts from everybody in the lineup. We won all five of our matches this morning, which is fantastic. And we beat a really strong Minnesota team this afternoon."
Making his collegiate debut, freshman Sam Meuret got the Hawkeyes on the right track, defeating Nebraska's Justin Jennings, 1-up, in the No. 5 matchup. Through 14 holes, Meuret led Jennings by as many as three.
Senior Ian Vandersee earned Iowa its second point of the match, defeating Mike Siwa of Nebraska, 5 & 4. Vandersee, a West Des Moines, Iowa, native notched four birdies along the way.
Senior Brian Bullington extended Iowa's lead after topping Ross Dickson, 5 & 3. Bullington trailed only after the first hole, and then reeled off four-straight wins to put him at 3-up. He never looked back.
"I played really good in spurts, but there were a couple of tough stretches where a little bit of rust came off," said Bullington. "Overall, I'm very pleased with my performance today."
Sophomores Raymond Knoll and Carson Schaake completed the sweep of Nebraska with two victories of their own. Knoll posted a 3 & 2 defeat over Calvin Freeman, while Schaake earned a 1-up win over Josh Reinertson.
Iowa followed its 5-0 victory over Nebraska with a 3-1-1 defeat of Minnesota in the quarterfinals.
The Gophers jumped out to an early 1-0 lead after William Leaf defeated Junior Voramate Aussarassakorn in the No. 5 match. But the Hawkeyes came back strong, picking up two-straight victories from Vandersee (1-up) and Bullington (2 & 1) in the No. 4 and No. 3 matches.
"In the first match I played really solid," said Vandersee. "I hit the ball really well and shot a few under. This afternoon was a little more difficult because of the wind, but I was really proud of the way I hit the ball today. I worked on a lot of stuff over the offseason with coach Stith and it has been paying off. I'm looking forward to the opportunity to play well again and get out there and compete to bring home a title."
With the Hawkeyes leading, 2-1, Knoll halved the No. 2 match with Minnesota's Jon DuToit in what was a back-and-forth battle that saw four lead changes.
Schaake sealed the victory for Iowa, winning the No. 1 match over Jose Mendez, 3 & 2. Schaake and Mendez were all knotted up through three holes before Schaake got the ball rolling, winning three and tying once over the next five holes.
"I thought the guys looked completely committed to everything they were doing today," said Stith. They carried themselves with a lot of confidence and I think it really showed in our matches. We have to go out tomorrow doing the same things that we did today. We're going to focus on ourselves and take care of business."
The Hawkeyes will play two additional matches on Monday, meeting seventh-seeded Michigan in the semifinal round on Monday morning. The winner advances to the finals to meet the winner between 1st-seeded Illinois and 4th-seeded Maryland. The Hawkeyes and Wolverines met in the semifinals of last year's event with Michigan coming away with a 3.5-1.5 victory. Live stats are available for all of Monday's action at http://www.AJGA.org/big10mpc.