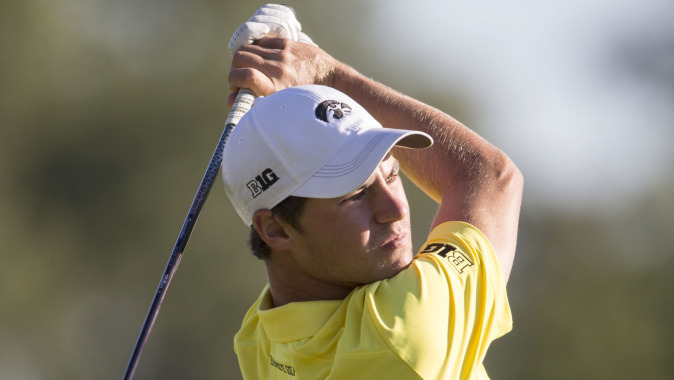 Feb. 16, 2014
PALM COAST, Fla. — For the second time in three years, the University of Iowa men's golf team earned a third place finish at the Big Ten Match Play Championships on Monday. Held at the Hammock Beach Resort in Palm Coast, Florida, third-seeded and 42nd-ranked Iowa fell to Michigan in the semifinals, 4-1-0, before knocking off fourth-seeded Maryland in a battle for third place via tiebreaker.
In Iowa's semifinal match versus Michigan, senior Ian Vandersee was the only Hawkeye in the lineup to come away with a victory. The West Des Moines, Iowa, native defeated Tom Swanson, 3 & 2, to finish the two-day event with an overall record of 3-0-1. Vandersee trailed by one after two holes, before taking over the match.
Sophomore Carson Schaake made a strong push on the back nine against Michigan's Kyle Mueller. After being down by as many as four holes, Schaake cut it down to one with one hole left. However, he and Mueller would both card birdies on the final hole, leaving Mueller with the 1-up victory.
"I didn't start off very well against Kyle from Michigan; he got off to a really good start and I wasn't hitting the ball well," said Schaake. "He got 4-up pretty quick, but coming down the stretch I was able to put some pressure on him. I took advantage of some of the little things he was doing and was able to get a couple back going into the final holes. He ended up beating me by one, but that gave me some confidence going into my second match of the day. We haven't played that much, but coming right out of winter I think I'm right where I want to be."
Senior Brian Bullington (3 & 1), sophomore Raymond Knoll (4 & 3), and freshman Sam Meuret (6 & 5) each fell in their semifinal matchups, marking their only defeats of the tournament.
"Today was kind of a struggle," said Knoll. "I wasn't hitting my best by any means today. I tried to take advantage of my opponents' mistakes and towards the end of the day I was able to make some big putts."
In Iowa's battle for third place with Maryland, the Terrapins jumped on the board first, taking a 1-0 lead after Tom Harris defeated junior Voramate Aussarassakorn at the No. 5 spot, 2 & 1.
"We were disappointed with the result this morning against Michigan," said Iowa head coach Tyler Stith. "I believe it carried over into our afternoon matchup. On the back nine we were refocused and finished when it mattered most. Raymond was very clutch in birdieing two of his final three holes to earn a half point and secure the win."
Schaake evened things back up at one victory apiece after defeating Maryland's David Kocher, 3 & 2. The Omaha, Nebraska, native recorded three birdies on the way to his third victory of the two-day event.
Bullington, Knoll, and Vandersee each halved their afternoon matches ending the contest in a 1-1-3 tie. However, due to Schaake's 3 & 2 victory in the No. 1 match, Iowa had won more holes total than Maryland to earn the victory.
"Any time you can get some competition in, especially really good competition, is awesome," said Knoll. "The Big Ten is a really good golf conference, so you're guaranteed good competition no matter who you play. Coming down here and getting in 72 holes in two days is all you can ask for."
"We faced strong competition here the last two days, and won a lot of matches," said Stith. "We have time off before we travel again so there's an opportunity to make some improvements before our next event."
The Hawkeyes return to action on March 20-22 where they will compete in the 36th annual Schenkel Invitational, hosted by Georgia Southern. The three-day tournament takes place at the Forest Heights Country Club in Statesboro, Georgia.
BTN will broadcast the 2015 Big Ten Match Play Championship via tape delay on Sunday, March 15 at 12:30 p.m. (CT).?