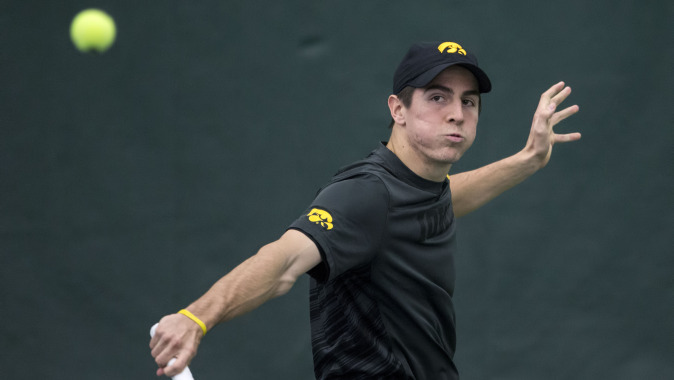 Feb. 18, 2015
Weekly Release

THIS WEEK:
The University of Iowa men's tennis team (6-1) hosts Wichita State (6-2) at the Hawkeye Tennis and Recreation Complex, Friday at 6 p.m. (CT). Admission is free to the public. The Shockers have two ranked players/teams, doubles duo Tomislav Gregurovic/Tin Ostojic ranked 20th and in singles, No. 39 Tin Ostojic. The Hawkeyes currently ride a four-match win streak, with back-to-back thrilling victories at BYU and No. 54 Utah.
PATRICK REMAINS UNBEATEN IN SINGLES:
Dominic Patrick defeated BYU's Shane Monroe in Provo, Utah, 2-6, 6-4, 6-4, extending his unbeaten streak to 5-0 in spring play. He registered another road singles win against Utah's Matt Cowley in Salt Lake City in straight sets 6-1, 6-1. The junior is now 6-0 heading into the match with Wichita State.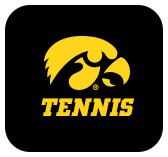 HAWKEYES RANKED:
Iowa's doubles team of Matt Hagan and Dominic Patrick are ranked 57st in the latest spring ITA national rankings. Hagan and Patrick are the seventh-highest ranked pair in the Big Ten. Hagan and Patrick posted a 4-1 record in the fall, including winning four straight matches at the Big Ten Indoor Championships to become the conference's doubles champions. The Hawkeye tandem became only the third pair in school history to accomplish the feat and first since David Nairn/John Nadig in 1960 (third flight); James Andrews/Robert Potthast were the first team to win a Big Ten Doubles Championship in 1958 (first flight). Hagan and Patrick became Iowa's first doubles team to start the spring season ranked since 2012, when Marc Bruche and Will Vasos were ranked 59th. Hagan/Patrick are 2-2 in spring competition. Hagan is moving up the ITA singles rankings. The preseason rankings on Jan. 6 had Hagan 116th. The recent rankings released on Feb. 10 has seen Hagan climb 18 spots to 98th. With Iowa down 3-2 against Utah, Hagan defeated Slim Hamza 2-6, 7-6, 6-4, bringing the match even at 3-3. Iowa went on to take the match, 4-3.
FRESHMEN COME UP BIG:
The Hawkeyes took a victory over BYU going down to the wire. Tied at 3-3 the match came down to a winner-take-all event between Jake Jacoby and BYU's Jacob Sullivan. The freshman dropped the first set (6-7) before coming back in the second, winning (7-6). At one set apiece it came down to the tiebreaker and Jacoby prevailed taking the third set (6-4), clinching the match for the Hawkeyes, 4-3. At Utah, Iowa won another thriller. With No. 98 Hagan taking care of business in three sets against Slim Hamza, the match came down to Josh Silverstein and Utah's Freddie McGeehan. With the match on his shoulders, the freshman delivered for Iowa as Silverstein was able to register the win over McGeehan (6-1, 4-6, 6-4), giving Iowa the 4-3 victory.
INTERIM HEAD COACH Ross Wilson:
Ross Wilson, a former two-time NCAA All-American and three-time ITA national doubles champion at Ohio State, is the interim head men's tennis coach after the announcement of Steve Houghton's retirement on Sept. 8. Wilson served as the team's assistant coach last season. Wilson, the 2012 ITA National Assistant Coach of the Year and ITA Central Region Assistant Coach of the Year, came to Iowa after serving as assistant coach at nationally-ranked San Diego during the 2012-13 season. Wilson was a standout at national power Ohio State from 2002-06. He was a two-time NCAA All-American and three-time ITA national doubles champion. He broke the Buckeyes' overall career wins record, career doubles wins record and single season doubles wins record in 2006.
WILSON ON WICHITA STATE:
"Witchita State is another tough opponent that we have on our schedule. They have a lot of juniors and seniors on their team with experience. They won their conference championship two years ago and every year they play in the conference final. They are a team that knows how to win; our guys are going to have to come out and play their best to win. "