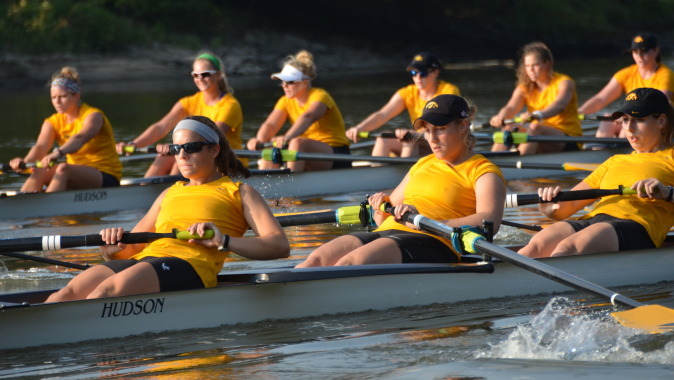 Feb. 18, 2015
Read the February issue of Hawk Talk Monthly
Download your Iowa Hawkeye iPhone/ipad app!
="">Download your Iowa Hawkeye Android app!
="" class="pagelinks">Big Ten Network: Free Hawkeye Video
="" class="pagelinks">24 Hawkeyes to Watch Download your Hawk Talk Monthly iOS app
Download your Hawk Talk Monthly android app
IOWA CITY, Iowa — The University of Iowa women's rowing team is in DeLand, Florida, this week to get in some outdoor training and compete in a pair of scrimmages against Old Dominion and Central Florida. The first scrimmage will be a head-to-head regatta against Old Dominion on Thursday, Feb. 19 at 7 a.m. (CT). The second will be held on Saturday, Feb. 21 at 7 a.m. (CT) against Central Florida and Old Dominion.
"We're really just trying to test our speed when put in an opposed situation," said second-year head coach Andrew Carter. "We've exposed the team to competitive scenarios in practice, including some work in the middle stroke-rate band, but things are different when there is another team beside you. Having an early opportunity to test those things is really valuable."
The pair of scrimmages mark the start of the team's spring season.
Thursday morning's scrimmage is scheduled to be multiple six-minute intervals with shifting stroke rates within each intervals. Both Iowa and ODU will field 1V8+, 2V8+, 1V4+, and 2V4+ crews.
"It's what we call `builders' as the rates will climb each minute," said Carter.
The Saturday scrimmage, which will add Central Florida to the roster, will be a little more straight-forward.
"It will feature 5x1500m with pre-determined stroke rate caps for each flight," said Carter.
All three schools have 1V8+, 2V8+, 1V4+, and 2V4+ boats competing in the Saturday scrimmage.
"The practice ethic and performance of this group is really good. Building confidence from day-to-day performance was key [in the fall] and offering controlled opportunities to transfer that to opposed situations was what we were trying to do," said Carter. "These scrimmages are an extension of that, but the format reflects the needs we have as we approach the sprint-racing season. I think we put a really good dent in this area during the fall segment and I'm keen to see if that trend continues on this trip."
Following the scrimmages, the Hawkeyes remain on the road for their first official competition of the spring season. Iowa will travel to Ithaca, New York, to take on Cornell, Yale, Syracuse and Boston University in an all day regatta on Saturday, April 4.