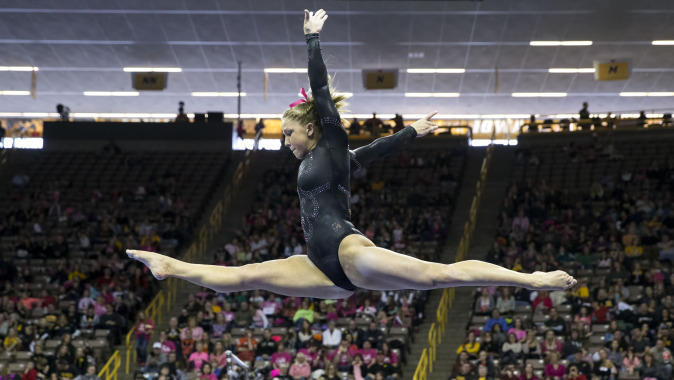 Feb. 21, 2015
Full Results

IOWA CITY, Iowa — University of Iowa women's gymnastics team posted a 195.850 to take second in an away tri-meet this evening. The GymHawks took on No. 7 Denver (196.725) and BYU (195.425) inside the Hamilton Gymnasium in Denver, Colorado.
"It was tough. They were two really great teams, and so being the one that was out of conference was hard. We also started the night on beam, which is an event we haven't started on yet. It takes a lot of composure to start there and we had a fall first person up," said head coach Larissa Libby. "After that, we didn't really make a mistake the rest of the night. I think the girls had a fantastic meet. I was really impressed that they came back after a fall because that's really hard to do. It is a lot of pressure on the next five kids, but they kept the flow of the meet."
Five GymHawks finished in the top five of individual events and two freshman GymHawks recorded season best scores.
The GymHawks started strong, posting a 48.900 on beam. Sophomore Angel Metcalf tallied a 9.825 during the rotation and finished first overall in the event. Sophomore Mollie Drenth and senior Johanny Sotillo both posted a 9.800 and tied for fourth place in the event.
On floor, senior Sydney Hoerr let the GymHawks with a 9.875, taking fifth overall and adding to the team score of 49.000. Freshman Ashley Fischer made her mark on vault, posting a season best score of 9.825, rounding out Iowa's total score of 49.025. After the third rotation, Denver (147.200) continued to hold second, Iowa (146.925) trailed closely behind, and BYU (146.250) remained in third.
The GymHawks ended the night on bars; where Drenth lead the charge with a score of 9.825 and taking second place overall in the event. Freshman Melissa Zurawski tallied a season best score of 9.800 and good enough to tie for fourth place overall with teammate Sotillio.
"I was really impressed with how they handled themselves in a tough situation. We are really happy we walked away with a high road score and it's going to help us next week," said Libby. "Our kids are improving every day. I think this team is mentally where they need to be. They are very focused on themselves and getting the job done. We still have some detail work that needs attention for the back half of the season, but I think we are going in the right direction."
Iowa will travel to Davis, California, to take on UC Davis on Friday, February 27. The meet is scheduled to begin at 7 p.m. (CT) inside the Pavilion.