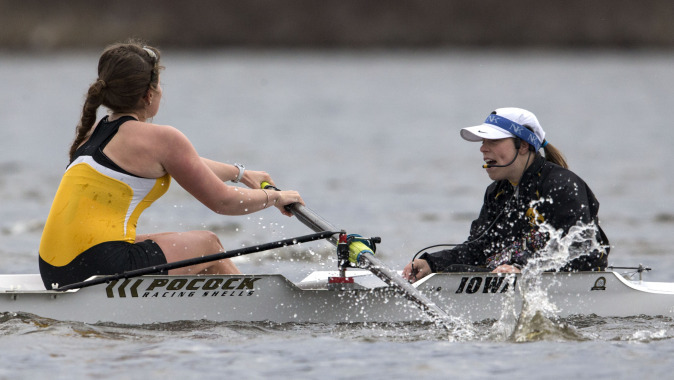 Feb. 21, 2015
Read the February issue of Hawk Talk Monthly
Download your Iowa Hawkeye iPhone/ipad app!
="">Download your Iowa Hawkeye Android app!
="" class="pagelinks">Big Ten Network: Free Hawkeye Video
="" class="pagelinks">24 Hawkeyes to Watch Download your Hawk Talk Monthly iOS app
Download your Hawk Talk Monthly android app
IOWA CITY, Iowa — The University of Iowa women's rowing team swept Old Dominion and Central Florida in their scrimmages on both Thursday and Saturday, in DeLand, Florida. The first scrimmage was a head-to-head regatta against Old Dominion on Thursday morning and the second was held on Saturday morning against Central Florida and Old Dominion.
"It's been a very productive couple of days and the scrimmaging worked out quite well," said head coach Andrew Carter. "We were able to experiment with some subtle changes in crew configurations and test them against some solid competition."
Despite attempts to escape the cold in Florida, the cold seemed to follow the Hawkeyes south.
"The weather could have been more cooperative. The cold wasn't too much of a problem, though we did need to dedicate extra time to our warm-up process," said Carter. "The real issue on Thursday was the wind. Fortunately, we were able to find some decent conditions later in the day for the initial scrimmage with UCF. It all came together with some delay but ultimately it went off without a hitch. Saturday, on the other hand, was quite nice for everyone."
The scrimmages were not officially scored, however, the coaches kept track of informal order of finish for the boats. Iowa, Old Dominion, and Central Florida, all fielded crews in the 1V8+, 2V8+, 1V4+, and 2V4+ divisions.
"I think we continue to make progress. I appreciated the way our crews competed this week," said Carter. "I saw some improved composure under pressure, which is something we're working on. I saw some staying power in later stages of competition, which is a good continuation of what was being shown in the fall. Both of these areas were weaknesses last year so this early info is encouraging."
The Hawkeyes will remain on the road for their first official competition of the spring season. Up next, Iowa will travel to Ithaca, New York to take on Cornell, Yale, Syracuse and Boston University in an all day regatta on Saturday, April 4.
Orders of Finish:
THURSDAY
1V8+
#1 Iowa, ODU
#2 Iowa, ODU
#3 Iowa, ODU
#4 Iowa, ODU
2V8+
#1 Iowa, ODU
#2 Iowa, ODU
#3 Iowa, ODU
#4 Iowa, ODU
1V4+
#1 Iowa, ODU
#2 Iowa, ODU
#3 Iowa, ODU
#4 Iowa, ODU
2V4+
#1 Iowa, ODU
#2 Iowa, ODU
#3 Iowa, ODU
#4 Iowa, ODU
SATURDAY
1V8+
#1 Iowa, UCF, ODU
#2 Iowa, UCF, ODU
#3 Iowa, UCF, ODU
#4 Iowa, UCF, ODU
#5 Iowa, UCF, ODU
2V8+
#1 Iowa, UCF, ODU
#2 Iowa, UCF, ODU
#3 Iowa, ODU, UCF
#4 Iowa, UCF, ODU
#5 Iowa, UCF, ODU
1V4+
#1 Iowa, UCF, ODU
#2 Iowa, UCF, ODU
#3 Iowa, UCF, ODU
#4 Iowa, ODU, UCF
#5 Iowa, UCF, ODU
2V4+
#1 Iowa, ODU, UCF
#2 Iowa, ODU, UCF
#3 Iowa, ODU, UCF
#4 Iowa, ODU, UCF
#5 Iowa, ODU, UCF